As we get deeper into the summer, NHL news slows down considerably, with the main items being the occasional announcements of new RFA contracts and arbitration proceedings.
The Anaheim Ducks provided one of those news nuggets on July 24 in announcing the re-signing of 24-year-old defenseman Brandon Montour to a two-year bridge contract worth an average of $3.3875 million per year. In so doing, general manager Bob Murray and the Ducks avoided an arbitration hearing that would have taken place later that day.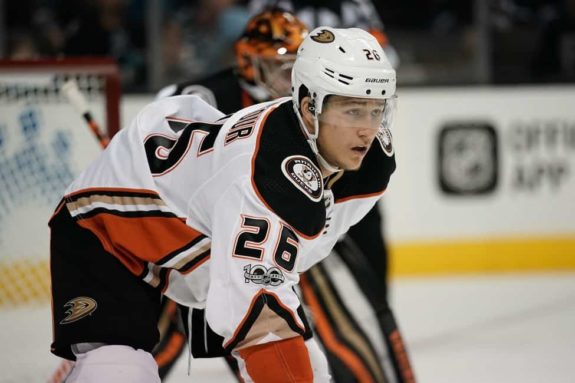 While bridging Montour makes sense—from the standpoint that he is a player with just one full NHL season under his belt who has shown upside but needs more consistency—the tradeoff in such deals is usually a lower average annual value (AAV). Montour inking a short-term deal worth more than $3 million per year is great for him, as he figures to be in line for a significant payday two years from now as long as he doesn't experience some severe regression.
Besides further cutting into Anaheim's salary cap room in a direct way, Montour's contract could be a harbinger of a somewhat lucrative deal for another rising youngster who stands as a restricted free agent (RFA) as of July 28: Ondrej Kase.
Kase's Breakout 2017-18 Season
Although Kase is a 22-year-old winger, he shares some similarities with Montour. The most notable here is that 2017-18 was also his first full NHL season (though concussion issues and injuries limited him to 66 regular-season games), as well as the fact that he showed clear signs of promise.
For Kase, the latter was much more stark. After notching five goals and 10 assists in 53 games in 2016-17, Kase erupted last season for 20 goals and 18 assists while providing the Ducks with an energetic style of play. He quickly evolved from being a nice young depth option to a critical component of the Ducks' attack.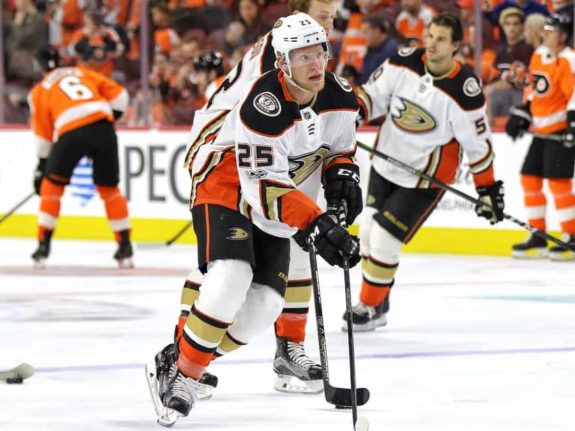 "He's an exciting, young player and very much of an Energizer Bunny for our group," head coach Randy Carlyle said about Kase during the past season. "He never seems to quit. He's a young player. We keep pinching ourselves at how young he is."
The underlying numbers also support the goal total and the eye test when evaluating Kase. His shot rate metrics were excellent on a Ducks team that struggled in that area, and he was incredibly efficient at creating goals at 5-on-5.
Projecting Kase's Contract
Kase is not arbitration-eligible like Montour was, so from that standpoint, he does not have as much leverage in contract negotiations. He also is not a defenseman, which is a position for which GMs typically pay a premium, especially for blueliners who can provide offense. Nevertheless, his breakout campaign, young age, potential, and stylistic alignment with the Ducks' verbalized goals to become younger and faster all play a role in increasing his value.
So, where will Kase's contract land? The Ducks could look to extend him long-term to save money down the road, but another bridge deal might still be more likely given his limited experience. Matt Cane of Hockey Graphs predicts a two-year deal worth about $1.77 million per year via his model.
That would certainly be a bargain for the Ducks if Kase can continue his ascension, but the risk from a salary cap standpoint—as with any bridge contract—would be that Kase would improve even more and be owed a much heftier contract in just two seasons. That would be nice for the Ducks for two seasons but would create a less desirable business situation thereafter. 
It's also worth noting that Cane's model had Montour getting a two-year bridge deal with an AAV of $2.63 million. That, of course, was around 30 percent lower than what Montour actually got, and Kase had more of the eye-popping and analytically-supported jump forward in 2017-18.
Montour brings excellent puck-moving ability and chipped in 32 points from the back end last season, and those traits are all the more important in today's NHL. While the offense was promising and should continue to improve, Montour's defensive game was not the most consistent, and he posted some mediocre possession numbers and seemed to suffer particularly with respect to yielding high-danger chances; his 251 high-danger chances against while on the ice were the most among all Ducks defensemen, and his high-danger Corsi-for percentage of 47.27 percent was the worst among their regular blueliners with the sole exception of the since-retired Francois Beauchemin.
Kase, meanwhile, as noted, excelled across the board. Between that and Montour's contract, Kase figures to get something higher than Cane's initial projection. On a short-term deal, the Ducks might be inclined to pay him closer to $3 million per season. If something in that range comes to fruition, then Anaheim will be left with around $6 million in cap space with Nick Ritchie still needing to be re-signed and two more roster spots needing to be filled in, likely with entry-level contracts. That could then leave them with less than $4 million in cap space for 2018-19, with John Gibson's next contract being due in a year.