Each year, the draft seems to dominate the minds of hockey fans everywhere. With the help of the media, the most promising players are highlighted, recapped and talked about nonstop. Though beneficial for the player and the organizations they are selected to represent, many previous draft picks and international acquisitions seem to get lost in translation. Entering this season, the Red Wings have an armory of talent spending time in the AHL with the Grand Rapids Griffins. Several picks from previous draft years will be cracking the roster along with a few who are already working out their entry-level contracts.
Just to be clear, it is not my goal to chastise the fans excited for this year's draft picks – they have a right to be so. Nor am I purposely passing over other previous picks because I think their talent lesser than others – that is not the case. I aim to highlight, with the utmost respect, some of the other promising prospects that are coming through the system that others may not be aware of or haven't been paying as much attention to. That being said, here are my top "forgotten" forwards and defensemen coming through the Red Wings organization.
No. 1 Top Forgotten Defenseman: Joe Hicketts
Hicketts caught the attention of the Red Wings after a very impressive display during the Prospect Tournament in 2014-15. Consequently, he was signed to a three-year entry-level contract with the Wings. His rookie season with the Griffins in 2016-17 put him on everyone's radar it seemed. "Little Joe" packed a punch for his size and the media went berserk over it. Rightfully so. He tallied 34 points in 73 regular seasons games and eight points in 19 playoff games during the Griffins' successful Calder Cup run.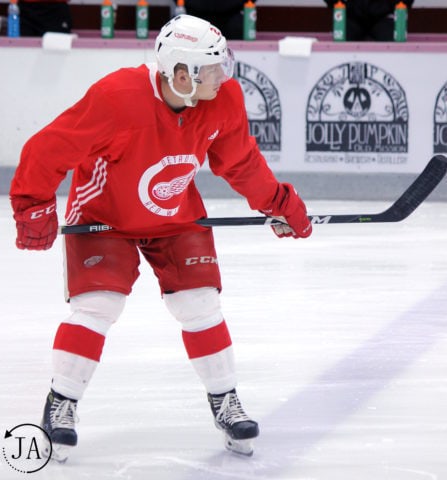 Joe has a very strong ice presence and was one of the strongest two-way defensemen that season. Though his sophomore campaign was not as productive, and the Griffins lost in the first round of the playoffs, Hicketts has become the go-to defenseman in tight situations. He's controlled on the ice both in play and attitude. Off the ice, he's mature, well spoken and shows a great respect for the organization. Red Wings head coach Jeff Blashill even seemed to sing his praises after his NHL debut, where he tallied two points in his first game. Blashill told Red Wings Analyst, Art Regner, "Joe has a couple things I love. He's got swagger and he's got a great brain for the game. I think we could use some of that swagger."
I could literally go all day about how great Joe Hicketts is. After the hype surrounding his astounding rookie season and NHL debut wore off, little more has been said about Joe.
No. 2 Top Forgotten Defenseman: Libor Sulak
Sulak is a newer addition to the organization. He made his professional debut in the United States last season with the Griffins. He is a big boy, to say the least. Sulak's first game was much anticipated by the media – myself included. Coming from the Czech Republic, Sulak was a healthy scratch for a few games but did not disappoint when he was given ice time at last.
Due to the lateness of his arrival, Sulak only skated in two games but earned two points in those matches. He immediately established a very dominant role on the ice. He's physical and fast. He controlled the puck well and was able to adjust to the team chemistry quickly. Given time next season, Sulak is going to be a force. Though he was not drafted through the Entry Draft like much of the fresh talent, I'm still considering Sulak a prospect since he is signed to an entry-level deal.
His media coverage wasn't immense unless you were an insider, but this season, if he's able to earn the ice time over the "kids," he'll easily be a headliner. He's been putting in many hours in off-season training to prepare for a full season with Grand Rapids.
No. 3 Top Forgotten Defenseman: Gustav Lindstrom
I'm going to clear the air on him right away. He's not related to Nicklas Lidstrom.
The Red Wings love Swedes – that's a fact. According to Ted Kulfan of the Detroit News, "Lindstrom is signed for two years with Frolunda, so it's likely he won't arrive in North America until the start of the 2020-21 season." The chatter surrounding Lindstrom is primarily in the scouting world and hasn't reached the fandom yet but when it does, he'll be a favorite.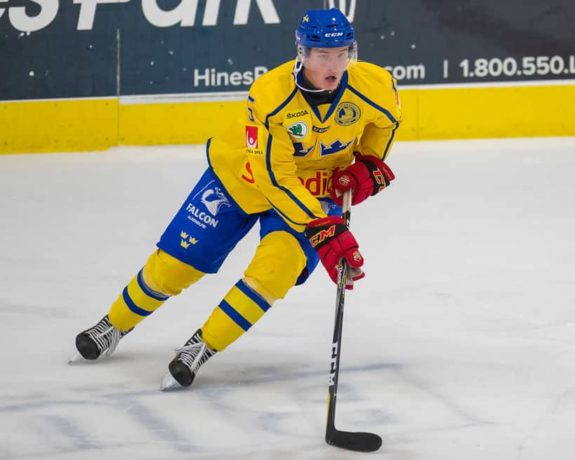 While in Sweden, Lindstrom has been consistent and shows a calmness on the ice. He impressed during Development Camp this summer and will be no doubt working overtime in his last season with Frolunda to earn a roster spot with the Wings. Not many casual fans even know who this young man is, but his name will help spark interest when he's here full time – even if it's a matter of mistaken identity.
No. 1 Top Forgotten Forward: Axel Holmstrom
Also clearing the air on this one – he's not related to Tomas Holmstrom.
Holmstrom was picked in the seventh round of the 2014 Entry Draft by Detroit. Sidelined much of his rookie season due to recovery from an injury, his point totals aren't that impressive. However, coming back from injury in the 2017-18 season, Axel put up 26 points in 66 games. Holmstrom made an impression on former Griffins Coach, Todd Nelson, "His vision is exceptional and he showed he has good offensive instincts."
Axel has a lot of potential though not many seem to be really keeping tabs on him. He's understated and calculated – which seems to be the type of player fans don't really gravitate to. To each their own I suppose.
Holmstrom has been training in Sweden in the off-season, and upon returning for camp in September, stands a good chance being noticed. Though Detroit's major need is with defense, there's also a great need for strong forwards.
#2 Top Forgotten Forward: David Pope
Pope has been flying under the radar for a few seasons now. After being drafted by the Wings in 2013, Pope went to the NCAA to develop further in college at the University of Nebraska-Omaha. Given a firm set of requirements by the Wings, Pope worked insanely hard during his time in college and has since earned an entry-level contract with the Wings.
Pope led his team in scoring during the 2017-18 season and is set to be a major offensive workhorse with Grand Rapids. He caught media attention after Red Wings Development Camp by being dubbed a "late bloomer" and a "shooter." Ideally, the latter title will be one that the fanbase comes to recognize more than the "late bloomer" side of things.
Pope has an accurate shot which is beneficial to have in any situation. Shawn Horcoff, Director of Player Development, told the Detroit Free Press, "You can tell he is a shooter – he's not a guy that's going to lug the puck through the neutral zone or be creative – he is going to get it, give it to skill, and get open." He'll begin the season with Grand Rapids in hopes of cracking the roster for the Wings shortly after.
#3 Top Forgotten Forward: Dominic Turgeon
Turgeon should be on everyone's watch list, especially coming into this season. His rookie season, he was a part of the Griffins' Calder Cup championship and played a huge role on the special teams. He had an impressive second season with the Griffins, tallying 32 points. He has become an elite special team skater and has incredible on-ice maturity.
Turgeon gained a lot of notice during his NHL debut this past year, though he did not tally any points. He conducted himself remarkably well against the much bigger opponents. He again made headlines towards the end of the 2017-18 season due to a season-ending injury. He will be looking to put himself back on the forefront in the upcoming season, however, now being recovered from his surgery.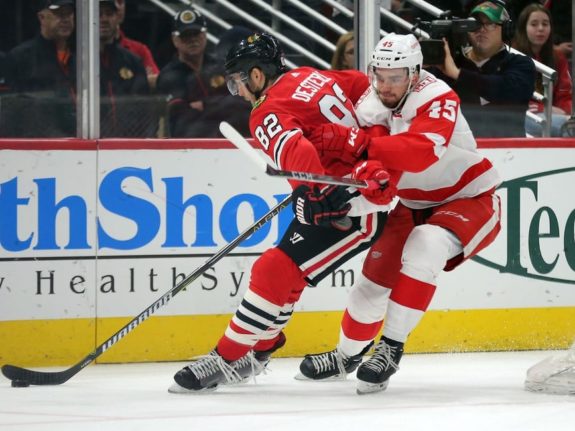 He's not one to be passed over. Turgeon is a very capable skater and if not used by the Wings after his entry-level contract expiration, he will no doubt become a thorn in the team's side if/when he's selected by someone else. This will be the season to keep a very close watch on Turgeon. He's grown immensely and will be a breakout player.
There's More to the Wings Than Zadina
Though this season's recent picks are something to get excited about, Filip Zadina being one of them, it's important to remember that not all the stars are the fresh picks. Cholowski and Rasmussen are also set to make very impressive debuts to their professional careers, but before they were even a thought, there were several unsung players battling through the organization.
They'll all need to fight for ice time in the coming season, as the Griffins roster gets more and more loaded. The forgotten ones will have a hard season in from of them, having to somehow overcome media overload in regards to the new guys, while still maintaining a healthy team culture. Fostering a competitive yet team-focused culture is something Grand Rapids does well. Though the above-mentioned guys are not the only ones in the organization making a difference seemingly unseen, they are ones who fans should be open to in the coming season. These players are all set to make pivotal changes to the game and organization as a whole, so the fans should be prepared and be alert.