The morning of July 27, the Michigan Wolverines announced that their Freshman of the Year and highest-scoring defenseman Quinn Hughes will be returning for his sophomore year. Hughes was drafted by the Canucks seventh overall this June and had shown great interest in making his NHL debut this fall, but decided to go back to college for another year. As an elite defenseman, Hughes' move greatly impacts both the teams in Vancouver and Ann Arbor.
Hughes' Elite Capabilities
The oldest of the Hughes family, one that is believed to be America's first hockey family, scored 29 points (5,24) in his freshman season. While those totals place him narrowly inside the top-20 for defensemen, only two players who scored more than Hughes were freshmen like himself.
"I've never really been on a team that cares so much about each other, and I think that's a big reason why I'm coming back, because I love my teammates." – Quinn Hughes #GoBlue pic.twitter.com/RMqugicDFW

— Michigan Hockey (@umichhockey) July 28, 2018
Hughes is an offensive dynamo, and has been on every level he's played on be it college, World Juniors or World Championships. When playing with and against grown men in the Worlds for Team USA he had the highest pass completion rate of anyone with 74.29% of his passes reaching his teammates.
Two large parts that contribute to Hughes' offensive abilities are both his skating and versatility. As raved about by every analyst and amateur scout, Hughes has explosive skating. This comes from his fast acceleration and maneuverability once he gets up to full speed. If he gets the puck behind his own net and wants to take it into the offensive zone by himself, he is near unstoppable come the opposite blue line. Depending on your definition of elite level skating, he could have better skating abilities than that of the first-overall pick Rasmus Dahlin. Dahlin is a sneaky, graceful skater with gentle acceleration — the opposite of Hughes, so it comes down to personal preference.
His versatility was also seen predominantly on the power play in Michigan; he wasn't a one-trick pony. Hughes could be seen playing the tip of the umbrella, the point above either one of the circles or even deep in the zone in or below the circles. Hughes carried this style through 5-on-5 play but hardly abandoned his defensive duties.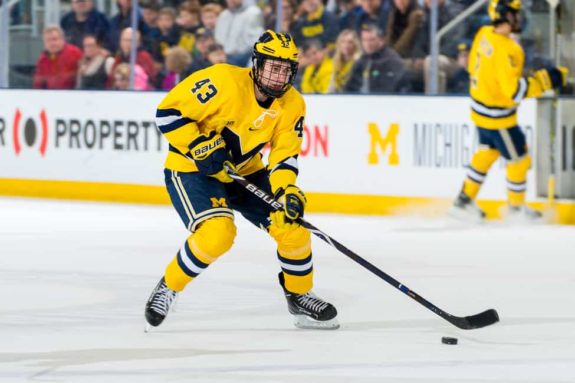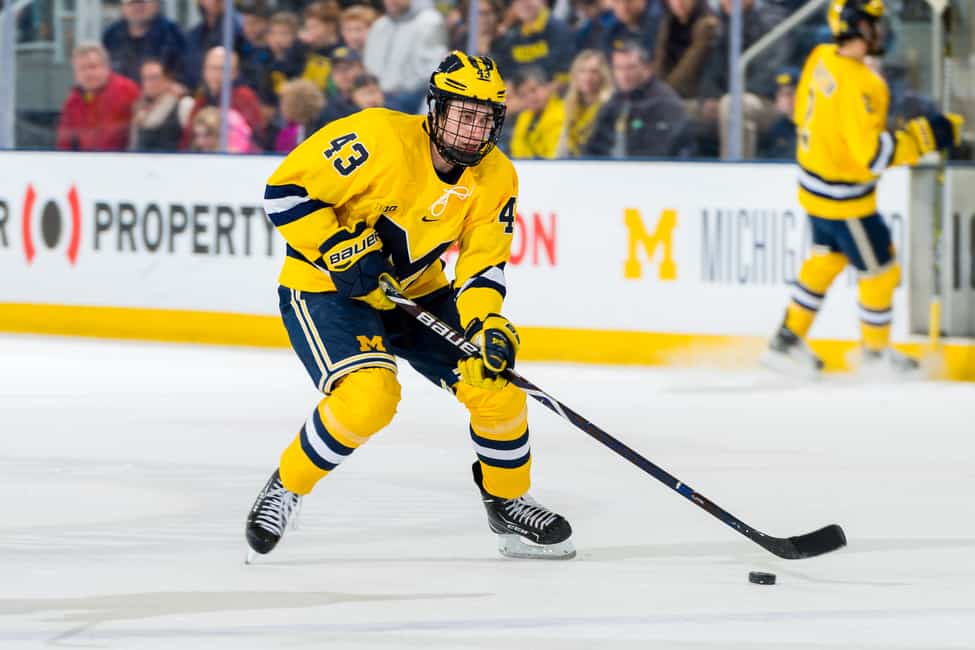 Hughes' only downside is in his own zone when pressured by heavy forecheckers. Sometimes he is easily pushed off the puck or makes poor choices when making breakout passes when the opposition is closing in. Other than that, he is as well-rounded of a defenseman as they come at that age.
Hughes Keeps Michigan in the Top-10
Quinn Hughes was one of the keys to Michigan hockey rising from the ashes. He's one of the highest drafted Wolverines in history for good reason. With their top line graduating and signing pro contracts, Hughes' impact will be of utmost importance to the roster; he's their only hope. And Hughes is going to do everything in his power to make sure that happens.
"I think we have a good team this upcoming year, and I believe in the group," Hughes told Michigan Athletics when he announced his decision. "So, for me, I have a lot of goals in my mind. I want to be the best player in college hockey, and I want to win the national championship. I think we can do it with the group and the coaching staff we have, and we believe in each other."
Michigan had a stellar season last year, but lost in the Frozen Four to Notre Dame in the dying seconds. Their Frozen Four appearance became the first since 2011 and their 25th all-time. The last time they made it that far, Carl Hagelin and Luke Glendening were in their senior and junior seasons, respectively. It's been a while.
As said prior, the 'DMC' line for Michigan has left Ann Arbor. Take them out of the stats for Michigan last year and Hughes would be the leading scorer — and chances are, he can achieve that next year.
Minnesota Duluth's Scott Perunovich led his team in scoring with 11 goals and 25 assists en route to a national championship. If Hughes can replicate last year's numbers or improve (all signs indicate he will), he can lead the Wolverines much like Perunovich led the Bulldogs. But a national championship? That's a little far-fetched, even if that's what Hughes is aiming for.
#Canucks GM Jim Benning's statement on Quinn Hughes opting to return to @umichhockey next season. pic.twitter.com/V71mxuSgAw

— Vancouver #Canucks (@Canucks) July 28, 2018
After losing their entire top-line, it'll almost take a miracle to have a chance at winning a 'natty', even with Hughes. However, Michigan will keep top-10 ranking hopes alive with their star defender in the line-up. While they won't hit the No. 1-5 ranking, they can still comfortably sit in the No. 6-10 spots.
But as for being the best player in the NCAA? It's not out of his reach. While his point totals aren't the highest, his ceiling is the highest of most, if not all, defensemen on the college level. He will just barely be 19-years-old when the season comes around. Any player that can put up totals of 35-plus points (which he can easily obtain) at that age can be considered one of the best.
Canucks Not Ready for Hughes
Quinn Hughes could have walked into training camp and sealed himself an opening-night roster spot with minimal issues on his end. However, for the Canucks' front office, it would be a totally different story. Frankly, it's best Hughes didn't decide to come because it would have put GM Jim Benning in a bind.
The only problem that Hughes would have run into is being in a shaky organization. No one knows how the Canucks will fare with the departure of the Sedins. And those filling their place will be kids with minimal NHL experience. While Michigan has a lot of question marks themselves, Hughes can already play at that level and solve some of their problems — he'd have a harder time doing that with the Canucks. Ultimately, it's better to take a safer path than to push himself too hard in the big leagues.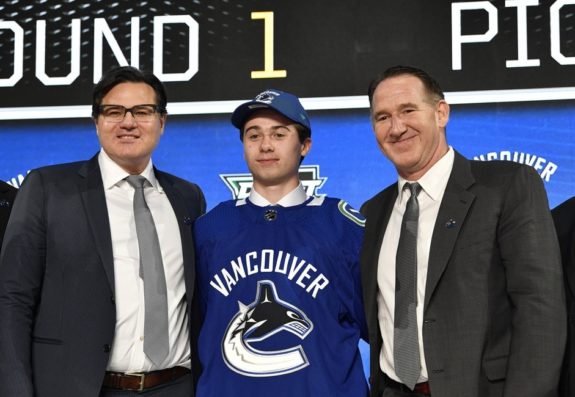 As for Benning's problems, right now the Canucks have eight defensemen under contract and on the roster: Alex Edler, Chris Tanev,  Erik Gudbranson, Michael Del Zotto, Ben Hutton, Troy Stecher, Derrick Pouliot and Alex Biega. All are NHL-caliber defensemen, so it would have been a struggle to see who Hughes would take the place of. Eventually, he'll fill in for Edler, but it wouldn't be smart to replace him now. And you can't logically put Hughes in place of some of the more physical presences of Del Zotto and Gudbranson.
And since it's a large risk to have any of these players clear waivers on the way to the Utica Comets, the only way to 'replace' these players is to trade them.
If a name were to hit the trade block, it would be Ben Hutton. Supposedly he's already been shopped around during his down year where he had only six points through 61 games.
But Hutton is still young at 25 years old and has hovered around the 20-point mark for the first two years of his career — to trade him after one bad year (although it was a very bad year) would be losing out on what potential Hutton has. In the next few years, he could develop into a second-pair, puck-moving defenseman. And at the very worst, he could have a great year in 2018-19 and he could be traded at the deadline to make room for Hughes who will likely sign right after Michigan's playoff run is over.
All in all, Hughes is making a good choice for his career, as well as both teams involved. But Hughes said it best himself, saying he'll come out on top regardless of what he chose since that's what good players do. At least he's not short on confidence.