Vancouver Canucks defender Ben Hutton is coming off an atrocious season that saw him contribute six points and carry a minus-9 rating.
Granted, the team as a whole was pretty terrible, but Hutton still noticeably did not look like himself, and, in fact, he looked out of place.
Coach Travis Green's confidence in Hutton, or lack thereof, was especially evident, and calls for a Hutton trade echoed throughout Canucks media a small handful of times.
As the team prepares to turn a new page with the 2018-19 season, Hutton is also hoping to put the past behind him and bounce back with his best season yet.
Ben Hutton, Three Seasons Later
Hutton started his NHL career in quite impressive fashion back with the 2015-16 Canucks — the rookie chalked up 25 points in 75 games and had the Canucks' faithful very excited.
He showcased an incredibly smooth-skating d-man who is excellent in the transition, turning the puck up ice quickly and efficiently with good first passes or simply by wheeling in open ice with his head up — all important ingredients for a power-play quarterback.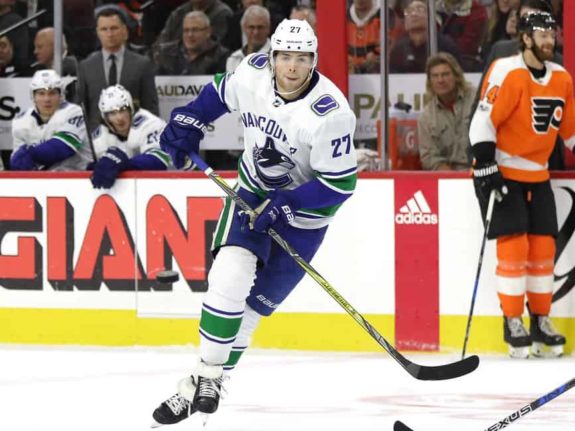 The next season, though, Hutton seemed a little different — those simple breakouts were starting to cause issues for Hutton. Little mental mistakes started to become more and more frequent for the young defender.
After the successful rookie showing, the head coach at the time, Willie Desjardins, perhaps tacked on a little too much pressure for Hutton to handle.
An increase in ice time and responsibility seemed to get into his head and produce a more-or-less negative outcome — he finished the season with 19 points and a minus-22 rating.
With that being said, it wasn't all bad news. Hutton put up 11 power-play points, further painting that image of him as a power-play quarterback of the future.
In his third season, last year, Hutton saw more change — this time, to the personnel around him. The bringing in of Michael Del Zotto and Derrick Pouliot on the back end created additional competition and pressure for Hutton.
On top of that, a new coach was brought on board. The previously mentioned Green did not seem to have confidence in Hutton, reducing his ice time and even scratching him a handful of times — Hutton, a once0promising rookie, had now been reduced to the seventh defensive spot.
Ice time splits for #Canucks 7 defencemen tonight in the loss to @NHLCanes:

Alex Edler: 23:01
Troy Stecher: 21:37
Erik Gudbranson: 19:23
Alex Biega: 17:50
Michael Del Zotto: 17:40
Derrick Pouliot: 13:47
Ben Hutton: 5:20

— Joey Kenward (@kenwardskorner) February 10, 2018
The lack of confidence from the bench, in my eyes, sparked a lack of self-confidence inside Hutton. When he did get opportunities, he frequently appeared almost nervous and caused an unfortunate amount of errors.
He finished the 2017-18 campaign with only 61 games played and six points to show for it. His power-play contributions dipped down to two points.
Ben Hutton and the 2018-19 Canucks
This fast-approaching 2018-19 season is incredibly important for Hutton — he needs to bounce back, in a big way, or he could be on his way out the door.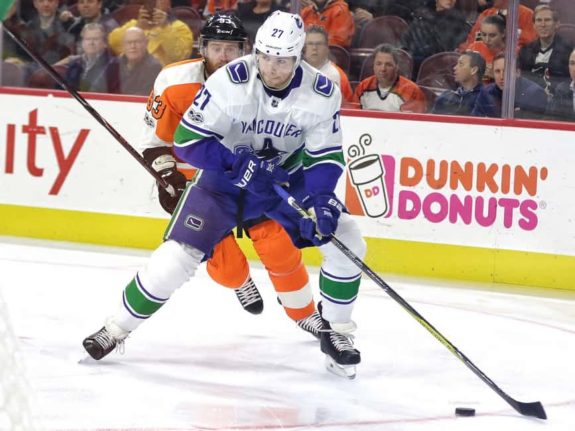 Coach Green has seemingly changed his views on Hutton and actually showed some confidence in the young man during an interview with Sportsnet-650.
"I'm excited to see how Ben Hutton comes back and I have full confidence he's going to have a great year," said Green.
As the Canucks move into the next phase of their rebuild, cementing a key core of guys with leadership roles is high on the to-do-list — obviously, that happens organically in the room, but there's no reason why Hutton couldn't be one of those guys.
"I am very excited, it's a new era on who we will see on the ice, leadership-wise. It's an exciting time for the city with all the young players," Green told Sportsnet-650.
Consistent ice time and some serious power play looks will be huge for Hutton — with his skating ability and offensive awareness, there's no reason why he couldn't get back to that 25-to-35-point area and stay there consistently.
He really is the whole package, but the mental side of his game seems to come and go. Confidence from Green should hopefully manifest into strong self-confidence that lasts.
Hutton 2018-19 Prediction
Short and sweet: Much like the Canucks, I think Hutton will have a surprisingly good season and hit the 30-point mark. However, hopes have been high for Hutton before.
What do you think Hutton's 2018-19 campaign will look like? Will he be better or worse? Let me know in the comments down below!