Even venerable broadcaster Gord Miller was shocked when Jets' general manager Kevin Cheveldayoff stood at at the podium during the 2011 NHL Entry Draft nearly seven years ago and selected Mark Scheifele.
The first word out of his mouth was "wow."
"That's our first real jump up, Bob," Miller said to TSN Hockey Insider Bob McKenzie. McKenzie — a leading authority on player analysis and scouting guru — had him ranked 12th.
The Jets' decision to draft Mark Scheifele over Sean Couturier, who many were surprised was still available at all, was met with its fair share of criticism and dubiety.
"A year ago, nobody associated with scouting in the National Hockey League, had any idea who Mark Scheifele was," McKenzie said, acknowledging the forward had increased his draft stock significantly in the past year by putting up 75-points for the OHL's Barrie Colts.
Everyone knows who Scheifele is now, that's for sure — a superstar and a cornerstone of the Jets.
Selecting Scheifele was just the first display of Cheveldayoff's draft savvy and the earliest example of his patient approach — to build a Stanley Cup contender from within by committing to gathering and developing homegrown talent. It's clear Cheveldayoff was right to go off the board.
Early On, the Decision Didn't Look so Great…
Cheveldayoff didn't reap immediate rewards by drafting Scheifele. The year after the 2011 draft did nothing to quell ire or doubt. Many still felt the Jets should have opted for Couturier, the high-profile QMJHL standout, instead.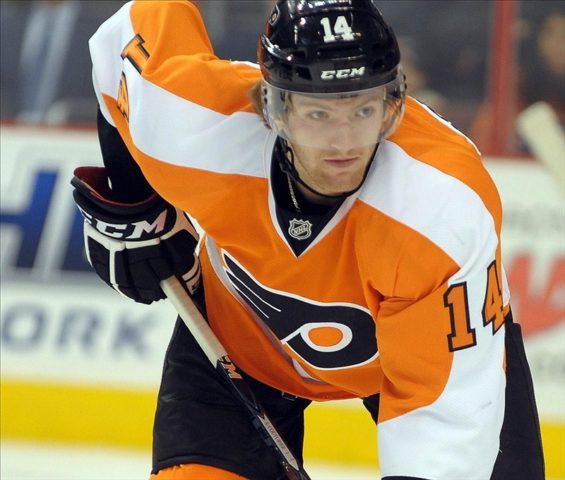 Couturier stepped directly into the NHL's bright lights and didn't blink. In the 2011-12 season, the teenager played 77 games, tallied 27 points, went to the NHL All-Star Game skills competition as a member of the rookie team, and carved out a niche on the penalty kill. Not a bad rookie campaign.
Scheifele, meanwhile, was raw and not ready for prime time. After seven games with the Jets to start the year, they sent him back to Barrie, where his offensive numbers actually regressed.
You can forgive those who were upset at the Jets' boss. Seeing Couturier shine so early and contribute to a playoff-bound team while the Jets stumbled their way through a tumultuous inaugural season with a bunch of forgettable plugs and Atlanta leftovers understandably rankled many.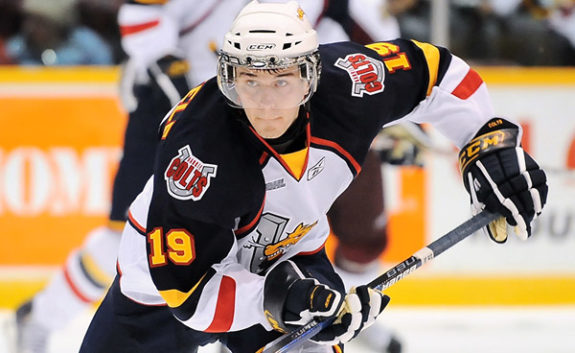 "Scheifele looked lost on a team that missed the playoffs by a wide margin, while Couturier has a real role on one of the best teams in the league," wrote one pundit back in 2012 on Arctic Ice Hockey, a Jets-dedicated website. "The Jets may have had great reasons for not picking the consensus best player remaining at the No. 7 spot, but the person who came up with those reasons has not yet been vindicated."
The move didn't look any better in 2012-13. Couturier took a step back, splitting time between the Flyers and their AHL affiliate in Adirondack, but still logged 46 NHL games. Meanwhile, Scheifele went back to the Colts again, and while he had an outstanding season, tallying 79 points in a mere 45 games, he'd not yet made a splash in the NHL.
…But Good Things Come to Those Who Wait
It wasn't until the 2013-14 season, that Scheifele, 20 years old at the time, cemented a full-time roster spot. That's not out of the ordinary, but next to Couturier — who helped his team directly out of the draft — he seemed like a late bloomer in comparison.
In 2013-14, he had 34 points. The next year, he upped that total to 49. Couturier had 39 and 37 points in those two years. In 2013-14, Scheifele got the chance, thanks to a Bryan Little injury, to play on a line with Blake Wheeler, the beginning of a bond between the two that's now unbreakable.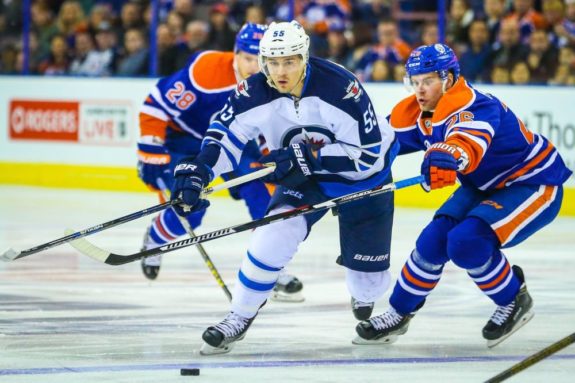 2015-16 was the real beginning of Scheifele's ascent to near the top of the list of the league's most gifted and dynamic players. He amassed career highs in every category, finishing the year with 29 goals, 61 points, and a team-best plus-16 rating. His offensive awareness and playmaking ability began to shine.
It was also the year where he completed his transition from a boy into a man. He began bulking up, assisted by freakishly fit former NHLer Gary Roberts, the year prior. By 2015-16, he was 30 pounds heavier — and much fitter — than he was as a teen. That translated, among other things, to vastly improved skating, especially in transition. No longer did he fit the unflattering moniker of "Bambi" he'd been given for his gangly figure, long legs, and penchant for slipping and sliding around the ice akin to the baby deer in the 1942 Disney classic.
Couturier's Good, but Scheifele's Better
Couturier is not a bad player at all —  he's a darn good one who most teams would be happy to have the services. Before the 2017-18 season, he played the role of a defensive forward tasked with shutting down the other team's best, never eclipsing 39 points. In 2017-18, though, he was given a chance to log top-line minutes between Jakub Voracek and Claude Giroux, nearly doubling his highest single-season point total with 76. He's also hardcore — he played the final two games of the first round of this spring's playoffs with a torn MCL.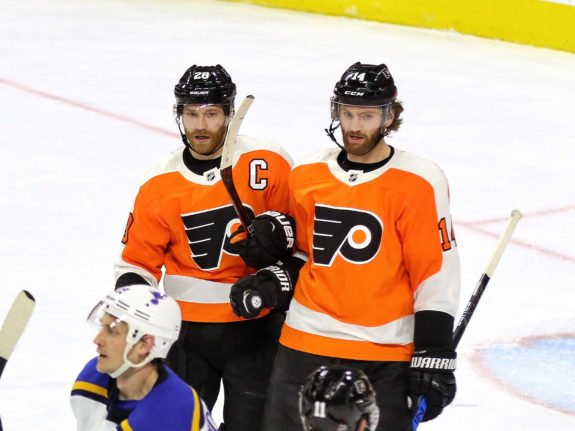 However, Scheifele is just a little better and exactly what the Jets needed from their first-ever pick — a bonafide number-one centre to build around. For the past two seasons, he's produced a point-per-game, averaged more than 20 minutes of ice time, and acted as a quiet but confident leader who lets his play do the talking. Although he missed 22 games in 2017-18 with an upper-body injury, he still produced 60 points and was simply outstanding during the Jets' run to the Western Conference Final, coming within five goals of tying a decades-old playoff record.
#JetsTV's 'Draft & Develop' showcases @markscheifele55's path after he was drafted in 2011 by the #NHLJets! pic.twitter.com/MZHD8eqTHv

— Winnipeg Jets (@NHLJets) June 15, 2018
The Kitchener product is a true game-changer, dangerous every time he has the puck. He's also a terrific bargain — his $6,125,000 annual cap hit is small potatoes given what he brings to the ice night-in, night-out. A lot of players make a lot more and produce a lot less (looking at you, Andrew Ladd). At just 25 years old, the best years of Scheifele's career may be yet to come.
Even though Couturier is good, no GM would trade Scheifele for Couturier one-for-one. Their head-to-head numbers say it all —Scheifele has 20 more points in 132 fewer games.
The Jets have vindicated Cheveldayoff's selections. His track record is sparkling and people are a lot less prone to criticize him because of his history of success. Everyone can see in 2018 that Cheveldayoff's off-the-board pick was right on the money, even though it seemed like the wrong one at the outset. While many didn't know it was the right pick at the time, it's obvious the Jets' GM did.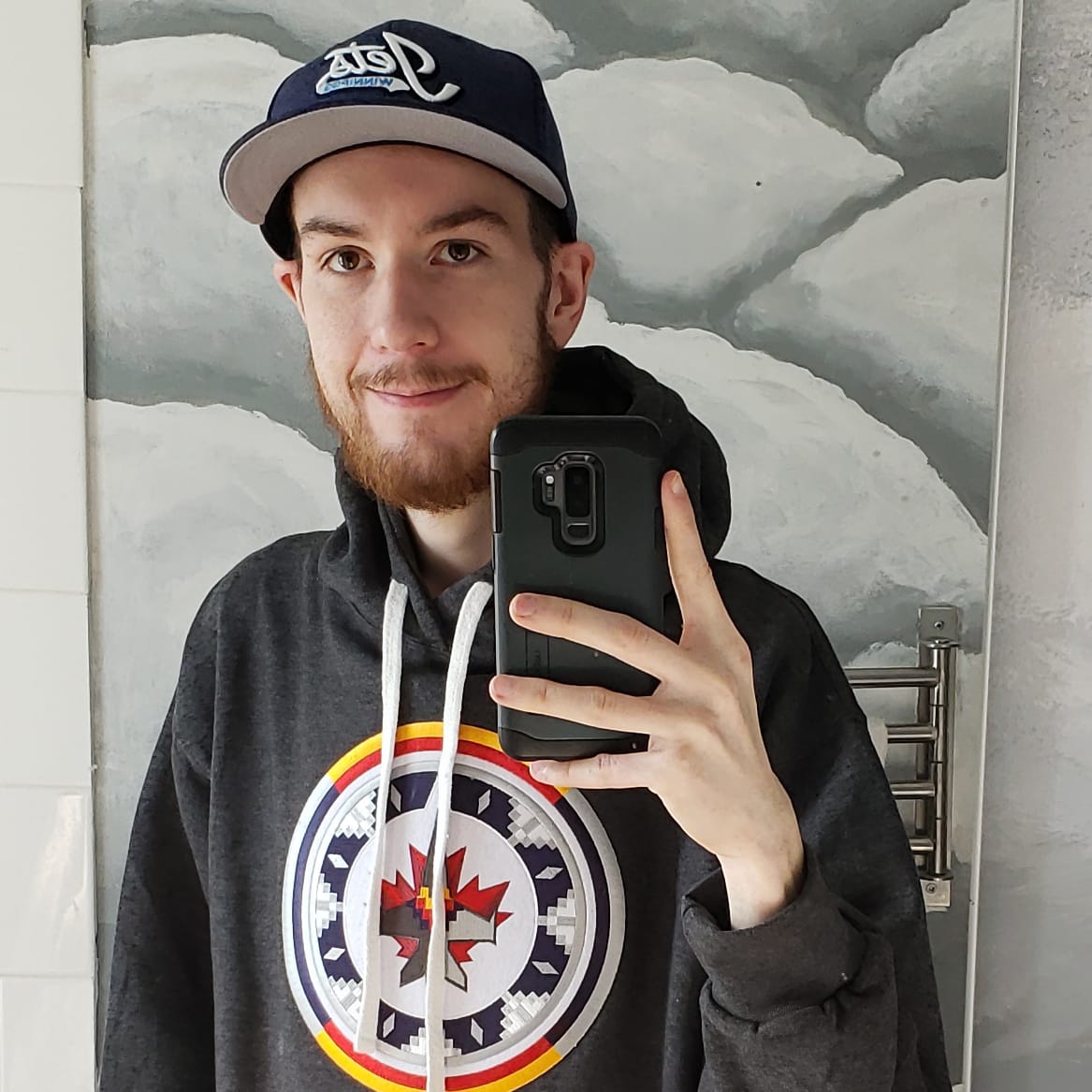 Declan Schroeder is a 27-year-old communications specialist and freelance journalist in Winnipeg, Manitoba. He holds a diploma in Creative Communications with a major in journalism from Red River College and a bachelors in Rhetoric and Communications from the University of Winnipeg.
Deeply rooted in the city's hockey culture, the original Jets skipped town when he was two and the 2.0 version came onto the scene when he was 17.