Coming off a tumultuous season that culminated in a rough opening-round sweep against the San Jose Sharks, the Anaheim Ducks are looking to avoid an extended downward trend into non-contender status. To do that, they will need to, among other things, maintain enough salary cap flexibility to lock up their young talent while also being able to stay in play for additions that could help their team down the line via trade or free agency.
With nearly $24 million per season tied up in the contracts of veterans Ryan Getzlaf, Corey Perry, and the deteriorating Ryan Kesler, the Ducks will need to carefully maneuver in order to remain a contender in the long-term.
Ducks' Restricted Free Agents
Right now, the Ducks have about $9.5 million in cap space, with three key restricted free agents (RFAs) still floating without contracts: Nick Ritchie, Ondrej Kase, and Brandon Montour. Montour, the slick-skating right-handed defenseman who has shown promise but needs to be more consistent, is arbitration-eligible. Defenseman Andy Welinski, 25, is also an arbitration-eligible RFA and could figure into Anaheim's plans next season as a depth blueliner, but he is not nearly as high-profile as the aforementioned trio of players.
Ritchie is an interesting case, as the 22-year-old power forward failed to take a step forward in 2017-18 after a 14-goal, 14-assist campaign the year prior, which was his first full NHL season. In 2017-18, Ritchie only scored 10 goals while adding 17 assists and numerous unnecessary penalties. He is still young, so it's more likely than not that the Ducks will give him another chance to validate his status as the 10th overall selection in the 2014 NHL Draft, but if the right deal comes along, perhaps they'll consider trading him.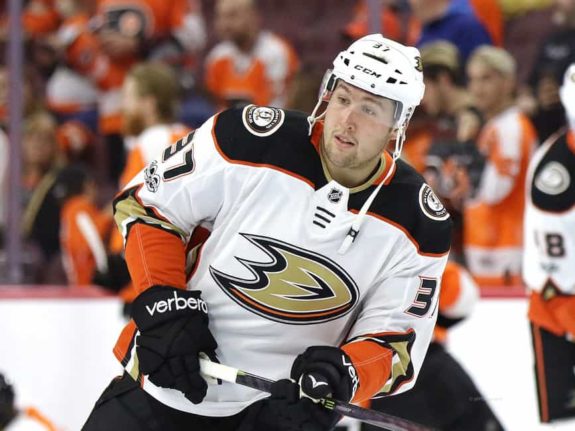 Kase, also a 22-year-old winger, exploded last season for 20 goals in 66 games, giving Anaheim some much-needed depth scoring. Montour, meanwhile, showed flashes of offensive ability in compiling nine goals and 23 assists. The 24-year-old figures to be a part of the Ducks' future but probably isn't quite untouchable at this point.
For now, let's assume Anaheim re-signs all three players. Term will be interesting, as the organization could either bridge them for less money now and likely significantly more a couple years down the road, or they can commit more years at a slightly higher average annual value (AAV) now that would hopefully be a bargain at the back end. It's the classic bridge contract versus long-term contract debate that comes up with young RFAs.
Ritchie, and to a lesser extent, Montour, might need to show the Ducks a bit more before getting longer-term deals. This could also hold true for Kase, although his stock is trending up right now, so perhaps Anaheim will consider committing more than two years to him, betting that his offense will continue to improve while he remains a key energizing force for the club.
When it's all said and done, it's conceivable that each player could cost anywhere between $2 million and $3 million next season. Let's say the combined AAV for all three ends up being $7 million. That would leave Anaheim with just $2.5 million in cap space, which could spell issues in 2019-20 and beyond.
John Gibson's Looming Payday
John Gibson, the Ducks' 25-year-old emerging star in net, will make only $2.3 million in 2018-19. After that, though, he is set to hit arbitration-eligible RFA status.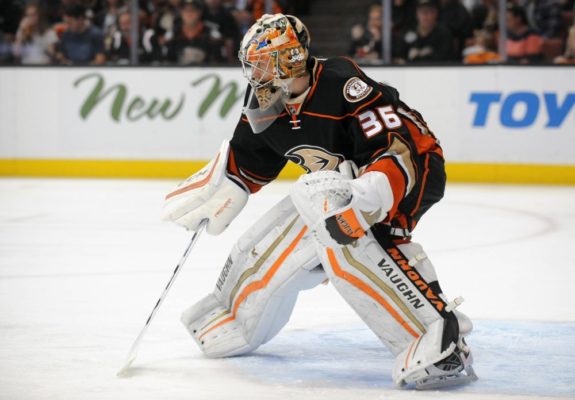 Gibson's stellar play in 2017-18 kept the Ducks afloat during the regular season. As general manager Bob Murray said after the team's elimination, "Good goaltending tends to cover up a lot of crap. And it did a good job of that."
If Gibson keeps up that level of play and can assuage some minor injury concerns that have cropped up intermittently in his career, he will likely be in line for a raise to take his AAV upwards of $6 million. In fact, it's plausible that he could even sign an extension this offseason.
Either way, assuming the previously mentioned total value of re-signing their key RFAs, the Ducks would not have enough space for that right now. Of course, there could always be a slight bump in the salary cap again next year, as there was this year.
Beyond that, the Ducks will surely make roster changes between now and then. What types of changes could they make? Well, that's where everyone's favorite NHL offseason pastime—roster and transaction speculation—comes into play.
Expiring Contracts & Potential Moves
Contracts for Korbinian Holzer and recent free-agent additions Brian Gibbons, Andrej Sustr, and Luke Schenn will expire next season, freeing up over $3 million if they are not brought back (yes, I am speculating about this before these recent signees have even played a game for their new team). Veteran backup goaltender Ryan Miller will also hit UFA status a year from now at age 38; he could very well retire. In any event, while his exit would free up $2 million, Anaheim will need to fill that slot with another capable backup, so most of that space will likely be negated.
A bigger name who is set to hit unrestricted free-agent (UFA) status next year is winger Jakob Silfverberg, who will be 28 years old at that time. The Swedish sniper experienced his first step back in 2017-18 after years of steady improvement at the NHL level. Following a 23-goal and 49-point campaign in 2016-17, Silfverberg regressed to 17 goals and 40 points last season.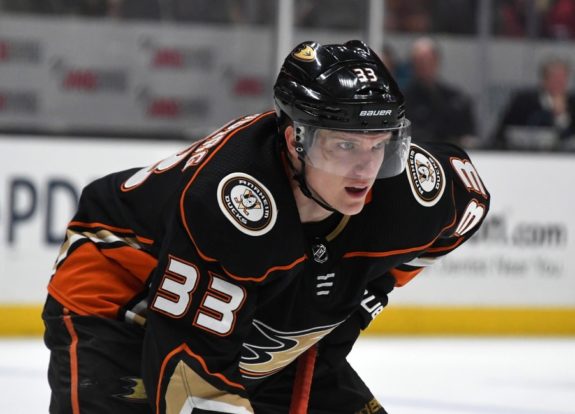 He does, however, offer strong 200-foot play and penalty killing; he had the third-most shorthanded ice time among Ducks forwards last season. His all-around game is valuable, and it's quite possible that he'll rebound next season for another 20-plus goals, but will the Ducks be willing and/or able to pay him more than his current AAV of $3.75 million after 2018-19? As valuable of a player as Silfverberg is, he might become a cap-crunch sacrifice, especially if the Ducks are unable to unload the contracts of Perry and/or Kesler.
Center Adam Henrique, who was a great fit for the Ducks last season after coming over from the New Jersey Devils in a trade that saw defenseman Sami Vatanen go the other way, is also due to become a UFA next year. He might not even get to that point, though, as there appears to be mutual interest in a contract extension for the 28-year-old pivot. Coming off an AAV of $4 million now, a raise for Henrique would further cut into the Ducks' cap space for 2019-20 and beyond. So too would a raise for 2019 RFA Marcus Pettersson, a young defenseman who figures to be a key part of Anaheim's efforts to redefine itself as young and fast.
A Plethora of Possibilities for Ducks
The good news for the Ducks is that they already have some of their emerging young stars locked up long-term on team-friendly contracts. Leading scorer Rickard Rakell, 25, carries an AAV of just $3.79 million all the way through the 2021-22 season. Stalwart defenseman Hampus Lindholm, who is still only 24, is signed through the same year for $5.21 million per. Lindholm's frequent partner on defense, Josh Manson (age 26), is under contract for the same duration as well, at an AAV of $4.1 million.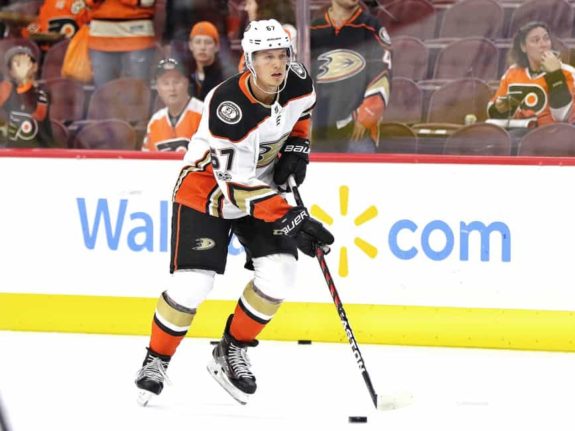 Nevertheless, the Ducks have some interesting decisions to make over the next year. Will they take the assumptive route of re-signing all of their RFAs this season, or will they look to trade any of them? Some noteworthy names are bound to be dealt between now and next summer. Could Silfverberg or another role player be on his way out? Or could the Ducks manage to move one of their huge, increasingly unfavorable contracts (i.e., those belonging to Perry and Kesler) to create cap space?
There are lots of possibilities, and that fact will make for a very intriguing couple of offseasons for Anaheim.
What moves do you think the Ducks will make to manage the salary cap? Comment below with your thoughts.