If you look at the additions Edmonton Oilers GM Craig MacTavish has made this season, there's a trend that becomes apparent.
Andrew Ference, Boyd Gordon, Matt Hendricks, Ben Scrivens and Mark Fraser are a few of the new faces in Oil Country this season. 
A few things jump out with this group, and the first is character. All of those names are character, team first guys. There's a toughness, be it mental or physical, with them and it shows the direction MacTavish thinks this team needs to go.
They are also a defence first type of group. Something the majority of the Oilers group is not. The top tier of talent like Taylor Hall, Ryan Nugent-Hopkins, Jordan Eberle, Justin Schultz and Nail Yakupov are supremely talented, however do their best work on the offensive side of the puck. 
One of the biggest issues in past seasons has been the team is simply not hard enough or gritty enough to win. That a more defence first approach, or even just more attention to defence was needed.These players have been brought it to help with that notion as well as a coach to preach it.
Now, it's obvious that all of MacT's work hasn't exactly produced results on the ice, but he has continued to tinker and add pieces that will help going forward, while keeping his eye out for that blockbuster deal he so badly wants to pull the trigger on.
Much of the struggles early on can be in part attributed to poor goaltending and injury. The fact the Oilers dug themselves far too deep a hole to dig out of.
Offseason acquisitions  like Ference and Gordon, brought in for defensive prowess have not disappointed, however have been asked to do too much and need more support in that area.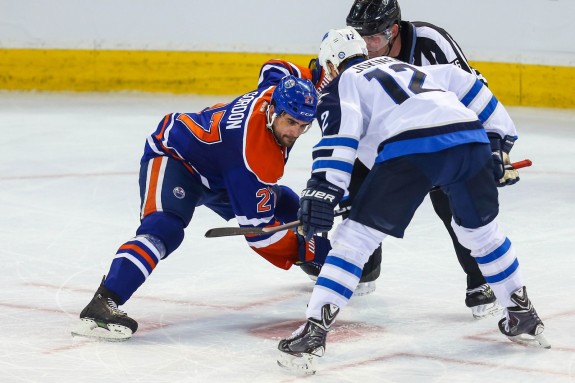 Ference has been an excellent leader as new captain and solid on the backend, but has been playing above his station on many nights.
Gordon, one of the best defensive centres in the NHL has done yeoman's work and been one of the team's most reliable two way players. He has taken more than four times as many defensive zone draws than any other forward and despite playing against the other team's best every night, still ranks first on the Oilers in terms of fewest shots against when he's on the ice.
Recent additions like Hendricks, Fraser, Scrivens and even Ilya Bryzgalov have brought more defensive support and the Oilers play has progressed. Eakins has noticed a change and feels his message may finally be starting to sink in;
"Well, it's changed it greatly because the guys we've acquired are singing from the same (songbook) of the game that we're trying to employ here," Eakins said. "Hendricks comes in, Fraser comes in, Scrivens comes in, these guys are of very high character.

"They want to play the defence game first. Scrivens has just come from an organization (Los Angeles) that's all about defence first. We've added a little bit of toughness, we've added some guys who want to play the defence-first game and are preaching that.

"It's important to have those voices in your room, especially good veteran guys like Hendricks. He has played well, he has taken on a role here. Scrivens has played extremely well, and Fraser has come in and he's hard to play against.

Hendricks has had an impact on the ice and in the dressing room (Marilyn Indahl-USA TODAY Sports)
There's very little hope they will reach a playoff spot in 2013-14, and there is still much defensive improvement to come, but there is more optimism going forward for the rest of the season and into next year. The team has gone 5-1-1 in their last seven games and are hoping the momentum will continue after the Oympic break.
The team still sits last in the conference and 17 points out of a playoff spot, however at this point any improvement is significant and Oilers fans are in desperate need of optimism.
The biggest improvement in the Oilers game has been the upgrade at the goaltending position, where the current tandem of Ben Scrivens and Ilya Bryzgalov have been much better than the duo of Devan Dubnyk and Jason LaBarbera that started the season.
There is a big difference in play when the team knows there is a goaltender that can bail them out on occasion. Especially true in the case of Scrivens who has already given the Oilers a few points they really haven't deserved, highlighted by his record setting 59 save shutout of the San Jose Sharks.

The Oilers still will have a decision to make on their goaltending as both netminders are pending UFA's. Scrivens in particular has certainly made a case to stay in the blue and orange.
The Edmonton Oilers are still lacking when it comes to personnel, they still need one, probably two, top pairing defenceman and some size in their top six group of forwards, and Craig MacTavish is diligently working to accomplish that.
In the meantime, many of his acquistions are paying dividends and will hopefully lay a better foundation for next season where the Oilers can take the step forward most expected to happen this season.
______________________________________________________________________
Follow Carl on twitter @carlTHW and Google+ for more articles.