Coming into the 2014 Sochi Games, the Russian National Team had the weight of their massive country on their shoulders. However, while their offense is among the best in the tournament; their defense will embarrass the host country.
In post-World War II Russia imposed an "Iron Curtain" defending westerners from entering their borders of the Soviet Union. The Russians on defense in Sochi will have the opposite of that curtain. This defense will look more like a shower curtain than anything that would resemble iron.
The Russians on offense are led by Alex Ovechkin, Evgeni Malkin, Pavel Datsyuk, Alexander Semin and Ilya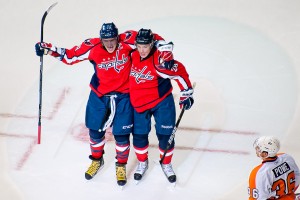 Kovalchuk. Those are all elite producers that will keep the Russians alive in pool play. However, this defense is going to force the offense to constantly to play from behind; which will make odd-man rushes while they're pushing play.
In their Olympic preview at NHL.com, Dan Rosen expressed the same concerns as I have about this defensive corps saying:
"If the Russians have a weakness, it's on defense, where they have seven left-shot players to only one righty and no real speedster. Compounding the problem is the fact that Ovechkin, Semin and Radulov, three forwards who expect to receive a lot of ice time, are not known for coming back hard into the defensive zone. Datsyuk is coming off a knee injury that kept him out of 14 straight games before he returned last Thursday."
This blueprint of "score first play defense later" hasn't resulted in any gold medals during the NHL inclusion in the Olympics. In 2010 and 2006, the Russians were blown out by Canada in the quarterfinals, 7-3 and failed to score a goal in their final two games against Finland and the Czech Republic.The last time this team even medaled in Olympic play was back in 2002 when they took Bronze by beating Belarus, 7-2. In those games, Russia finish third in their pool with an even goal differential.
If Russian fans were hoping to see this team win their first ever Gold Medal as a nation they are sadly mistaken. Their goaltending is very good. But, because of this porous defense the Russians will have to get monumental performances from either Sergei Bobrovsky or Semyon Varlamov.
Both have played well for their NHL squads this season. However, if both goaltenders face a barrage of shots, to go with odd-man rushes, it doesn't matter how great they're playing, they are going to be giving up a lot of goals.
Russia will overmatch Slovenia when they play, however, that will be the only game they will win. They're going to be overmatched by the USA and will see their hopes at a medal eliminated by the hands of Slovakia.
Agree or disagree? Let me know on Twitter by clicking here: @tjmcaloon