The NHL has reached the Olympic break and the Columbus Blue Jackets find themselves three points out of a guaranteed playoff berth in the Metropolitan Division and one point shy of the Wild Card chase. There have been many reasons for the Blue Jackets' success: star-making performances from 3rd year players Ryan Johansen and Cam Atkinson, career years from veterans like James Wisniewski and Brandon Dubsinky, a return to form of reigning Vezina winner Sergei Bobrovsky, and even Head Coach Todd Richards' ability to get the most from his young, inexperienced, accustomed-to-losing squad, despite dealing with the league's 4th highest total for man games lost are all fairly common topics. One player whose name has not been associated with the Blue Jackets relative success has been Marian Gaborik.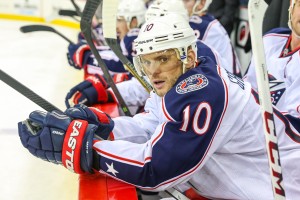 Acquired at the 2012-13 NHL Trade Deadline, Gaborik was believed to be the missing spark for the Blue Jackets last year: a bonafide superstar presence that had not been felt in Columbus since the team traded away former captain Rick Nash. In general the move worked–Gaborik joined the team and chipped in 8 points in the final 12 games of the season as the Jackets finished the season one point shy of their second ever playoff berth. Unfortunately, this season has seen Gaborik, who is scheduled to become an unrestricted free agent this offseason, limited to a scant 18 games, a seeming return to the "bad" old days that saw the star miss out on almost 150 games between 2005-06 and the 2011-12 season with assorted injuries. Worse yet for Gaborik is that the team has barely seemed to notice his absence so far this season.
The unfortunate reality surrounding Gaborik's injury-plagued season is that the team has not seen enough of the star to even formulate a decision on whether to negotiate a new contract with Gabby or if they would be better served to trade his expiring contract for further draft choices and prospects–a welcome addition for a franchise still squarely positioned in the "building" phase of team development. In the wake of Gaborik's inability to force the team to make a decision for keeping or trading him, what follows is an argument in favor of keeping Gaborik in Columbus on a strictly "rental" basis.
Gaborik on the Block?
Rumors surrounding the possibility of Gaborik being traded this season date back as far as November when Columbus Dispatch Blue Jackets insider Aaron Portzline tweeted that he expected Gabby to be traded possibly well in advance of the league's annual deadline.
Barring a dramatic change, I see no chance #CBJ even attempt to re-sign Marian Gaborik, will look to move him at trade deadline or sooner.

— Aaron Portzline (@Aportzline) November 14, 2013

Of course, the context surrounding Portzline's prediction now seem antiquated: in mid-November the Blue Jackets were among the worst teams in the league and seemed destined for a let down following their late season heroics last year. Now, however, the Jackets have gone 12-5-1 since the start of 2014 and could arguably be regarded as one of the 5 hottest teams in the league over the last month and a half. Now that the Jackets find themselves in the middle of the playoff push, they should be looking to add pieces, not sell them off, leaving many more questions about Gaborik's future with the franchise.
Gaborik As a Rental Option
With only 10 days left to make trades before the March 5th trade deadline the Blue Jackets should feel comfortable in viewing themselves as buyers, within reason. As has been mentioned above, the team is still in the process of building towards elite status and is far removed from any type of win now mentality; as such don't expect to find them trading a first round pick and a can't miss prospect like Alexander Wennberg for 20 games worth of Thomas Vanek. Nonetheless, if the team has an opportunity to acquire a stay-at-home defenseman or a top-9 depth forward without giving up more than a mid-level prospect or draft choice, Jackets fans should feel confident that GM Jarmo Kekalainen will make that move.
Although the team won't be in the market for the big name UFAs-to-be, they should be able to significantly improve their roster at the deadline by treating Gaborik like a rental player. Kekalainen should sit down with Gaborik prior to his return to game action and spell things out as simply as possible: the Blue Jackets are in the midst of the playoff hunt and could really use his services, as such Gabby will have the next 20 games to prove his free market value, whether he should choose to want to stay in Columbus or test free agency.  I don't write this to suggest that Gaborik is any sort of "enigmatic superstar" who needs to be motivated to succeed, I also don't write this to suggest that Gaborik needs to be coddled: truthfully, based on everything I've read about the player and seen in his own persona, Gabby is a huge self-starter who not only wants to succeed as an individual, but also wants to help deliver the Blue Jacket franchise to a higher level. In fact, I only write all of this because if the Blue Jackets want to succeed–if they want to make the postseason this year and cause some disruptions, to get their first ever postseason victory, their first ever postseason series win–the team is going to need Gabby in tip-top shape. No other team will be in position to acquire the services of a 3-time 40-goal scorer for so cheap. No other team can add that one piece who should be counted on to score a late game-tying or game-winning goal, but if the Jackets decide to stick with Gaborik, they will do just that.
This Year's Rental Market
One interesting twist to this year's trade deadline is that although there are a number of top-quality pieces available, including the above-mentioned Vanek, Mike Cammalleri, Matt Moulson, and Ryan Miller; there also seems like there could be a lack of interested parties for any of these big names. As of this writing, five teams have amassed at least 80 points so far this season with only five additional teams totaling at least 70 points, no other teams will enter the Olympic break with more than 69 points. Put more succinctly, the teams who can truly call themselves Stanley Cup contenders know who they are. Unfortunately for teams looking to sell expensive assets to those Cup contenders, 6 of the 10 teams identified (Chicago, Boston, Toronto, Pittsburgh, Tampa Bay, and San Jose) have no cap space except for LTIR relief, while 2 more (St. Louis and Anaheim) will not likely have enough cap space to reasonably make a push for any of the biggest names.
With all of these teams more or less maxed out on salary it will come down to whether the second tier teams (of which the Blue Jackets deservedly should consider themselves) will be willing to make the investment in the big name rental options. If that becomes the case, then the Blue Jackets need to assess whether they are willing to trade Gaborik to someone they are battling in the standings. For some perspective the ever charismatic Eklund from HockeyBuzz.com has identified two front-runners for Gaborik's services: the Los Angeles Kings and the Detroit Red Wings. As we enter the Olympic break it is the Red Wings who are one point ahead of the Blue Jackets for the final wild card spot in the Eastern Conference, with other options available at the deadline (which would only bring down the return on Gabby), and with interest limited primarily to one of the Jackets' greatest historical rivals, who currently stand in the way of the Jackets making the playoffs, it seems almost impossible to see the Jackets agree to that kind of trade.
Given all of the factors working against the Blue Jackets moving Gaborik at the trade deadline this season, the team may simply have to adopt a sunken costs approach: they can't get any return on their investment, so they might as well get all they can out of it now, before letting the asset go during the offseason.