Ryan Johansen was a point of much contention and praise for the Columbus Blue Jackets in 2013. Through the shortened season, the young forward showed flashes of brilliance but managed to spend an equal amount of time under intense criticism. Indeed, Johansen's return to the Springfield Falcons of the AHL early in the campaign transformed into a perceived potent blend of organizational pressure and media commentary. Feelings shifted the other way upon the center's return to the club. In particular, a game versus the San Jose Sharks was a real high point, with fans and writers lauding his efforts against future hall-of-famer Joe Thornton.
But the roller coaster hit another drop following the NHL regular season. With Columbus on the outside of the playoffs, Johansen was sent to Springfield to help close out their campaign. It was then that the most noteworthy problems seemed to surface, eventually resulting in Johansen being a healthy scratch in the AHL playoffs. This was far from a bright spot for the former 4th overall pick, and concerned scribes wrote about his plight accordingly.
Even amid the apparent tumult for the young Jacket, it's still hard to see exceptional negatives in the cards. In fact, Ryan Johansen is quite possibly the kind of potential bright spot needed to push the whole club back toward the playoffs. Even though he hasn't established himself as an elite NHL producer, there are very real positives to take away from the forward's time in Columbus. In the 2013-2014 season, Ryan Johansen may be the X-Factor for the Blue Jackets.
Youth, Praise, and Production
An oft-neglected but important element to consider when evaluating Ryan Johansen is his age. Right now he's only 21, and with his late July birthday, his NHL career has been entirely a 20-and-under affair. Accordingly, it's quite interesting to note that Johansen was one of only 15 players aged 20 or under to score 12 points or more in the NHL last season. He had similar results at age 19 in the 2011-2012 campaign, coming out in the top 15 in 20-and-below scoring, ultimately putting him at 11th in the NHL for scoring of players 20 and younger in his first two years. While a per-game observation makes this somewhat less impressive in certain comparisons, it's worth noting that his net production isn't far behind the youth leaders.
Taken another way, Ryan Johansen's scoring is not far off the lead for his own team. Since 2011, the young center has 1.30 points per 60 minutes of ice time at even strength. The leader for Columbus in that span, Vinny Prospal, has only 1.99 points per 60 minutes. Considerations of the overall Blue Jacket offense aside, this suggests that Johansen's scoring totals may be a function of ice time (a point that will be revisited later).
It's also worth noting that outside scouts and observers continue to hold praise for the prodigious skill of Johansen. The yearly team-by-team prospect reviews by Corey Pronman viewed Johansen as the second-best player under 22 within the Columbus organization. While Mr. Pronman expressed more reservations about Johansen this year than the last, the possibility remains that Johansen could become a number one center at his maximum potential.
The Breakout May Require Help
Of course, one of the caveats to the "Johansen X-Factor" idea is that not everything may be under his control. In fact, last season saw Johansen woefully misused if the final coaching goal was to see the young player generated offense. You see, Ryan Johansen faced the third toughest competition of any Blue Jacket forward in 2013 (as measured by relative Corsi quality of competition). Taken outside a numerical context, consider that among Johansen's 10 most common 5-on-5 opponents were Henrik Sedin, Daniel Sedin, Gabriel Landeskog, Patrick Kane, Jonathan Toews, and Patrick Sharp (in terms of time on ice together).
What about those on Johansen's side? The player's most common linemates were Nick Foligno and RJ Umberger. While they're both NHL players, they're far from elite offensive support (particularly Umberger, mired in one of the worst offensive seasons of his career). This doesn't even begin to consider his inconsistent location on the ice (at times used as center, others as a winger). Johansen's performance in possession metrics took a hit in 2013, but with a substantially harder role with and against him it's no surprise his results suffered.
If Johansen is projected to become a true defensive player, then this usage and seasoning is understandable. But if the skillful player is to transform into a top point producer for his team, then placing him with 3rd line players isn't helping anyone. If we are to see Johansen grouped with any of Cam Atkinson, Marian Gaborik, Nathan Horton, or Brandon Dubinsky in the coming year, the young center's offensive production is almost certain to be boosted. All four mentioned Jackets are, after all, some of the highest level possession or offensive talents in the NHL over the past season or two.
Of Earning and Using Correctly
But perhaps there could even be a surprise result if better usage and linemates are to come for Ryan Johansen next year. As has been previously noted, Johansen is quite gifted and only 21. This puts him on the right side of the age curve for possible increases in productions. Maybe, just maybe, getting Ryan Johansen's skill with similarly able players would end up improving the other Jackets just as much as the young center.
An easy retort to the improved conditions for Johansen comes in the idea that players should "earn" their position in the NHL. The logic is likely to be summarized as, "Shouldn't he start producing before getting a promotion?" However, I'd suggest this is a lazy attitude and unfair in the case of Ryan Johansen. Certainly a lax attitude or disinterest in practice would justify less ice time, but these are factors we aren't privy to. Instead, looking to the case of Mikhail Grabovski becomes instructive. Judging a player's offensive ability while working alongside bottom-six forwards (or if you'd prefer, while away from any top-six talent) and against elite opponents blurs the context of accomplishments.
X-Factor Rising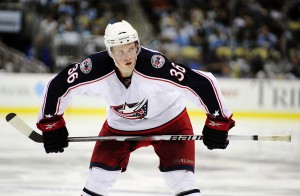 Much has been made of the addition of Nathan Horton and a full season of Marian Gaborik. It's also likely quite a bit of consideration will be given to the future of Sergei Bobrovsky's save percentage. All three players can be justifiably mentioned as key players for Columbus' success in the coming year. But a true shift in Blue Jacket fortunes is likely to come from a breakout campaign for any of the early-career or prospect-players with the club. Among the most promising X-Factor candidates is Ryan Johansen. With another year of development and a chance at playing alongside top talent, the young forward may be an in-house top center for Columbus. It's far from a certainty, but the kind of boost Johansen could provide for the Jackets is immensely tantalizing.
The NHL regular season schedule was released on Friday. Check out our partners at TiqIQ for the best deals on Columbus Blue Jackets tickets for all 2013-14 games.
Matthew is a hockey fan who fell for the sport through watching college games. He now shares thoughts on the Columbus Blue Jackets at the Hockey Writers. When not thinking about pucks, his interests are chemical engineering and good music.