It comes as no surprise to most that the Edmonton Oilers' head coach Todd McLellan is on borrowed time for the 2018-19 season. He's found himself in the hot seat, and so much so that betting site Bodog.com gave him 11/5 odds that he's the first coach fired this season. A case can be made that the Oilers might've been close to relieving him of his duties last spring.
However, the Chicago Blackhawks re-signing Joel Quenneville to a long-term extension might've kyboshed a lot of that talk. If a scenario emerged that would've seen Quenneville hit the coaching free agent market, he would've had a long list of suitors, including the Oilers. With three Stanley Cup rings, he might've been able to get more money than Mike Babcock did with the Toronto Maple  Leafs.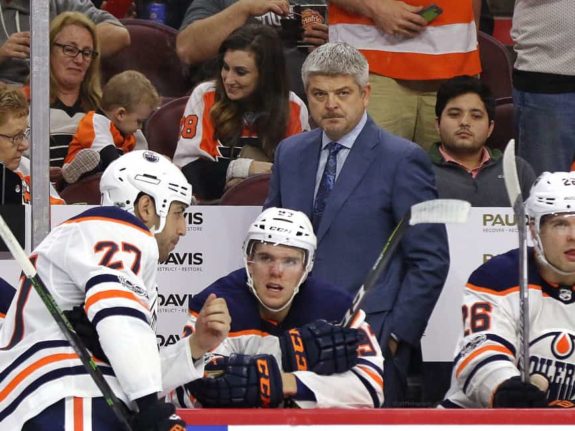 Would the Oilers have backed up the Brinks truck and made Quenneville the highest paid coach in the NHL? Possibly. Regardless, the Oilers seemingly stuck with their head coach but did so with a caveat. Gone are his tenured associates Jim Johnson and Jay Woodcroft. In their places, the Oilers added Glen Gulutzan, Trent Yawney, and Manny Viveiros to work behind the benches alongside McLellan.
Related: Make or Break Year for Chiarelli, McLellan & Oilers
Now we wait with bated breath to see what McLellan can do with an overhauled coaching staff. It's playoffs or bust for Edmonton this season. Being the coach of a team led by Connor McDavid that has missed the playoffs in three of four seasons isn't something McLellan wants as his claim to fame. Where this team is at US Thanksgiving is going to be a huge factor in determining the fate of their current bench boss.
McLellan & Quarterly Reviews
It's already a tenuous situation for the Oilers. They have one of the most expensive payrolls in the NHL at $79.5 million that underperformed in 2017-18. McLellan's seat is so hot right now that it's entirely possible that general manager Peter Chiarelli and the rest of the higher-ups are going to evaluate his employment at quarterly intervals this season.
That's a wild theory some might say as some might prefer that even if the Oilers flounder through the first ten games that they'd fire the coach. So let's get back to that whole US Thanksgiving comment. It's generally seen as a performance marker on the calendar and a good point in the year to address organizational needs. Last season the Oilers were well outside the playoff picture at 8-12-2 and sat 28th in the league's standings.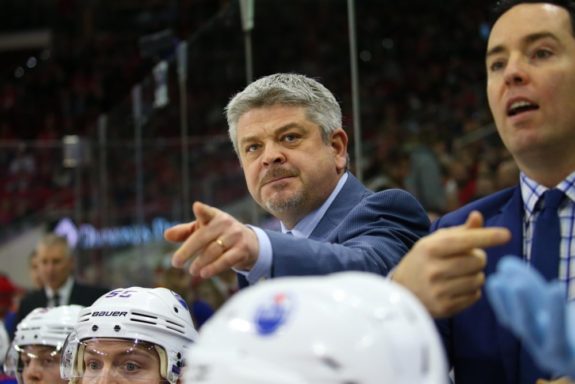 They were seventh in the Pacific Division standings and just five points out of last place in the NHL. Their season was essentially over before it even began. McLellan was given the benefit of the doubt and afforded the opportunity to work his way out of that deficit. With McLellan behind the reigns, the club faltered and their pace throughout the year put them 17 points of out the playoffs in 2017-18. This time around, if he finds himself in a similar spot around the 20-22 game mark, he likely won't be afforded the same courtesy.
Last year it took 95 points to qualify for the playoffs in the Western Conference. Divide that over four intervals, and you get 23.75 points (24 if rounded up, totaling 96 over a full season). In theory, McLellan needs to pace himself around a .600 winning percentage (W%) to keep up with what it'll take to be in the conversation of a playoff spot. For the first 21 games that means playing close to a 12-9-0 pace. That's essentially a 180-degree turn from where this club was at last year at that same marker.
Playoffs or Bust for McLellan & Oilers
It's not an impossible ask when you consider he guided the 2016-17 team to a .627 W% during the regular season. That also means being near 24, 48, 72, and 96 points respectively at the 21, 42, 63, and 82 game marks of the season. Admittedly it's an unorthodox way of looking at things. But as we've learned over the past decade or so in Edmonton, nothing has been conventional. Still, it's hard to imagine a scenario where McLellan is still behind the bench if the club is on pace to miss the playoffs again.
Missing the playoffs could also mean the end of Chiarelli's run as GM in Edmonton as well. Both are under incredible scrutiny to perform in their jobs and get this team back to the post-season. So if Chiarelli keeps McLellan around too long, it'll put the stamp on his demise with the organization as well. His leash isn't much longer than McLellan's.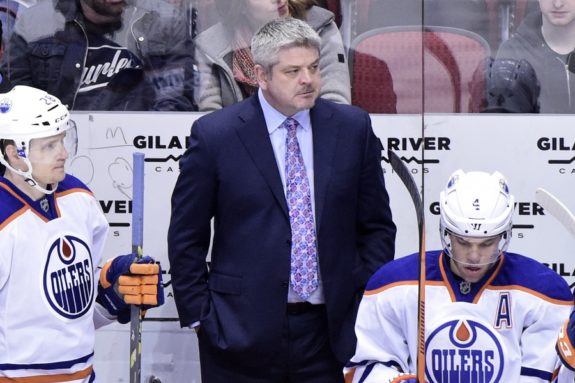 While some fans might be growing frustrated with McLellan's constant line jumbling, there's a simple explanation here. It's a man desperate to keep his job that's trying every combination he can in his effort to spark this club. In the week leading up to the Oilers first game of the season in North America against the Boston Bruins, McLellan once again went to his trusty line blender.
Related: NHL Pacific Division 2018-19 Season Preview
That aggravated some fans within the market, but there might've been some careful consideration when putting those lines together. While Ryan Nugent-Hopkins, Connor McDavid, and Ty Rattie were kept together, and ditto for Milan Lucic, Leon Draisaitl, and Kailer Yamamoto, the bottom six was thrown into shambles.
https://twitter.com/NHLbyMatty/status/1050070643864162304
Jujhar Khaira ended up centering a unit with Drake Caggiula and Jesse Puljujarvi. That put Ryan Strome between Tobias Rieder and Zack Kassian. However way you look at it, that's two of Chiarelli's off-season signings listed as healthy scratches. As TSN 1260's Jason Gregor put it, the Puljujarvi trio combined for 36 goals individually, while the new look Strome unit totaled 32 goals.
It's an attempt to once again re-ignite the offense and give Edmonton four lines to roll against a deep Boston club that can burn you with their depth. Gregor would go on to mention the Khaira line could be set up for offensive zone starts, while the Strome line could be relied upon as Edmonton's defensive zone unit.
However way you slice it, McLellan is going to do whatever it takes to keep his job, even if it means frequently throwing the lines into the blender. The clock is ticking, and he's running out of time. Naturally, this will be a huge story to follow as the year progresses.