Earlier in the week, we heard rumblings that Rick Nash was officially filing papers to retire from the NHL. The report came from Rear Admiral of Barstool Sports, who tweeted on Tuesday that a source indicated to him that Nash was filing the paperwork and would announce his retirement. TSN's Darren Dreger, per Nash's agent Joe Resnick, reported later in the day that Nash would not be retiring at this time.
The Bruins brought Nash in at the trade deadline a year ago with the hope that the power-forward would complete the club's top-six forward group. He looked great right off the hop but eventually ran into injury trouble and never got it going at his expected level as a Bruin. Boston has a want for a big-bodied forward to win puck battles and increase team size up front. Nash, a proven top-six option, was a perfect fit for the club.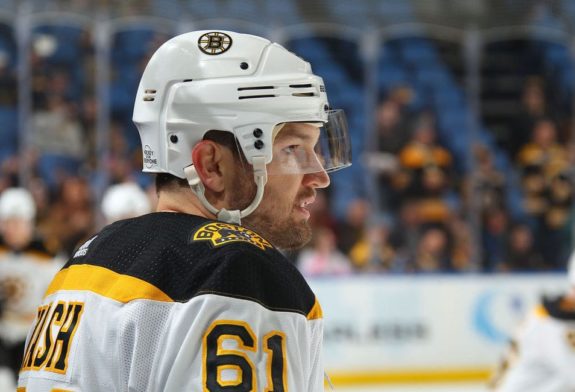 The dream was that Nash would get healthy, get back to himself, and eventually return to Boston later in the season. That dream is effectively dead now.
A Nash Return
In the summer, Aaron Portzline of The Athletic reported that the Blue Jackets were heavily interested in bringing the veteran forward back to Columbus. On Tuesday, Portzline went even further by reporting that the sides met back in early July to discuss Nash's playing future. Nash, while not going into details, did tell Portzline that the meeting "couldn't have gone any better" (From 'Rick Nash waiting for concussion symptoms to fade before he decides on NHL future', The AthleticNHL – 10/9/18)
Later in his piece, Portzline mentioned that if Nash were to return, he'd "almost certainly return to the Blue Jackets or one of five or six other teams he's identified as Stanley Cup contenders".
One of those teams is likely to be his hometown team, the Toronto Maple Leafs. The Leafs made a major splash on July 1st when they signed John Tavares, but the goal is to now win a Stanley Cup and Kyle Dubas can't rest when it comes to building his roster. Mike Babcock loves Nash, and TSN's Bob McKenzie speculated that Toronto could be a landing spot.
Columbus makes a ton of sense because Nash still has a house there and played nine years with the Blue Jackets. He was the first star in franchise history, and with the management team that dumped him now gone has no reason for bad blood over what happened many years ago.
Toronto is obviously there because of their status as a Stanley Cup contender, and the fact that Nash is from there. The Leafs have arguably the best forward group in the league and would only get better with him on board. If Nash is willing to take a lesser contract, I think it's a given he ends up in Toronto later this season playing for Babcock.
That's just two teams, however, and Portzline mentioned that Nash would consider "five or six" other teams that have a chance. You have to wonder if San Jose is one of them. Nash has a great relationship with Joe Thornton, and the Sharks were rumored to be interested back at the trade deadline. Boston is almost certainly another team on that list, while I wonder if Team Canada teammate Sidney Crosby pitches a stint in the Steel City to Nash.
Why the Nash Dream Is Dead
Although Boston is likely to be on Nash's list, I think it is time for GM Don Sweeney to acknowledge that this dream is dead and look elsewhere for his power-forward. The fact of the matter is, Toronto and Columbus both have bigger pulls and more perks for Nash than Boston does, and San Jose is likely better positioned to make a serious run at the Cup in the fall.
Nash appeared to love his time in Beantown, but fact of the matter is returning to Columbus or heading home to Toronto simply has more appeal for a player like Nash should he be able to return again. That's a point we are vastly underrating here, by the way. There is no guarantee that any team gets Nash.
According to Portzline, Nash says he is still dealing with concussion symptoms and, according to McKenzie, "is not in a position to play hockey right now, and he doesn't know when or if he'll be able to do that". To me, it sounds like there is a chance we never see Nash again in the NHL.
With the uncertainty of his playing career and the other options available to him, it would be foolish for the Bruins to bank on him returning to their roster to complete their forward depth chart. The Bruins gambled on their young talent this summer, something I touched on, and should continue that experiment through the New Year.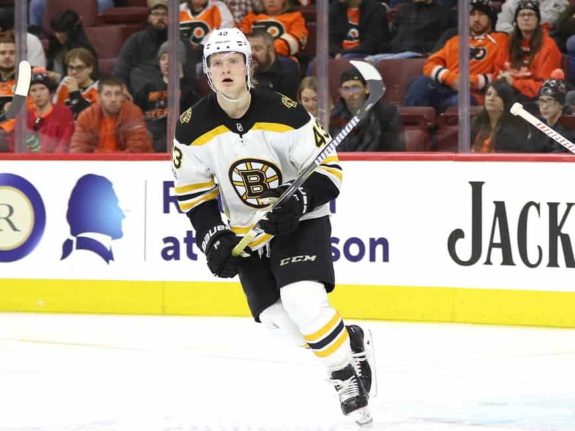 Although Nash would be a nice fit back in Boston, the long-term play for this still building club is to find a more permanent solution for that second line. It might be Anders Bjork, it might be Danton Heinen, it may even be someone who has yet to present themselves.
The bottom line is that the Bruins' hand is being forced here. Nash is far from a sure thing to return to Boston, and the Bruins should be looking at every avenue to find a new solution. As the season goes along, that might include the trade market as well.
A 2016 graduate of Springfield College, Alex graduated with a degree in Sports Journalism and Communications. Since September of 2016, Alex has served as the Director of Broadcasting and Play-By-Play announcer for the USPHL's Boston Junior Bruins. Alex has also called games for Northeastern University, Holy Cross and UMass Lowell. Alex is the founder and lead writer for The Oilers Rig, and Edmonton Oilers blog he created in June of 2013. He's also currently serving as a contributor to Murphy's Hockey Law in addition to his work at THW. Alex is a native of Woburn, Massachusetts.