It appears that the contract extension talks between the Edmonton Oilers and defenseman Darnell Nurse are not going well. With training camp underway, and no deal in place (or even close to completion), Nurse was left off the club's 62 player camp roster. It's now being reported that Nurse has flown back to Toronto while the two sides still hammer out a deal.
Related: Edmonton Oilers 2018-19 Training Camp Guide
That loud groan you're hearing is from a vast majority of fans in Northern Alberta that would've expected this issue to have been put to bed already. Contract negotiations between Oilers general manager Peter Chiarelli and the 23-year-old's agent, Anton Thun, continue to drag on. It's now being reported that the two sides are only $200,000-300,000 apart in negotiations.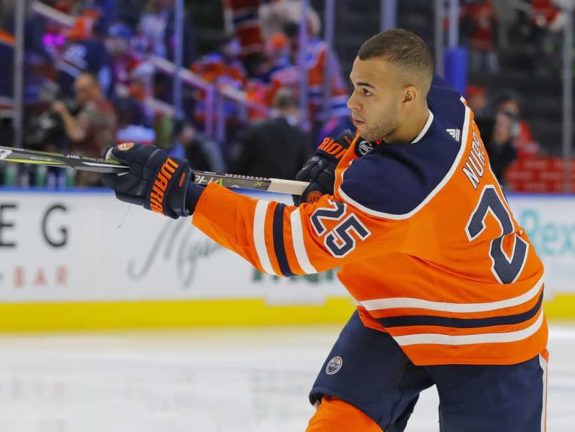 That's reminiscent of what happened with another Edmonton favorite Ryan Smyth who was eventually traded over a decade ago under the same circumstances. In Nurse's case, there hasn't been any real suggestion that a trade is imminent. The 23-year-old enjoyed a modest breakthrough season despite the club having several issues on the backend in 2017-18.
Nurse finished the year with six goals and 26 points in 82 games while averaging 22:15 in ice time. That put him first in team scoring from the blue line, and second behind Oscar Klefbom (22:51) in ice time. Of the three remaining restricted free agent (RFA) defensemen on the market, Nurse averaged the most amount of ice time in comparison to Shea Theodore (20:21) and Josh Morrissey (20:27).
Oilers Defense 2017-18 Stats

Left Defense
GP
G
PTS
CF%
Right Defense
GP
G
PTS
CF%
Oscar Klefbom
66
5
20
52.6
Adam Larsson
63
4
13
50.6
Darnell Nurse
82
6
26
50.9
Matt Benning
73
6
21
51.6
Kris Russell
78
4
21
48.9
Evan Bouchard
67
25
87*
NA
Jakub Jerabek
36
2
8
46.6
Ethan Bear*
18
1
4
45.4
* Evan Bouchard's stats are from his season with the OHL's London Knights
Theodore registered three more points (29) than both Nurse and Morrissey (26). So all in all, whichever of the three signs first will be used as a measuring stick in negotiations by the other two and their respective agents.
Oilers & Nurse at a Stalemate in Contract Talks
A bridge deal makes sense for both sides. Edmonton has just $3.9 million in cap space as camp starts and will get some relief once Andrej Sekera is placed on long-term injured reserve (LTIR). Still, it's not enough money to sign Nurse to a lucrative long-term deal that will be mutually beneficial for both parties. The Oilers also have three players in camp on professional tryouts (PTO) in Alex Chiasson, Jason Garrison, and Scottie Upshall.
Related: Oilers Roster Predictions – Goalies & Defense
Hypothetically speaking, even if the club was to sign any of them for the league minimum of $700,000, they'd be tight to get a deal done for Nurse. Try to sign two of them, and suddenly you realize why talks are stalling with neither side willing to budge. A long-term deal isn't in the cards, and they can't afford it. For Edmonton, they'd want to get Nurse signed to a two-year contract that would put off his arbitration rights by one year.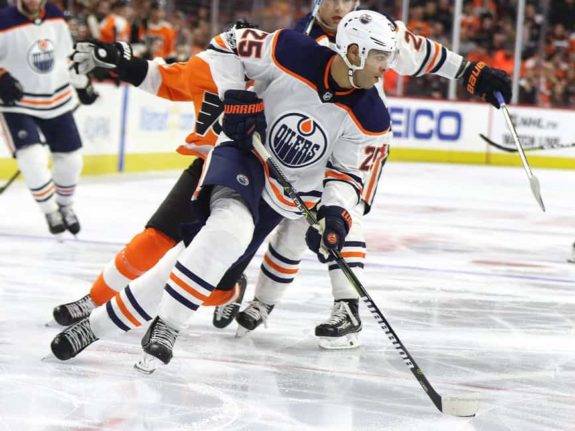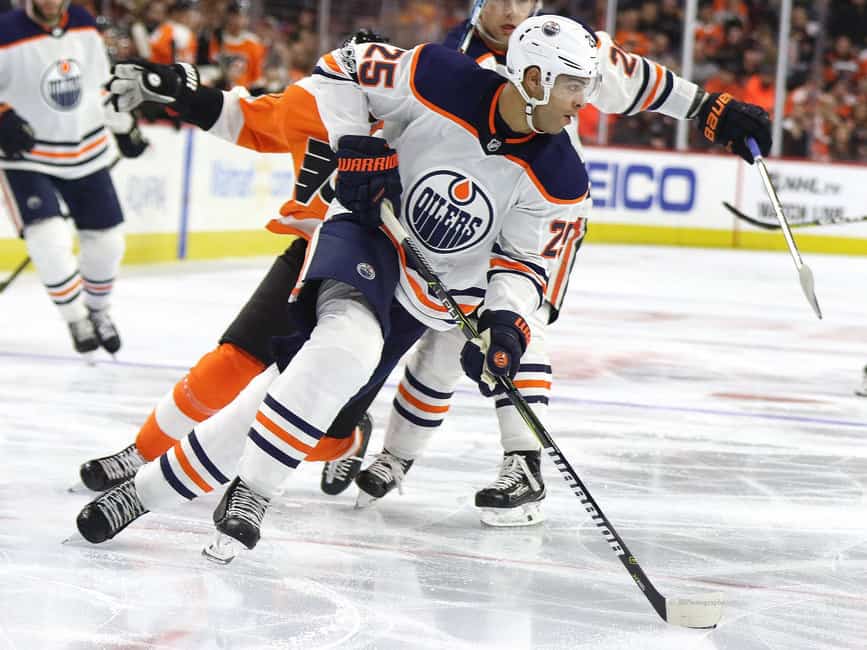 It would also allow the club to have some more time to maneuver within their cap structure to get Nurse that long-term deal he hopes to cash in on eventually. In Nurse's favor, these bridge deals almost always work out for the player who receives a hefty raise on their long-term deal. Taking a two-year bridge would also force the Oilers to potentially buy up more years of Nurse's unrestricted free agency (UFA) years.
Darnell Nurse Contract Comparables

Player
Team
Cap Hit
Years
GP
G
PTS
TOI

Noah Hanifin

Calgary

$4.95M

6

79

10

32

18:52

Brandon Montour

Anaheim

$3.38M

2

80

9

32

20:28

Scott Mayfield

NY Islanders

$1.45M

5

47

2

12

17:51

Jacob Trouba

Winnipeg

$3,00M

2

55

3

24

21:54

Nikita Zadorov

Colorado

$2.15M

2

77

7

20

19:28
That's more money in Nurse's pocket in the long game if he takes a modest raise in the short term. A little less now, for a lot later. If only it were all that simple. Now it's a question of if Nurse and his agent Thun are being overly greedy, or if Chiarelli is playing hardball in negotiations. Considering that there was a rumor that Chiarelli and the Oilers weren't willing to go north of $3 million makes you think there's something odd going on here.
Who's Playing Hardball With Who?
As mentioned above, there's the possibility that Nurse and his agent Thun are waiting for the other shoe to drop. Maybe they're waiting for the Oilers to cave and move out some salary to consummate a deal. Could that mean Pontus Aberg ($800,000), Drake Caggiula ($1.5 million), or Zack Kassian ($1.95 million) become salary cap sacrifices? Possibly, but that's pure speculation at this point.
Related: Edmonton Oilers 2018-19 Season Preview
If it's Chiarelli playing hardball with his de facto No. 2 blueliner, it's peculiar when you look at his actions through the summer. Chiarelli was criticized when he doled out $2.5 million for Mikko Koskinen to play in the backup goalie spot. We're talking about a guy with four games of NHL experience, from several years ago, getting overpaid. There's belief that Koskinen can push Cam Talbot for minutes, but that's a hefty cost at the risk of a flyer.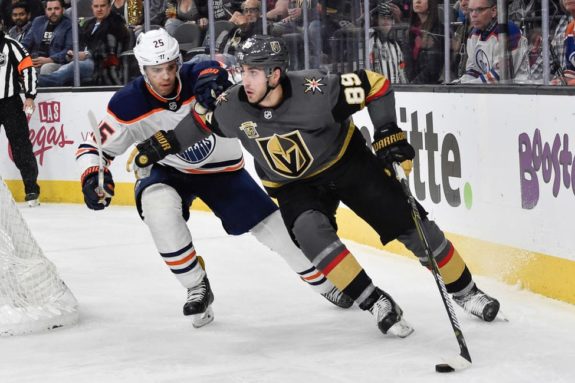 Is Chiarelli feeling the effects of loosening his purse strings on the wrong assets? Maybe. With the sides so close, simplicity would be to split the difference down the middle at $100,000-150,000? It's a minuscule amount when you consider this is the same GM that bought out underutilized defender Eric Gryba at a $300,000 cost per season. It would've cost Chiarelli nothing against the Oilers salary cap if Gryba was buried in the AHL for the 2018-19 season.
Edmonton Oilers Depth Chart 2018-19 with Darnell Nurse Signed

Goaltenders
Left Defense
Right Defense
1. Cam Talbot
1. Oscar Klefbom
1. Adam Larsson
2. Mikko Koskinen
2. Darnell Nurse (RFA)
2. Matt Benning
3. Al Montoya*
3. Kris Russell
3. Evan Bouchard
4. Stuart Skinner*
4. Jakub Jerabek
4. Ethan Bear*
Left Wing
Center
Right Wing
1. Ryan Nugent-Hopkins
1. Connor McDavid
1. Ty Rattie
2. Milan Lucic
2. Leon Draisaitl
2. Tobias Rieder
3. Drake Caggiula
3. Ryan Strome
3. Jesse Puljujarvi
4. Jujhar Khaira
4. Kyle Brodziak
4. Zack Kassian
5. Pontus Aberg
5. Cooper Marody*
5. Kailer Yamamoto
* Denotes players expected to start the year in the AHL.
So splitting hairs on that small difference (in the grand scheme of things) seems ridiculous, especially if splitting the difference gets said player into training camp and ready for a pivotal year for the franchise. Without considering any of those PTO players signing an NHL contract, $6.5 million over two years ($3.25 million per) for Nurse is a fair contract that's at market value with where he's at for this stage of his career.
In the meantime, this is a tremendous opening for Garrison, an NHL veteran that was banished to the AHL last season. The 33-year-old is hoping to make a comeback and show he can still be a useful pro. It's also an opening for Ethan Bear, Evan Bouchard, Kevin Gravel, Jakub Jerabek, and Caleb Jones to show they can take on those minutes for Nurse and the injured Andrej Sekera.
Related: That Time $2.5M Prevented Corey Perry From Becoming an Oiler
Call it chess or a game of chicken, one of these sides can cave to the other, or they can do the sensible thing and meet in the middle on something that's fair for both parties. For the sake and sanity of some of the fans, hopefully, the two sides come to their senses, and this doesn't turn into one of those Mike Comrie-like situations where Nurse holds out until finally getting dealt because the club wouldn't bend in contract talks.
If only contract negotiations were that simple. There's a business side to sports and both parties are trying to do what's best for their own interests. We also don't publically know where each side started from in terms of negotiations. To play devil's advocate, maybe the analogy of "meeting in the middle" isn't fair after all. Regardless, reason will prevail, and Nurse will be here on opening night.
Oilers Training Camp Note
Scottie Upshall failed his training camp physical, and thus it's likely hindered his chances at earning a contract. The word out of camp was that it was a knee injury. It's worth noting Upshall missed nine games towards the end of the 2017-18 season with a sprained MCL.
His season ended after a kidney laceration in late March. In previous editions of the projected opening night roster, Upshall was penciled in as the No. 5 right winger. It's now been updated to reflect his recent setback with Kailer Yamamoto bumping up into that place. Alex Chiasson is, in my opinion, still No. 16 on the overall forward depth chart.
Edmonton Oilers regular contributor providing insight on all things Oilers including club history, prospect profiles, trade breakdowns, and everything else in between. Check back regularly for new and exciting content. Follow on Twitter @SanderTHW.