Kevin Shattenkirk in undoubtedly one of the NHL's premier young defensemen, and as of the New Year, he is also reportedly available on the trade market.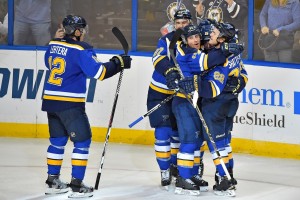 On Jan. 9, Elliotte Friedman reported that not only are the St. Louis Blues receiving calls with potential trade offers for Shattenkirk, but also that Shattenkirk was the subject of a potential trade involving now Nashville Predator Ryan Johansen.
At 26-years old, Shattenkirk is best defined as a strong puck-moving defenseman with tremendous offensive upside, as illustrated by his career-points-per-game mark of 0.67. A lock to produce upwards of 40 points from the blue line, Shattenkirk also plays a defensively sound style of hockey. In fact, his 2015-16 CorsiFor% of 57.5 in all situations is the best among Blues defenders, as well as top-20 League wide.
As a result, it goes without saying that any trade involving Shattenkirk would be of substantial magnitude, especially so considering the potential return would be equally significant.
Cap Crunch
Unfortunately for the Blues, entertaining the option of trading Shattenkirk has been necessitated by their pressing cap situation, which has seen the team spend right to the cap ceiling in 2015-16.
In fact, come the conclusion of the current season, the Blues will possess a number of valuable unrestricted free agents, most notably David Backes, Troy Brouwer, Steve Ott, Scottie Upshall and Carl Gunnarsson, while Jaden Schwartz, Dmitrij Jaskin, Magnus Paajarvi and Joel Edmundson will all be RFAs, pending any unforeseen trades.
Shattenkirk in particular, who is in the third year of a four-year, $17 million contract, is poised to become a UFA following the 2016-17 season, and is undoubtedly in line for a significant pay raise, up from the $4.25 million he is currently earning annually. As such, it is highly unlikely that the Blues will be able to afford to pay Shattenkirk appropriately given his incredible skill set, a situation which, quite obviously, could lead to a trade, sooner, rather than later.
Oiler Opportunity?
Given the Blues' apparent willingness to trade Shattenkirk, there will certainly be a number of teams league wide interested in his services, and one such team should be the Edmonton Oilers.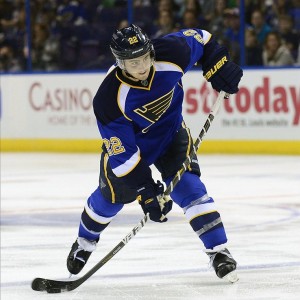 Quite clearly, the Blues are looking to upgrade their offense, as noted in their desire to acquire Johansen from Columbus.
Fortunately for the Oilers, this would allow Edmonton to trade for an area of strength, their offense, to improve an area of perpetual weakness, their defense.
Based on the reported interests of the Blues, particularly their desire to attain either Johansen, or most recently, Jonathan Drouin of the Tampa Bay Lightning, who recently requested a trade, it is clear that St. Louis would like to add a highly skilled, young player to their current core of forwards.
Once again, there are the Oilers, who are brimming, if not overloaded with young offensive talent. This, quite obviously, begs the question: what would the Oilers be willing to surrender in exchange?
I've never been one for generating rumors, let alone creating hypothetical trade situations, so I'll do my best to avoid doing so now.
Realistically, any trade between the Oilers and Blues involving Shattenkirk would require one of Edmonton's elite young forwards in exchange, as previously mentioned. However, it is fair to assume that Taylor Hall, Connor McDavid, Ryan Nugent-Hopkins, and possibly even Leon Draisaitl are untouchables. As such, this leaves Jordan Eberle or Nail Yakupov as the most likely candidates who could possibly be dealt in return.
Eberle has tremendous value, and could be sufficient to allow for a one-for-one trade. However, his yearly cap hit of $6 million would certainly complicate talks given the Blues' financial limitations. Yakupov on the other hand, who earns $2.5 million per year, will also see his current contract expire following the 2016-17 season. However, yet to truly prove himself as a valuable NHL player, the former first overall draft selection would likely have to be dealt as part of a greater package.
The Necessary Trade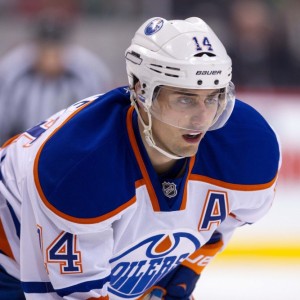 Although the Oilers, and primarily their fans, would hate to see a young star such as Eberle leave town, a potential move would finally allow Edmonton to address one of, if not their biggest area of need, which has long been defense.
Acquiring Shattenkirk would provide the Oilers with a legitimate top-pairing defenseman, a luxury they have arguably lacked since Chris Pronger left town some 10 years ago. Sure, their defensive core would still require significant work, but Edmonton would be able to ice a quality d-pairing, whether it be Shattenkirk alongside Oscar Klefbom, Andrej Sekera or even Darnell Nurse.
In St. Louis, adding a young star would be a fantastic addition to an already strong club known largely for its team depth.
To end, yes, the Oilers would be losing a young star and punch up front, but they would ultimately be dealing from a strength in order to improve a glaring weakness. Whether Edmonton is in fact interested in Shattenkirk's services remains to be seen.