Winnipeg Jets fans searching for a bright spot in this dismal season need look no further than Blake Wheeler. Jets fans looking for a successor to current captain Andrew Ladd should look in the same place.
In spite of his recent all-star game snub, Wheeler is in the midst of a potential career season. His current pace would have him finish roughly a point per game, and since he hasn't missed a game yet this season, that would give him roughly 82 points on the year, well beyond his previous career high of 69.
As things stand, Wheeler's 41 points put him eighth overall in NHL scoring, and of the seven ahead of him only Nicklas Backstrom has played fewer games. The only two right wingers outscoring Blake Wheeler all season long have been Vladimir Tarasenko and some guy named Patrick Kane. And while Wheeler's efforts might not have earned him an invite to Nashville, they certainly earned him some respect from some of the media's bigger names.
https://twitter.com/FriedgeHNIC/status/684782328481107968
Blake Wheeler's snub in a nutshell: he is seventh in NHL scoring…and fifth in Central Division scoring.

— Matt Larkin (@THNMattLarkin) January 6, 2016
Leo Komarov, John Gibson and Dustin Byfuglien are among a few of the #NHL All-Star Game roster surprises. No Blake Wheeler for #nhljets!

— Frank Seravalli (@frank_seravalli) January 6, 2016
Wheeler's big season hasn't gone unnoticed in the media circles, so how it went unnoticed in the NHL's mind is a difficult question to answer, but it shouldn't go unnoticed by the Winnipeg Jets when the time comes to name a new captain.
Not Just a Scorer
Blake Wheeler isn't a leader on the Jets just because he scores goals, however. If that were all it took, Evander Kane might've been named captain back in 2012 (as he is still the only player to score 30 goals in a Jets uniform). Wheeler's leadership extends far beyond his ability to turn defenders and goalies inside out (though that doesn't hurt) and put pucks in the net. Wheeler is willing to hit on the forecheck, plays his heart out every night, is always one of the most vocal Jets whenever the questions roll in, and is even willing to stick up for his teammates on occasion with the gloves off.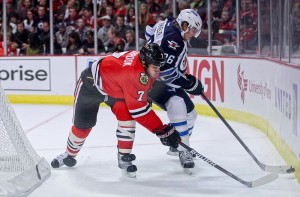 Still, it's remarkable how often a team's leading scorer becomes one of the captains. If that's the case in Winnipeg, Wheeler has his bases more than covered, as he's been among the Jets' leading scorers every year since the Jets return.
Not being in the Jets locker room when the players are all there by themselves, I cannot tell you for certain that Wheeler has the ear of everybody on the team. I can say, however that hockey players tend to respect those players who lead by example. Wheeler has that covered too. Willing to hit, score, fight, and block shots, a fixture on both the power play and penalty kill and clearly among the coaching staff's most trusted players, the only thing Wheeler has never done for the Winnipeg Jets is strap on the pads and play in goal.
Searching for a Successor
With Andrew Ladd's contract talks apparently going the same direction as the Jets' season, that is to say nowhere, the topic of his departure has come up more and more often in Winnipeg of late, among national media outlets and right here at The Hockey Writers courtesy Sean Olinkin. If Ladd's days in Winnipeg are indeed numbered, Blake Wheeler seems the logical choice as heir apparent.
While I do believe the eventual plan is to slap a letter on Mark Scheifele, the Jets' first ever draft pick and a huge part of the franchise's future, Scheifele is too young and inexperienced for the captaincy at present. While Wheeler may only be keeping the throne warm for the young centreman, it's unquestionably his to lose at present, assuming of course the Jets fail to sign Andrew Ladd in the coming weeks.
Then again, with Ladd's play dipping so dramatically (he's been demoted to the third line and shows no signs of returning to his 62 point form of last year) the captaincy may be Wheeler's eventually regardless of whether Ladd gets moved. But that's a conversation for another day.
A captain leads by example. Jets Andrew Ladd with another needless penalty to put his team in a hole in a tight 1-1 game vs Coyotes

— Joe Pascucci (@Pascucci015) January 1, 2016
Perhaps it's unfair to pick on Ladd for taking selfish penalties, since the entire team takes penalties as habitually as smokers reaching for a pack on the nightstand, but then again maybe, as captain, it is his example they follow. In either case, this coupled with his inability to produce offensively isn't helping his contract cause. It is, however, allowing Blake Wheeler to shine, putting a spotlight on the things he does well.
The Winnipeg Jets have never truly been a winner, but it's obvious in Wheeler they have a player who wants to be one more than anything else. Wheeler's attitude may not have been infectious as of yet, but eventually his play, if it keeps up, can inspire the team to bigger things.
Blake Wheeler has been the team's most outspoken man, best scorer, and hardest worker. This time next year, all evidence points to him being their captain too.