When the Edmonton Oilers decided to bring on Peter Chiarelli as the club's general manager following what was a disappointing but rather productive 2014-15 campaign, aka "The McDavid Lottery", everyone knew the former Boston Bruins front man would be looking to add veteran reinforcements via unrestricted free agency.  The Ontario native did exactly that during his first two off-seasons in charge of the organization but expecting that trend to continue over the coming weeks would be a mistake.
In 2015 he wasted little time in making his intentions known, agreeing to terms on multi-year deals with both Andrej Sekera and Mark Letestu on the first day of free agency. A year later, Chiarelli announced the club had agreed to a six-year pact with Milan Lucic mere moments after the "crazy season" officially opened for business and followed that up with the signing of Kris Russell to a one-year deal…albeit just over three months later.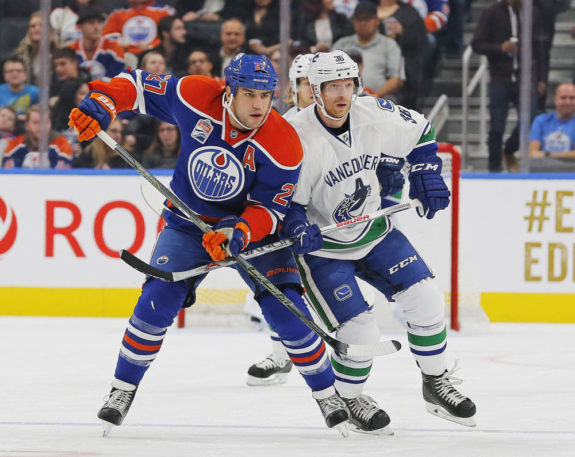 Impact Unrestricted Free Agents
All four have played parts in helping with the team's recent turnaround and remain part of the equation heading into 2017-18. With this summer's free agent class arguably the thinnest we have seen in some time, it appears as though the Oilers initial plan will be to stay the course with what they have and hope for the best to start the year. An interesting approach to be sure, especially since they did and still do have options to address their current needs.
With Sekera set to miss at least the first two to three months as he continues to recover from off-season knee surgery, the hole on the backend is rather apparent. While the decision was made to bring back both Eric Gryba and Russell on multi-year extensions, the latter being the more perplexing of the two, neither one helps fill the void the talented Slovak's absence will create. It is all well and good to hope Matt Benning and Darnell Nurse are ready to take on more responsibility but it may not be the most realistic of asks and could prove costly.
McDavid Draisaitl contract watch continues. I'd guess 97 to be in 13m range on an 8 year deal. We'll see.

— Ryan Rishaug (@TSNRyanRishaug) June 27, 2017
As of this moment, Edmonton is sitting at roughly $65 million on the cap but that does not include the hefty pay raise one Leon Draisaitl is set to receive. By the sounds of it, on a long-term deal, the talented German could be taking home anywhere from $7-$9 million starting this October. If we go down the middle and say he signs for $8 million, it would leave Chiarelli with roughly $2 million to play with, minus whatever overage penalty they will be hit with due to bonuses paid last season. Another thing to keep in mind is that number also includes Jesse Puljujarvi and his potential $3.425 million hit, if he were to break camp with the club.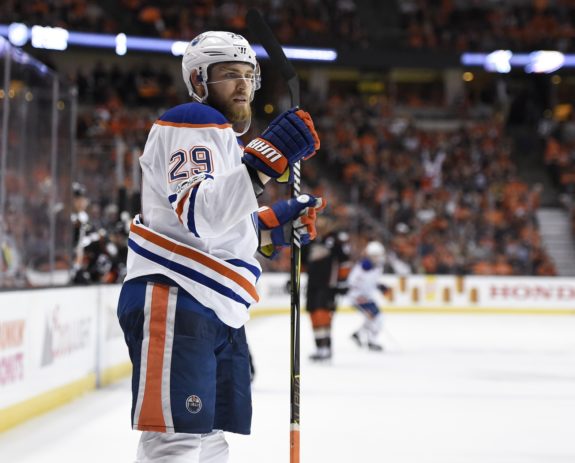 Draisaitl Contract Changes Things
Not exactly much in the way of wiggle room but there is one more "out" to consider. After the season gets underway, the Oilers can move Sekera onto LTIR until he is ready to return to the lineup. That buys them another $5.5 million and while no is suggesting to go out and grab that expensive of player, though that could have easily been accomplished had they not signed Russell to the number they did, standing pat and hoping for the best seems rather odd.
With the club returning to the playoffs for the first time since 2006, winning a series and pushing the Anaheim Ducks to a seventh game in their second-round showdown, expectations have changed. From here on out, simply making the playoffs for a team led by Connor McDavid is no longer an acceptable outcome. Like it or not, with last year's success fresh in everyone's mind, anything short of being among the best teams in the league won't do.
Let's not forget, almost everything went the Oilers way last season. Most of their key players had good to great years. They received meaningful contributions from many of their so-called role players and were relatively healthy from start to finish. No to mention many a team didn't take them seriously early in the year and that is a benefit they will no longer have at their disposal. Make no mistake, teams will be gunning for them from the get-go in 2017-18.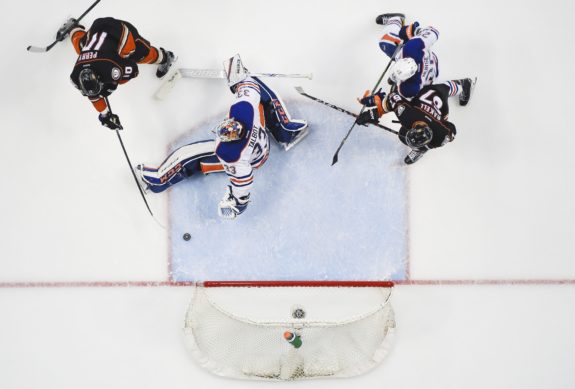 Pacific Division Will Be Tight
On the positive side of the ledger, going this route would certainly leave Chiarelli plenty of flexibility to make additions at the Trade Deadline. However, the danger in that is where this team might be in the standings if things don't play out in the manner they had hoped. Despite having a couple of bad teams in the division, the Arizona Coyotes and Vegas Golden Knights, the Pacific Division won't be a cakewalk. In fact, it might end up being the complete opposite.
The Calgary Flames have already improved with the moves they've made this off-season and there is no reason to believe the Ducks won't be strong again. The two wild cards will be the Los Angeles Kings and San Jose Sharks, who both look as though they may take a step back but could just as easily push to make this a five-team race. Chances are it won't be easy and going into the year with an inferior roster from a season go, doesn't seem like a smart bet.
https://twitter.com/NHLbyMatty/status/879771992202788864
With the departure of Jordan Eberle and Sekera out to star the year, for anyone to suggest this lineup is better or even as good as last season would be absurd. My guess is we will see Peter Chiarelli do a couple of things over the coming weeks. Take a shot at re-signing both Jordan Oesterle and Tyler Pitlick to add more depth up front and along the blue line. Second, look to replicate what he did with Russell last fall and bring in a veteran rearguard late in free agency on a one-year deal. It's not sexy but it does appear to be the route this organization wants to take in 2017-18.