After losing a player to the Vegas Golden Knights, it's safe to say that every team has some needs to fill. Free Agency is upon us as a frenzy of signings will likely come about on July 1st.
The Bruins have their own players to sign before Saturday with roughly $13 million in cap space. Players like Ryan Spooner, Noel Acciardi, Dominic Moore, and Drew Stafford are big question marks heading into next season.
Past Bruins Round Tables have explored possible additions such Matt Duchene and Jonas Brodin. General manager Don Sweeney's willingness to part ways with the 18th overall pick of the 2017 NHL Entry Draft indicates the Bruins will be making moves this offseason.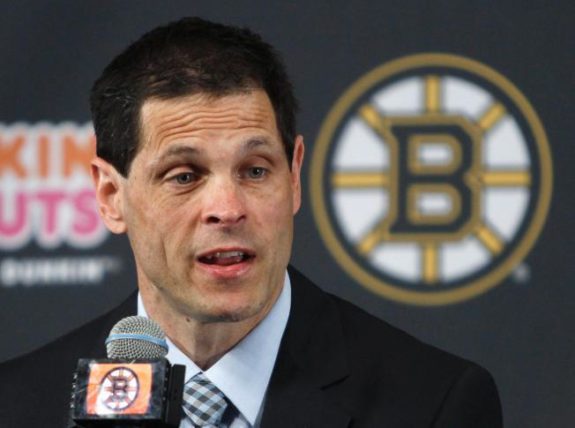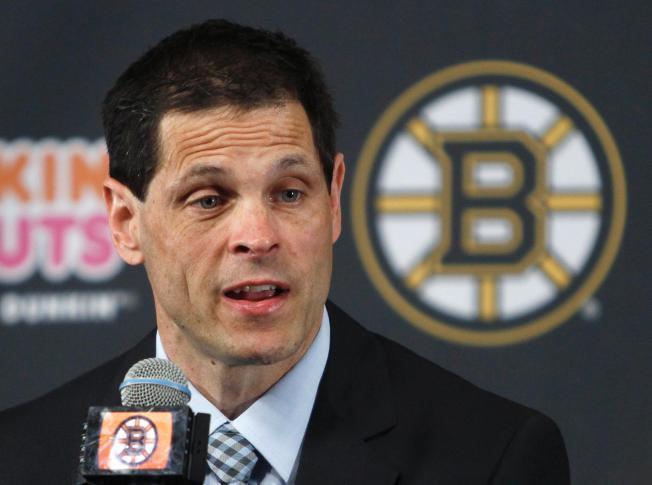 With that said, one avenue of improvement is through free agency. The Bruins don't have gaping holes in their lineup, but should still seek to improve.
THW Bruins writers Brandon Share-Cohen, Chris Gere, and Joe Ochs discussed what the Bruins are likely to do this offseason in regards to free agency.
Bruins Free Agents to Re-Sign
Brandon Share-Cohen:
The Boston Bruins top priority this summer needs to be an extension for David Pastrnak that keeps him in town for the next six to eight years. Once that deal is done, the team can look towards Noel Acciari as their next signing, especially after his very solid play in the postseason. Another interesting name is Ryan Spooner. With the draft passing, the Bruins still own the rights to the 25-year-old center who has seemingly fallen out of favor with another Bruins' head coach.
If the Bruins can sign Dominic Moore, Tim Schaller or Drew Stafford to reasonable contracts, they'd all fit in well with the team in a bottom-six role – Stafford has the ability to slide up and down the lineup when needed.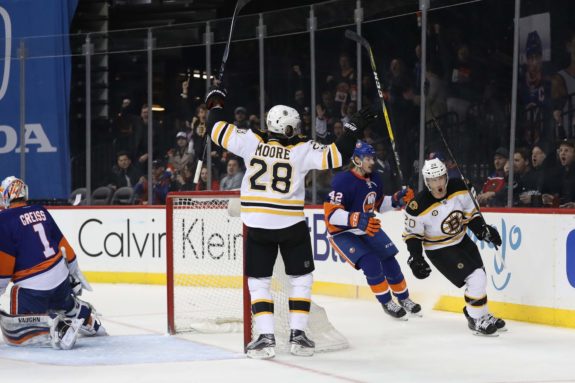 It would be surprising to see Spooner extended, but the team is definitely not going to let him walk away for nothing. After extending a qualifying offer to him, another team can do the negotiating for the Bruins who can then choose to take compensation for their player or match the contract if they see the number as worthwhile. Heading into the offseason, it was rumored that the Bruins were looking to recoup a third-round pick for Spooner – if a team offers him a contract between roughly $1.2 million and $1.87 million, the Bruins would get that third round pick for the 2018 NHL Entry Draft. Anything higher and the Bruins would get more compensation, anything lower and it would behoove the Bruins to match the contract to try to get more value for Spooner at a later time.
Chris Gere:
Starting with the Bruins' free agents, the obvious first name is Pastrnak. They should do anything they can to make him happy. I wouldn't be surprised to see his average annual value (AAV) exceed the $6.125 million that Brad Marchand signed last offseason. It will be worth it.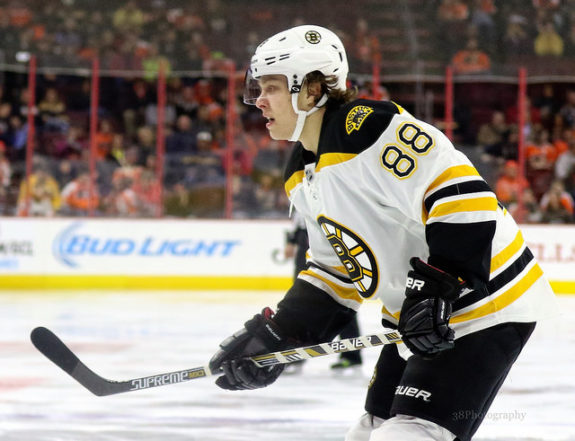 I don't have any strong feelings about any of their other free agents, but I'd like to see Noel Acciari and Drew Stafford back. Acciari will cost basically nothing as a fourth-line center, but Stafford might be more difficult. He's an ideal third-line right wing, but he often had to play in the top-six last season, so he may be expecting to be paid as such. If he wants more than a couple years at the $2.3 million AAV that Jimmy Hayes is currently making, I'd let him walk.
Joe Ochs:
David Pastrnak obviously tops Boston's "To Do" list this offseason. He's happy in Boston, the team is even happier he's here….it's only a matter of time before the pen touches paper. I'm guessing something in the vicinity of 6-7 years with an average-annual-value between $5.5 and $6 million. It keeps him in the fold long-term and still allows Pasta to cash potentially cash in on another big payday at 27 or 28 years old.
Dominic Moore was excellent on the Bruins' fourth line last season. So excellent that he likely priced his way out of Boston. Should he wish to sign a similar one-year, $1 million contract I think the team would give it serious consideration. Should he look for even a marginal increase in salary I think Boston would likely choose to turn over the reigns to players like Sean Kuraly and Noel Acciari.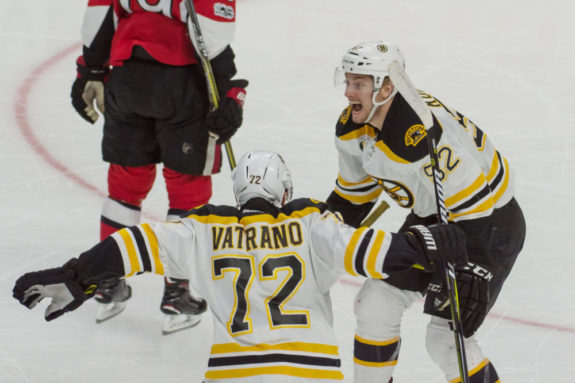 Drew Stafford's return is one that would be met with little fanfare, but could serve as an excellent insurance policy for Boston, should they be unable to land a bigger fish. He was a stabilizing force in Boston's middle six following his acquisition, and his ability to play up and down the lineup (as well as on both wings) is extremely useful. I would endorse a Stafford re-signing, but only on a short-term deal at discounted value from his recently expired contract; one-year, $2 million sounds appropriate.
Bruins UFA Targets:
Brandon Share-Cohen:
When it comes to other team's free agents, however, there are a few who could be a fit for the Bruins if the price is right. Both Dmitry Kulikov and Cody Franson of the Buffalo Sabres could be interesting options for the Bruins. Kulikov plays on the left side which would make him more enticing in a bottom-pairing capacity, but Franson is still an interesting name worth watching. It's a long shot, but if Andrei Markov hits free agency, the Bruins should definitely reach out to the veteran Montreal Canadiens' defender. Despite being 38 years old, Markov is still a very solid blueliner who could be a stop-gap until the Bruins next wave of blueliners is ready in a season or two.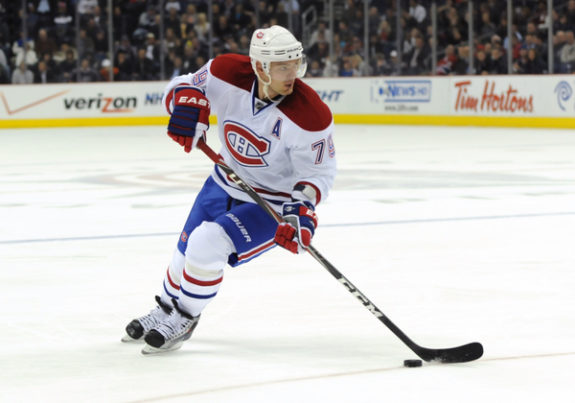 Finally, the Bruins could look out west to the St. Louis Blues, Arizona Coyotes, and San Jose Sharks. Nail Yakupov is an interesting name who could be had at an affordable contract. The former first-overall pick has yet to prove his value in the NHL, but that shouldn't stop the Bruins from reaching out to his camp to see if he's willing to sign a prove-it type deal. Radim Vrbata from the Arizona Coyotes is another option for the Bruins on an affordable deal, given their lack of right-wing depth. At 36 years old, Vrbata isn't going to be the player he once was, but the Bruins could still benefit from his services and experience for at least a season. The last two players are long shots, but both Patrick Marleau and Joe Thornton are interesting names. Thornton would be a return to the team that drafted him first overall two decades ago, while Marleau would be an interesting addition due to his impressive goal-scoring ability and the Bruins need for a top-six left winger.
Again, none of these players should be explored if they come with any level of risk. A long-term deal for any of the players mentioned should be avoided. If any of the players can be signed for a one or two-year deal with a reasonable cap hit, however, the Bruins should put some serious consideration into a potential signing. With the youth movement on its way, Boston doesn't need to break the bank on free agents. Stop gaps and valuable pickups similar to Moore a season ago, however, could help the team make the postseason once again.
Chris Gere:
As far as the league-wide free agents, I've gone on record saying that the Bruins should take a beat and stay away from committing long money to any particular player this offseason. They have a lot of young players they need to give playing time to in order to properly evaluate what areas of weakness they will eventually need to address.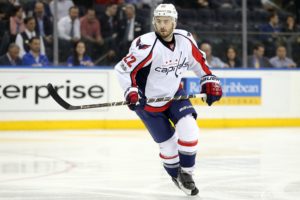 The Bruins' immediate needs are on the left wing and the left side of the blue line. Outside of the top available free agent defensemen, there are a lot of older, uninspiring options as well as some young underachievers. Intelligent minds can disagree on who the best option is for the Bruins, but none truly jump off the page.
Free agent defensemen are absurdly expensive, and given the wealth of prospects and redundant pieces, the Bruins have at their disposal, the best way to address that would be through the trade market. Vegas has too many defensemen after the expansion draft, and a guy like Shea Theodore might be a good target.
Left wing is a more interesting story. As mentioned, Boston is rife with prospects, and most of the good ones play left wing. Some of them are ready to play in the NHL, but they might need a year or two before they are ready to step into the top-six. The ideal solution would be an older player coming off of a down year who is looking for a short-term deal to recuperate some value.
The obvious name is Patrick Sharp. He only managed 18 points in 48 injury-plagued games. If the Bruins were able to snag him for one year at $2 million, I'd consider that a win. However, he is 35-years-old and may be looking for one last contract before he retires rather than a prove-it year. His name still carries some caché, so he might be able to score a two or three-year deal elsewhere.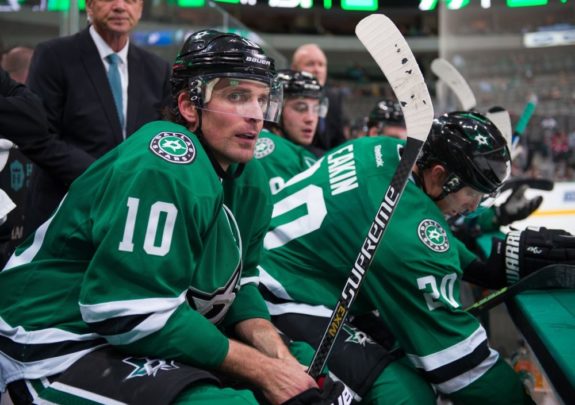 If that's the case, the guy I would look at is another Dallas left wing—Jiri Hudler. He's only 33-years-old and two years removed from a huge 76-point season. He had a similarly injured season and managed only 11 points in 32 games, but he has historically stayed pretty healthy and should be due for a pay cut from his previous $2-million cap hit. To expect anything like his 2014-15 season would be foolish, but at $1-1.5 million for one or two years, he could be a pretty good placeholder with very little risk.
Joe Ochs:
As for the UFA Market, things are a little lean this year. The majority of the forwards are a little long in the tooth (Thornton, Marleau, Sharp, Vanek, Jagr). The defensemen come with question marks and inflated values based on a weak class (Shattenkirk, Alzner, Smith). It's not a banner year to go shopping.
Moreover, Boston has made a splash in each of the past two offseasons, inking both David Backes and Matt Beleskey to deals that pay out nearly $10 million combined per year.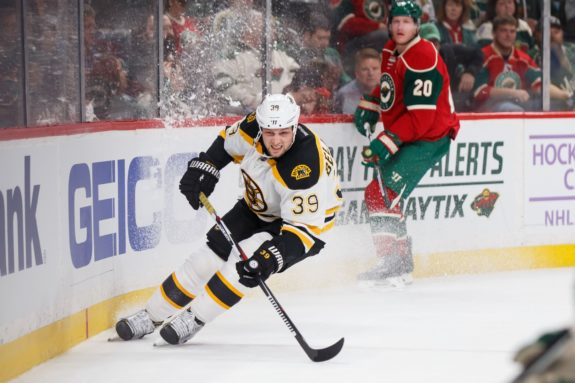 As such, Boston would be well served to follow the Dominic Moore/Riley Nash approach from last offseason, and look for key depth veterans to round out the lineup.
On defense, Trevor Daley, and Johnny Oduya are two left-handed options to solidify the blue line. Both can play on a team's second or third pairing, and both are battle-tested vets with multiple rings. Daley can push the pace and play on a team's PP2, while Oduya is rock-solid in his own end, kills penalties with aplomb and would serve as a great partner and mentor to Charlie McAvoy. A one year deal for either at $2-2.5 million would keep the cost and commitment down while stabilizing the back end until Lauzon and Zboril are ready for everyday work.
I cover the Boston Bruins and NCAA Hockey here at The Hockey Writers. Born and raised 10 miles north of Boston, I developed a love for the game of ice hockey at a very young age. There's really nothing better than this sport, though steak is a close second.