The knights of the Boston Bruins round table have congregated once again — this time to address the blue line. Bruins general manager Don Sweeney has been interested in acquiring Minnesota Wild defenseman Jonas Brodin since as early as last year, at least. With the expansion draft looming, the Wild's surplus of young defensemen has become a liability. In addition, they lack draft picks in either of the first two rounds. As such, reports of interest from the Bruins have reemerged.
Report: Bruins talking trade for Wild defenseman Jonas Brodin https://t.co/zqHnTiFzaE via @WEEI

— Ty Anderson (@_TyAnderson) June 8, 2017
Brandon Share-Cohen, Drew Johnson, Anthony Pagliarulo, Joe Ochs, and I came together to discuss what a fair offer for Brodin might look like. Stepping into Sweeney's shoes, we tried to determine whether or not a realistic deal could be struck.
Brandon Share-Cohen:
The Bruins are entering the 2017 NHL offseason amid a flurry of rumors and reports. Some of the discussion has the Bruins interested in a player like Matt Duchene. Some have the Bruins trading their first-round pick in hopes of acquiring a solid top-four defender to bolster their blue line heading into next season. This is where the discussion for a player like Jonas Brodin starts.
The Wild will need to make a move or two to maximize their assets heading into the Expansion Draft. With a bevy of players worth taking, the Golden Knights will certainly be monitoring the Wild's transactions over the next few weeks. The Bruins shouldn't shy away from a trade with the Wild if it ultimately makes them a better team than they are now. A move for Brodin qualifies as a move that makes the Bruins better.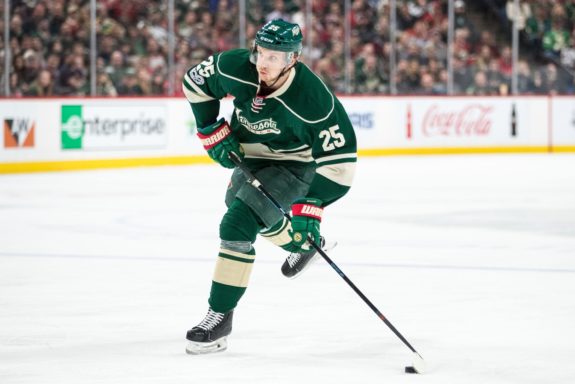 At the center of these talks, however, is the Bruins 18th overall pick in the upcoming NHL Draft. If the Bruins want to acquire someone like Brodin, the pick and potentially another piece, possibly Ryan Spooner or a mid-level prospect or pick, will have to be sent in return. While Spooner could be a decent pickup for the Wild, he could also be used to convince the Wild to select someone else, rather than one of their core pieces.
Trade the First-Round Pick?
While it may seem like a short-sighted move to trade a first-round pick, it's important to remember that the Bruins have a ton of prospects developing. In a draft that is considered to be underwhelming relative to other years, the team can afford to move a first-round pick to acquire immediate help. This move also helps the Bruins as Zdeno Chara is entering the last year of his contract and is on the wrong side of 40. For the Wild, this gives them some flexibility in the Expansion Draft and gets them back into the first-round.
Drew Johnson:
If the Bruins are going to make a big trade this offseason it's going to be for a guy like Jonas Brodin.
Boston has a plethora of young forwards in the system coming to aid the Bruins this season. Bergeron, Marchand, Pastrnak, Krejci and Backes need a winger to round out their top six. With quality already brewing in Providence, Boston should seek a rental via free agency.
The Bruins should be seeking to bolster not only the future but also the present state of their defense. While there is already promise along the blue line, they need someone to captain their defense once Chara departs. Brodin can be that guy while McAvoy and Carlo improve.
The Bruins could offer the 18th overall pick and Ryan Spooner for the 23-year-old defenseman. If the Wild aren't willing to take on an RFA, they can give up one of many prospects being groomed in Rhode Island. Even a defensive prospect like Rob O'Gara or Matt Grzelcyk could be added to sweeten the deal.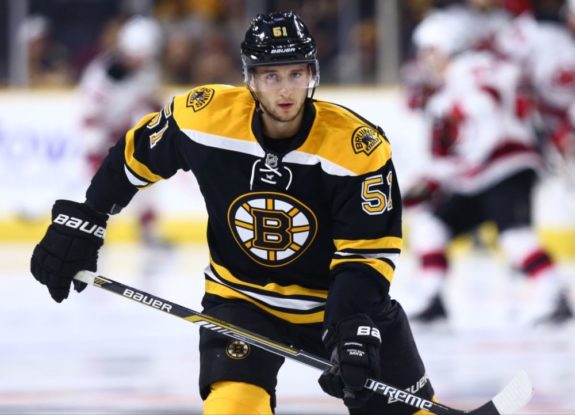 Brodin has great talent and can only improve, especially if he were to be surrounded by Chara, Krug, McAvoy and Carlo next season.
Improving the chances of a trade is the fact that Sweeney and Neely have no excuse not to go after a guy like Brodin. Guys like Jake DeBrusk, Frank Vatrano, Anders Bjork, Jakob Forsbacka-Karlsson and Sean Kuraly will be making bids for bottom six minutes. I think it's safe to call that a trade surplus if Spooner is not of interest and if the deal is ripe enough for management to take a bite. For Brodin, it is.
Anthony Pagliarulo:
Around this time of year, the NHL rumor mill is spinning in high gear and the latest rumor being circulated is the Bruins considering a trade for Minnesota Wild defender Jonas Brodin. A lot of rumors can be tossed aside since they do not make much sense, but this is a weird one because it almost makes too much sense. Brodin is an affordable, talented, top-four, left shot defender, which is everything the Bruins are looking for.
The easy offer for the Bruins to make is Ryan Spooner and their first-round pick in the 2017 draft. The Wild do not have a pick in the first two rounds of the draft at the moment and probably want to get back into one of those rounds. Even though they have a number of RFA's to sign, adding Spooner should not create many problems.
This deal seems to be the most obvious, but of course, it is never that easy. The Bruins' first-round pick will probably be in play no matter what — the piece in question is the player or players going with it. Frank Vatrano, Zach Senyshyn and Anders Bjork might all be of interest to the Wild if they don't want Spooner. Even though the Wild need a young center the most, no Bruins aside from Spooner fit that description. A talented winger could also boost their team a bit, though.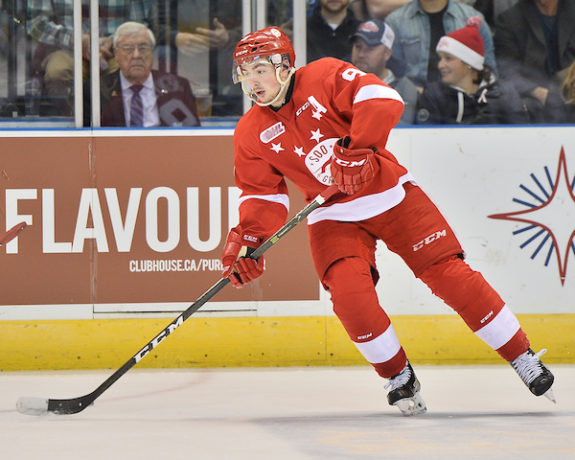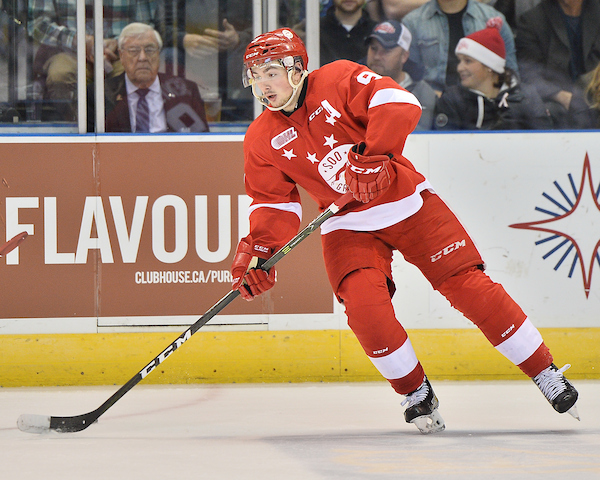 If I am GM Sweeney, I do not let the Wild touch Senyshyn, but players or prospects similar to Vatrano and Bjork would certainly be in play. I think the Wild would be very open to making this style of deal work as well.
Joe Ochs:
It's not often these days that players like Jonas Brodin wind up on the trade block. His combination of talent at a desirable position (left-handed defenseman), age (23), and salary/term (four more years at $4.166 million) are exactly what every team in the league covets. The expansion draft is forcing Minnesota to make difficult decisions, and the Bruins must take advantage.
Brodin flies under the radar a bit because he's not an electrifying defenseman, nor is he a physical, punishing presence. However, Brodin plays an extremely steady, low-maintenance game, and is already a bonafide top-four defender at 23-years-old. His acquisition would help the Bruins immediately and for seasons to come; this is not a rental or a player on the wrong side of 30. He would give Boston a formidable top-four and would allow Torey Krug to wreak havoc from the team's bottom pairing.
As such, I would endorse quite a few avenues through which Brodin comes to Boston. The 18th pick + Spooner is ideal, but it might be just a touch light for Minnesota's liking. Throw in a LHD prospect who would be buried by Brodin's acquisition (Grzelcyk or O'Gara) and a deal seems likely.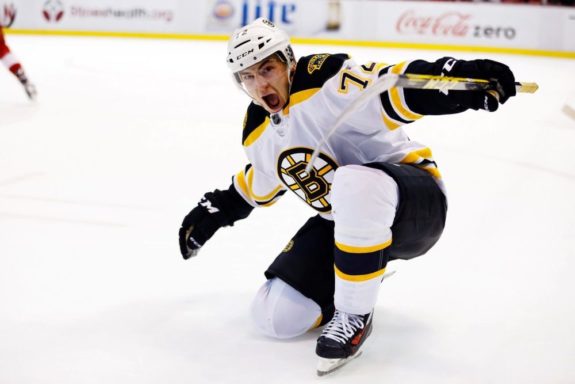 I'm not sold on Frank Vatrano developing into anything more than a secondary-scoring sniper, and with Boston's bevy of prospects at left wing (Bjork, DeBrusk, Heinen), I would endorse his inclusion with the 18th pick, especially if one of Minnesota's fourth round picks came to Boston along with Brodin.
The best defensemen potentially available at 18th overall — Foote, Hague, Valimaki — would all require at least another year or two of seasoning before competing for a roster spot, and Brodin's talent, age and projected arc vastly outweighs what's available to Boston through the draft.
Go get him, Trader Don.
Chris Gere:
Jonas Brodin is part of a very talented young defensive corps in Minnesota that also includes Jared Spurgeon, Marco Scandella and Matt Dumba. Simply because they likely have to trade away one or more of them, does not mean that they will do it for cheap.
With Martin Hanzal likely to leave in free agency, one might think Spooner would be a good fit. The problem is, the Wild already have a bunch of talented forwards to protect in the expansion draft. It seems unlikely that they would trade for an RFA that they need to both re-sign and worry about Vegas snagging.
The Wild will be looking for players who are exempt from the expansion draft. The Bruins have a surplus of prospects on their left wing and Minnesota will try to exploit that. It's tough to gauge exactly who the Bruins should offer, considering only Frank Vatrano has played regularly out of that young group of left wingers.
The Right Offer: Jake DeBrusk
Jake DeBrusk might be the perfect offer. His name carries more caché than either Peter Cehlarik or Danton Heinen. He projects as an offense-first left wing who could potentially play in the top-six. Personally, I see him and Vatrano as redundant, and whichever of the two of them Minnesota would rather have is fine by me.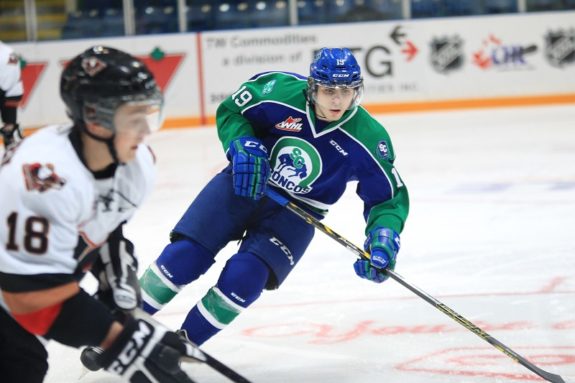 If the Bruins' 2017 first round pick and Jake DeBrusk aren't enough to land Brodin, a kicker like Matt Grzelcyk would make sense. With the acquisition of Brodin, he would be blocked behind other left-handed blue line prospects who don't already have the same physical limitations as Torey Krug.
If the Bruins can get away with trading a pick and redundant pieces for a top-four defenseman who likely hasn't yet reached his prime, they should absolutely do it.
Bruins Round Table Final Verdict
An expansion year is a unique opportunity both to gain leverage and to find common ground for mutually beneficial trades. The Bruins need to take advantage of the only time when the price of good defenseman will be reasonable. Brodin seems like a perfect fit for both the present and future. He would increase the Bruins' chances of winning with the current core while helping to transition into an era without them. Sweeney should be willing to part with the 18th overall pick in this draft and some significant young talent in order to get his guy.