---
---
---
Normally, I publish my annual mock entry draft the morning after the Stanley Cup is handed out.
So, when Patric Hornqvist scored the Cup-winning goal for Pittsburgh on Sunday night against Nashville — the team that drafted him with the last overall pick (230th) in 2005 — I should have been ready to roll for Monday.
However, I held off this year, in part, to wait for Bob McKenzie's highly anticipated draft rankings, which won't be unveiled by TSN until this Sunday.
TSN Top 75 NHL Draft Rankings will be released on June 18 on tsn.ca, incl 30-minute draft rankings show on @TSN_Sports.

— Bob McKenzie (@TSNBobMcKenzie) June 7, 2017
To my surprise, there was some level of anticipation surrounding my mock draft as well, and a few regular readers have reached out asking about the delay. To appease them, and the masses, I've decided to provide a sneak peek at my selections for all seven rounds followed by a team-by-team results breakdown.
This sneak peek won't include any analysis or reasoning for my picks — you'll have to wait until next week for the in-depth mock, which will also feature the prospects' heights and weights (from the combine), regular season and playoff statistics, and their final rankings from eight trusted scouting services in NHL Central Scouting, ISS Hockey, Future Considerations, McKeen's Hockey, HockeyProspect.com, the aforementioned draft guru McKenzie, TSN's Craig Button and Sportsnet's Jeff Marek.
Of course, my selections are subject to change between now and then, especially since several picks are expected to be traded in the meantime. This mock reflects the official draft order following the conclusion of the playoffs, prior to any picks changing hands.
As those deals go down over the next week to nine days, I'll be updating and tweaking my mock as necessary since different teams have different needs and tendencies on draft weekend.
I'm always open to reader feedback too — be it from casual fans or hockey people, including scouts — so feel free to contact me with any insight that could be beneficial in making this year's mock as realistic as possible.
In saying that, this year's entry draft is shaping up to be a total crapshoot — even more so than most years — and nobody really knows what to expect from the first overall pick to the 217th and final pick.
There will be no shortage of surprise selections, possibly starting at No. 1 but certainly within the top five. There isn't a generational talent available — no Connor McDavid or Auston Matthews, nor a Jack Eichel or Patrik Laine — and the depth of this draft class eventually tails off too, which could mean more over-age and re-entry prospects getting picked than usual.
That's a little spoiler for what's to come, but let's start at the top and answer the question that everybody is debating: Nolan or Nico . . . or a surprise?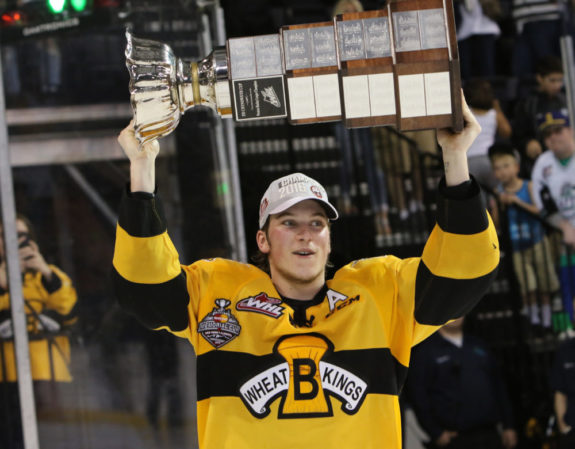 First Round
1) New Jersey Devils — Nolan Patrick (C, Brandon, WHL)
2) Philadelphia Flyers — Nico Hischier (C/LW, Halifax, QMJHL)
3) Dallas Stars — Miro Heiskanen (LHD, HIFK, Finland)
4) Colorado Avalanche — Cale Makar (RHD, Brooks, AJHL)
5) Vancouver Canucks — Elias Pettersson (C/LW, Timra IK, Sweden)
6) Vegas Golden Knights — Gabe Vilardi (C, Windsor, OHL)
7) Arizona Coyotes — Timothy Liljegren (RHD, Rogle, Sweden)
8) Buffalo Sabres — Owen Tippett (RW, Mississauga, OHL)
9) Detroit Red Wings — Martin Necas (C/RW, Kometa Brno, Czech Republic)
10) Florida Panthers — Casey Mittelstadt (C, Green Bay, USHL)
11) Los Angeles Kings — Klim Kostin (RW, Dynamo Moscow, Russia)
12) Carolina Hurricanes — Kristian Vesalainen (LW, Frolunda J20, Finland)
13) Winnipeg Jets — Cody Glass (C, Portland, WHL)
14) Tampa Bay Lightning — Nick Suzuki (C, Owen Sound, OHL)
15) New York Islanders — Michael Rasmussen (C, Tri-City, WHL)
16) Calgary Flames — Cal Foote (RHD, Kelowna, WHL)
17) Toronto Maple Leafs — Nic Hague (LHD, Mississauga, OHL)
18) Boston Bruins — Eeli Tolvanen (LW, Sioux City, USHL)
19) San Jose Sharks — Ryan Poehling (C, St. Cloud State, NCAA)
20) St. Louis Blues — Juuso Valimaki (LHD, Tri-City, WHL)
21) New York Rangers — Josh Norris (C, U.S. U18, NTDP)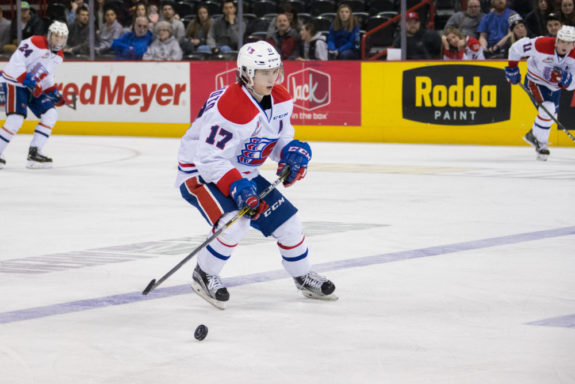 22) Edmonton Oilers — Kailer Yamamoto (RW, Spokane, WHL)
23) Arizona Coyotes (from Minnesota) — Urho Vaakanainen (LHD, JYP, Finland)
24) Columbus Blue Jackets — Lias Andersson (C/LW, HV71, Sweden)
25) Montreal Canadiens — Morgan Frost (C, Sault Ste. Marie, OHL)
26) Chicago Blackhawks — Henri Jokiharju (RHD, Portland, WHL)
27) St. Louis Blues (from Washington) — Jaret Anderson-Dolan (C/LW, Spokane, WHL)
28) Ottawa Senators — Erik Brannstrom (LHD, HV71, Sweden)
29) Dallas Stars (from Anaheim) — Jake Oettinger (G, Boston University, NCAA)
30) Nashville Predators — Kole Lind (RW, Kelowna, WHL)
31) Pittsburgh Penguins — Connor Timmins (RHD, Sault Ste. Marie, OHL)
The #NHLDraft is coming! Our #NHL prospect experts have filled the #THW Draft Guide with over 100 detailed profiles. https://t.co/AHXZfjrOyw pic.twitter.com/NwVpuWz1UJ

— The Hockey Writers (@TheHockeyWriter) June 14, 2017
Second Round
32) Colorado Avalanche — Robert Thomas (C, London, OHL)
33) Vancouver Canucks — Marcus Davidsson (C, Djugardens, Sweden)
34) Vegas Golden Knights — Mike DiPietro (G, Windsor, OHL)
35) Arizona Coyotes — Jason Robertson (LW, Kingston, OHL)
36) New Jersey Devils — Isaac Ratcliffe (LW, Guelph, OHL)
37) Buffalo Sabres — Pierre-Olivier Joseph (LHD, Charlottetown, QMJHL)
38) Detroit Red Wings — Shane Bowers (C, Waterloo, USHL)
39) Dallas Stars — Nikita Popugaev (LW, Prince George, WHL)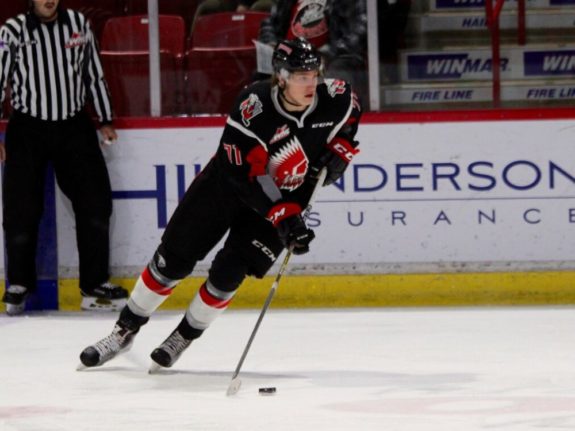 40) Florida Panthers — Joni Ikonen (C, Frolunda J20, Finland)
41) Los Angeles Kings — Robin Salo (LHD, Vassan Sport, Finland)
42) Carolina Hurricanes — Ukko-Pekka Luukkonen (G, HPK U20, Finland)
43) Winnipeg Jets — Ian Mitchell (RHD, Spruce Grove, AJHL)
44) Philadelphia Flyers — Mackenzie Entwistle (C/RW, Hamilton, OHL)
45) Tampa Bay Lightning — Maxime Comtois (LW/C, Victoriaville, QMJHL)
46) New York Islanders — Scott Reedy (C/LW, U.S. U18, NTDP)
47) Ottawa Senators (from Calgary) — Filip Chytil (C, ZPS Zlin, Czech Republic)
48) Tampa Bay Lightning (from Toronto) — Ostap Safin (LW, Sparta Prague, Czech Republic)
49) New Jersey Devils (from Boston) — Adam Ruzicka (C, Sarnia, OHL)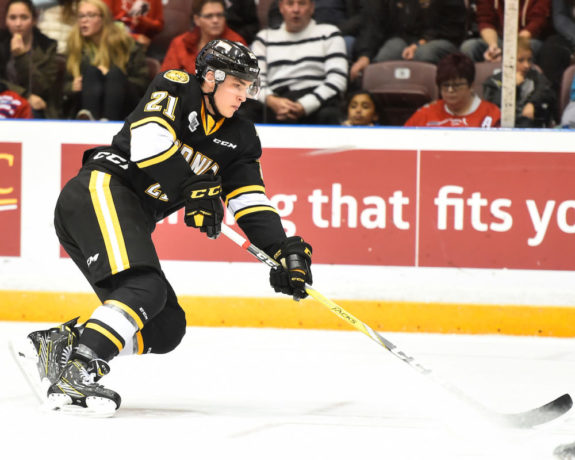 50) Anaheim Ducks (from San Jose via Toronto) — Keith Petruzzelli (G, Muskegon, USHL)
51) St. Louis Blues — Grant Mismash (RW, U.S. U18, NTDP)
52) Carolina Hurricanes (from N.Y. Rangers) — Jonah Gadjovich (LW, Owen Sound, OHL)
53) Boston Bruins (from Edmonton) — Antoine Morand (C/LW, Acadie-Bathurst, QMJHL)
54) Buffalo Sabres (from Minnesota) — David Farrance (LHD, U.S. U18, NTDP)
55) Vancouver Canucks (from Columbus) — Jesper Boqvist (LW/C, Brynas, Sweden)
56) Montreal Canadiens — Alexei Lipanov (C, MVD Balashikha, Russia)
57) Chicago Blackhawks — Ivan Lodnia (RW, Erie, OHL)
58) Montreal Canadiens (from Washington) — Luke Martin (RHD, Michigan, NCAA)
59) Toronto Maple Leafs (from Ottawa) — Alex Formenton (LW, London, OHL)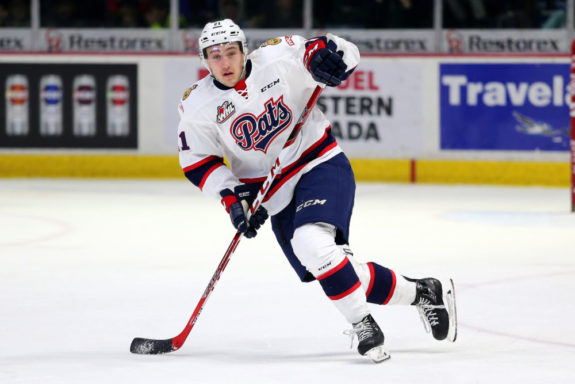 60) Anaheim Ducks — Nick Henry (RW, Regina, WHL)
61) Nashville Predators — Cale Fleury (RHD, Kootenay, WHL)
62) Carolina Hurricanes (from Pittsburgh) — Aleksi Heponiemi (C/LW, Swift Current, WHL)
Third Round
63) New Jersey Devils (from Colorado) — Dayton Rasmussen (G, Chicago, USHL)
64) Vancouver Canucks — Ivan Chekhovich (LW, Baie-Comeau, QMJHL)
65) Vegas Golden Knights — Stelio Mattheos (RW, Brandon, WHL)
66) Florida Panthers (from Arizona) — Josh Brook (RHD, Moose Jaw, WHL)
67) New Jersey Devils — Evan Barratt (C/RW, U.S. U18, NTDP)
68) Buffalo Sabres — Max Gildon (LHD, U.S. U18, NTDP)
69) Arizona Coyotes (from Detroit via San Jose) — Linus Nyman (RW, Kingston, OHL)
70) Dallas Stars — Jonas Ronbjerg (RW, Vaxjo J20, Sweden)
71) Detroit Red Wings (from Florida) — Fabian Zetterlund (C/RW, Farjestad J20, Sweden)
72) Los Angeles Kings — Alexei Toropchenko (LW, HK MVD, Russia)
73) Carolina Hurricanes — Markus Phillips (LHD, Owen Sound, OHL)
74) Winnipeg Jets — Morgan Geekie (C, Tri-City, WHL)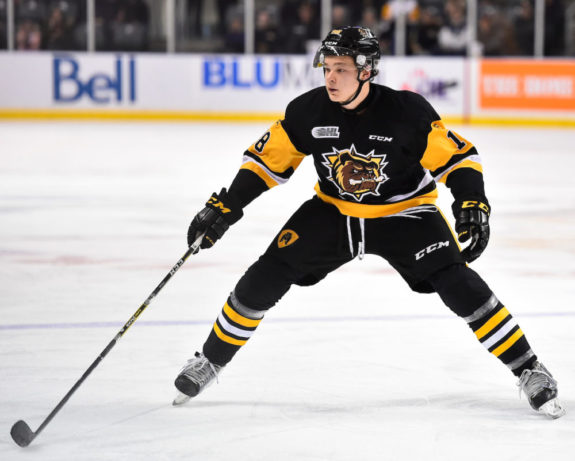 75) Philadelphia Flyers — Matthew Strome (LW, Hamilton, OHL)
76) Tampa Bay Lightning — Maksim Zhukov (G, Green Bay, USHL)
77) New York Islanders — Jarret Tyszka (RHD, Seattle, WHL)
78) Arizona Coyotes (from Calgary) — Dmitri Samorukov (LHD, Guelph, OHL)
79) Detroit Red Wings (from Toronto) — Reilly Walsh (RHD, Chicago, USHL)
80) Philadelphia Flyers (from Boston) — Jordy Bellerive (C/LW, Lethbridge, WHL)
81) San Jose Sharks — Ian Scott (G, Prince Albert, WHL)
82) Edmonton Oilers (from St. Louis) — Kirill Slepets (RW/LW, Loko Yaroslavl, Russia)
83) Detroit Red Wings (from N.Y. Rangers) — Mason Shaw (C, Medicine Hat, WHL)
84) Edmonton Oilers — Sasha Chmelevski (C, Ottawa, OHL)
85) Minnesota Wild — Dylan Samberg (LHD, Hermantown, U.S. High School)
86) Columbus Blue Jackets — Joel Teasdale (LW, Blainville-Boisbriand, QMJHL)
87) Montreal Canadiens — Nate Knoepke (LHD, U.S. U18, NTDP)
88) Detroit Red Wings (from Chicago) — Filip Westerlund (RHD, Frolunda, Sweden)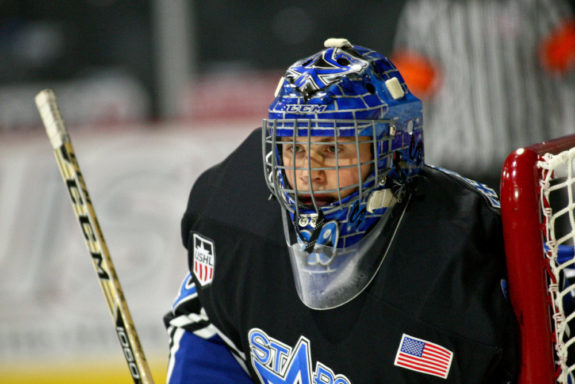 89) Buffalo Sabres (from Washington) — Cayden Primeau (G, Lincoln, USHL)
90) Chicago Blackhawks (from Ottawa via Carolina) — Kirill Maksimov (RW, Niagara, OHL)
91) Anaheim Ducks — Cameron Crotty (RHD, Brockville, CJHL)
92) Nashville Predators — Tim Soderlund (LW/C, Skelleftea, Sweden)
93) Pittsburgh Penguins — Pavel Koltygin (LW, Drummondville, QMJHL)
Fourth Round
94) Colorado Avalanche — Eemeli Rasanen (LHD, Kingston, OHL)
95) Vancouver Canucks — Noel Hoefenmayer (LHD, Ottawa, OHL)
96) Vegas Golden Knights — Jake Leschyshyn (C, Regina, WHL)
97) Minnesota Wild (from Arizona) — Mario Ferraro (LHD, Des Moines, USHL)
98) New Jersey Devils — Artyom Minulin (RHD, Swift Current, WHL)
99) Buffalo Sabres — Mikey Anderson (LHD, Waterloo, USHL)
100) Detroit Red Wings — Sebastian Walfridsson (LHD, Modo, Sweden)
Lots of opportunity at Michigan State put Patrick Khodorenko back on the NHL Draft radar https://t.co/TShFBlAIhe pic.twitter.com/t9H7s0t5O7

— SBN College Hockey (@SBNCollegePuck) May 22, 2017
101) Dallas Stars — Patrick Khodorenko (C, Michigan State, NCAA)
102) New York Rangers (from Florida) — Tyler Inamoto (LHD, U.S. U18, NTDP)
103) Los Angeles Kings — Jack Studnicka (C, Oshawa, OHL)
104) Carolina Hurricanes — Sami Moilanen (RW, Seattle, WHL)
105) Winnipeg Jets — Skyler McKenzie (LW, Portland, WHL)
106) Philadelphia Flyers — Lane Zablocki (RW, Red Deer, WHL)
107) Philadelphia Flyers (from Tampa Bay) — Tyler Steenbergen (C, Swift Current, WHL)
108) Philadelphia Flyers (from N.Y. Islanders) — Jayden Halbgewachs (LW, Moose Jaw, WHL)
109) Calgary Flames — Finn Evans (RW, St. Michael's, OJHL)
110) Toronto Maple Leafs — Lukas Elvenes (RW, Rogle, Sweden)
111) Boston Bruins — Ben Mirageas (LHD, Bloomington, USHL)
112) Vancouver Canucks (from San Jose) — Scott Walford (LHD, Victoria, WHL)
113) St. Louis Blues — Clayton Phillips (LHD, Fargo, USHL)
114) Colorado Avalanche (from N.Y. Rangers) — Stuart Skinner (G, Lethbridge, WHL)
Haven't seen this many NHL scouts here all season. Likely on hand to watch Kam G Dylan Ferguson, who has been good in Ingram's absence.

— Gregg Drinnan (@gdrinnan) January 4, 2017
115) Edmonton Oilers — Dylan Ferguson (G, Kamloops, WHL)
116) Minnesota Wild — Michael Pastujov (RW, U.S. U18, NTDP)
117) Columbus Blue Jackets — Antoine Crete-Belzile (LHD, Blainville-Boisbriand, QMJHL)
118) Los Angeles Kings (from Montreal via Dallas) — Mark Rubinchik (LHD, Saskatoon, WHL)
119) Chicago Blackhawks — Ivan Kosorenkov (RW, Victoriaville, QMJHL)
120) Washington Capitals — Yaroslav Alexeyev (LW, Sherbrooke, QMJHL)
121) Ottawa Senators — Kevin Hancock (C, Owen Sound, OHL)
122) Anaheim Ducks — Rickard Hugg (C, Leksand J20, Sweden)
123) New Jersey Devils (from Nashville) — Tommy Miller (RHD, U.S. U18, NTDP)
124) Toronto Maple Leafs (from Pittsburgh) — Dylan Coghlan (RHD, Tri-City, WHL)
Fifth Round
125) Colorado Avalanche — David Noel (LHD, Val-d'Or, QMJHL)
126) Edmonton Oilers (from Vancouver) — Nate Schnarr (C, Guelph, OHL)
127) Vegas Golden Knights — Ty Lewis (LW, Brandon, WHL)
Ty Lewis – 2017 NHL Draft Prospect Profile – https://t.co/uvOPa9MbT0 #hockey #THW pic.twitter.com/zMZiHxzNVw

— The Hockey Writers (@TheHockeyWriter) May 26, 2017
128) Arizona Coyotes — Brady Lyle (RHD, North Bay, OHL)
129) New Jersey Devils — Jacob Paquette (LHD, Kingston, OHL)
130) St. Louis Blues (from Buffalo) — Kyle Olson (RW, Tri-City, WHL)
131) Detroit Red Wings — Zach Gallant (C, Peterborough, OHL)
132) Dallas Stars — Gustav Lindstrom (RHD, Almtuna, Sweden)
133) Florida Panthers — Alex D'Orio (G, Saint John, QMJHL)
134) Los Angeles Kings — Jack Ahcan (LHD, St. Cloud State, NCAA)
135) Chicago Blackhawks (from Carolina) — Alexander Polunin (RW, Lokomotiv, Russia)
136) Winnipeg Jets — Jakub Galvas (LHD, HC Olomouc, Czech Extraliga)
137) Philadelphia Flyers — Austen Keating (C/LW, Ottawa, OHL)
138) Los Angeles Kings (from Tampa Bay) — Brennan Menell (RHD, Lethbridge, WHL)
139) New York Islanders — Jack Rathbone (LHD, Dexter, U.S. High School)
140) Calgary Flames — Matteo Gennaro (C/LW, Calgary, WHL)
Some notable drafted prospects that didn't get signed to ELCs today:

Matteo Gennaro
Stephen Desrochers
Nikita Korostelev
Giorgio Estephan

— Derek Neumeier (@Derek_N_NHL) June 2, 2017
141) Toronto Maple Leafs — Giorgio Estephan (C/RW, Lethbridge, WHL)
142) Carolina Hurricanes (from Boston) — Greg Meireles (C, Kitchener, OHL)
143) San Jose Sharks — Stephen Dhillon (G, Niagara, OHL)
144) Chicago Blackhawks (from St. Louis) — Igor Shvyryov (C, Stalnye Lisi, Russia)
145) New York Rangers — Alexander Volkov (LW, SKA St. Petersburg, Russia)
146) Edmonton Oilers — Zach Solow (C/RW, Dubuque, USHL)
1st year Draft eligible players who led USHL in scoring

16-17: Zach Solow*
14-15: Kyle Connor
12-13: Taylor Cammarata
09-10: Jaden Schwartz

— Aaron Westendorf (@aewestendorf) April 2, 2017
147) Minnesota Wild — Olle Eriksson Ek (G, Farjestad J20, Sweden)
148) Columbus Blue Jackets — Adam Thilander (RHD, North Bay, OHL)
149) Montreal Canadiens — Alexandre Texier (C, Grenoble, France)
150) Chicago Blackhawks — Linus Weissbach (LW, Tri-City, USHL)
151) Washington Capitals — Tobias Geisser (LHD, EV Zug, Switzerland)
152) Pittsburgh Penguins (from Ottawa) — Pavel Shen (C, Khanty-Mansiysk, Russia)
153) Anaheim Ducks — Jonathan Smart (LHD, Regina, WHL)
154) Nashville Predators — Kalle Miketinac (C, Frolunda HC J20, Sweden)
155) Pittsburgh Penguins — Denis Smirnov (LW, Penn State, NCAA)
47 points as an NCAA rookie has Penn State's Denis Smirnov on the NHL Draft radar https://t.co/cs50C2OVXf pic.twitter.com/zUIClZLGxW

— SBN College Hockey (@SBNCollegePuck) May 23, 2017
Sixth Round
156) Colorado Avalanche — Maksim Sushko (RW, Owen Sound, OHL)
157) New York Rangers (from Vancouver) — Kirill Ustimenko (G, MHK Dynamo St. Petersburg, Russia)
158) Vegas Golden Knights — Stephen Desrocher (LHD, Kingston, OHL)
159) San Jose Sharks (from Arizona) — Daniil Skorikov (RW, Ufa, Russia)
160) New Jersey Devils — Adam Ahman (G, HV71 J20, Sweden)
161) Buffalo Sabres — Marian Studenic (RW, Hamilton, OHL)
162) Detroit Red Wings — Emil Westerlund (LW/RW, Linkoping J20, Sweden)
163) Dallas Stars — Andrei Altybarmakyan (RW, LVY St. Petersburg, Russia)
164) Detroit Red Wings (from Florida) — Dmitry Rodionychev (RHD, Nizhny Novgorod, Russia)
165) Los Angeles Kings — Zach Sawchenko (G, Moose Jaw, WHL)
Zach Sawchenko could be a first to develop at the CIS level. Potential draft pick who committed to the UofA today! #NHLDraft

— Brayden Sullivan (@SullyDraftGeek) April 25, 2017
166) Carolina Hurricanes — Santeri Virtanen (C, TPS J20, Finland)
167) Winnipeg Jets — Brendan De Jong (LHD, Portland, WHL)
168) Philadelphia Flyers — Isaac Johnson (LW, Des Moines, USHL)
169) Tampa Bay Lightning — Robbie Stucker (RHD, St. Thomas Academy, U.S. High School)
170) Chicago Blackhawks (from N.Y. Islanders) — Tomas Vomacka (G, Corpus Christi, NAHL)
171) Calgary Flames — Patrick Bajkov (RW, Everett, WHL)
172) Toronto Maple Leafs — Joseph Raaymakers (G, Sault Ste. Marie, OHL)
173) Boston Bruins — Thomas Gregoire (RHD, Sherbrooke, QMJHL)
174) San Jose Sharks — Ryan Peckford (LW, Victoria, WHL)
175) St. Louis Blues — Daniel Bukac (RHD, Brandon, WHL)
176) Nashville Predators (from N.Y. Rangers) — Griffin Mendel (LHD, Penticton, BCHL)
177) Edmonton Oilers — Brendan Semchuk (RW, Vancouver, WHL)
178) Minnesota Wild — Nikita Anokhovsky (C, Loko Yaroslavl, Russia)
179) Columbus Blue Jackets — Kasper Kotkansalo (LHD, Sioux Falls, USHL)
180) Tampa Bay Lightning (from Montreal) — Alexis Binner (LHD, Green Bay, USHL)
181) Chicago Blackhawks — Nikita Korostelev (RW/LW, Peterborough, OHL)
182) Washington Capitals — Vladislav Sukhachyov (G, Chelmet Chelyabinsk, Russia)
183) Ottawa Senators — Bryce Misley (C, Oakville, OJHL)
It might be a reach, but an NHL Team should take a chance on Pius Suter in the Draft this summer.

— Micha Hofer (@EuroCaps) May 2, 2017
184) Florida Panthers (from Anaheim) — Pius Suter (C/LW, ZSC Lions, Switzerland)
185) New Jersey Devils (from Nashville) — Morgan Barron (C, St. Andrews College, Canada High School)
186) Pittsburgh Penguins — Carson Meyer (RW, Miami University, NCAA)
Seventh Round
187) Colorado Avalanche — D'Artagnan Joly (RW, Baie-Comeau, QMJHL)
188) Vancouver Canucks — Jordan Kawaguchi (C, Chilliwack, BCHL)
189) Vegas Golden Knights — Kristians Rubins (LHD, Medicine Hat, WHL)
Medicine Hat has sometalented OAs for this upcoming draft including latvian Kristians Rubins, Max Gerlach, Zach Fischer and Mark Rassell.

— Jeff McCarthy (@JeffMcCarthyBC) February 16, 2017
190) Arizona Coyotes — Jeremy Swayman (G, Sioux Falls, USHL)
191) New Jersey Devils — Dominik Lakatos (C, Liberac, Czech Republic)
192) Buffalo Sabres — Shaw Boomhower (LW, Mississauga, OHL)
193) Detroit Red Wings — Jiri Patera (G, Budejovice, Czech Republic)
194) Dallas Stars — Dereck Baribeau (G, Quebec, QMJHL)
195) Boston Bruins (from Florida) — Nick Campoli (C, North York, OJHL)
196) Tampa Bay Lightning (from Los Angeles) — Maxime Fortier (RW/C, Halifax, QMJHL)
197) Carolina Hurricanes — Otto Makinen (C, Sault Ste. Marie, OHL)
198) Winnipeg Jets — Jonatan Apslund (LHD, Djurgardens J20, Sweden)
199) Philadelphia Flyers — Ryan Bowen (RW, Lethbridge, WHL)
200) Philadelphia Flyers (from Tampa Bay) — Justin Brazeau (RW, North Bay, OHL)
201) New York Islanders — Matthew Wedman (C, Seattle, WHL)
202) Calgary Flames — Vladislav Yeryomenko (RHD, Calgary, WHL)
203) Toronto Maple Leafs — Konstantin Dubin (LW, Stalnye Lisy, Russia)
204) Boston Bruins — Matt Kierstad (LHD, Chicago, USHL)
205) San Jose Sharks — Jake Christiansen (LHD, Everett, WHL)
206) St. Louis Blues — Kyle Maksimovich (RW, Erie, OHL)
207) New York Rangers — Colt Conrad (C, Western Michigan, NCAA)
208) Edmonton Oilers — Parker Foo (LW, Brooks, AJHL)
https://twitter.com/NHLbyMatty/status/874787005183348737
209) Minnesota Wild — Jesse Bjugstad (LHD, Stillwater, U.S. High School)
210) Columbus Blue Jackets — Otto Latvala (RHD, HPK J20, Finland)
211) Winnipeg Jets (from Montreal) — Brinson Pasichnuk (LHD, Arizona State, NCAA)
212) San Jose Sharks (from Chicago) — Dakota Krebs (RHD, Tri-City, WHL)
213) Washington Capitals — Pavel Yelshansky (D, Dynamo St. Petersburg, Russia)
214) San Jose Sharks (from Ottawa) — Artur Tyanulin (RW, Ottawa, OHL)
215) Chicago Blackhawks (from Anaheim) — Austin Pratt (RW, Red Deer, WHL)
216) Nashville Predators — Veini Vehvilainen (G, JYP, Finland)
217) Pittsburgh Penguins — Skyler Brind'Amour (C, Selects Academy, U.S. High School)
---
Team-by-Team Results
New Jersey Devils (11 = 5 C, 2 G, 2 RHD, 1 LW, 1 LHD)
1) Nolan Patrick (C, Brandon, WHL)
36) Isaac Ratcliffe (LW, Guelph, OHL)
49) Adam Ruzicka (C, Sarnia, OHL)
63) Dayton Rasmussen (G, Chicago, USHL)
67) Evan Barratt (C/RW, U.S. U18, NTDP)
98) Artyom Minulin (RHD, Swift Current, WHL)
123) Tommy Miller (RHD, U.S. U18, NTDP)
129) Jacob Paquette (LHD, Kingston, OHL)
160) Adam Ahman (G, HV71 J20, Sweden)
185) Morgan Barron (C, St. Andrews College, Canada High School)
191) Dominik Lakatos (C, Liberac, Czech Republic)
---
Philadelphia Flyers (11 = 5 C, 3 LW, 3 RW)
2) Nico Hischier (C/LW, Halifax, QMJHL)
44) Mackenzie Entwistle (C/RW, Hamilton, OHL)
75) Matthew Strome (LW, Hamilton, OHL)
80) Jordy Bellerive (C/LW, Lethbridge, WHL)
106) Lane Zablocki (RW, Red Deer, WHL)
107) Tyler Steenbergen (C, Swift Current, WHL)
108) Jayden Halbgewachs (LW, Moose Jaw, WHL)
137) Austen Keating (C/LW, Ottawa, OHL)
168) Isaac Johnson (LW, Des Moines, USHL)
199) Ryan Bowen (RW, Lethbridge, WHL)
200) Justin Brazeau (RW, North Bay, OHL)
---
Dallas Stars (8 = 2 G, 2 RW, 1 LHD, 1 RHD, 1 LW, 1 C)
3) Miro Heiskanen (LHD, HIFK, Finland)
29) Jake Oettinger (G, Boston University, NCAA)
39) Nikita Popugaev (LW, Prince George, WHL)
70) Jonas Ronbjerg (RW, Vaxjo J20, Sweden)
101) Patrick Khodorenko (C, Michigan State, NCAA)
132) Gustav Lindstrom (RHD, Almtuna, Sweden)
163) Andrei Altybarmakyan (RW, LVY St. Petersburg, Russia)
194) Dereck Baribeau (G, Quebec, QMJHL)
---
Colorado Avalanche (7 = 2 LHD, 2 RW, 1 RHD, 1 C, 1 G)
4) Cale Makar (RHD, Brooks, AJHL)
32) Robert Thomas (C, London, OHL)
94) Eemeli Rasanen (LHD, Kingston, OHL)
114) Stuart Skinner (G, Lethbridge, WHL)
125) David Noel (LHD, Val-d'Or, QMJHL)
156) Maksim Sushko (RW, Owen Sound, OHL)
187) D'Artagnan Joly (RW, Baie-Comeau, QMJHL)
---
Vancouver Canucks (7 = 3 C, 2 LW, 2 LHD)
5) Elias Pettersson (C/LW, Timra IK, Sweden)
33) Marcus Davidsson (C, Djugardens, Sweden)
55) Jesper Boqvist (LW/C, Brynas, Sweden)
64) Ivan Chekhovich (LW, Baie-Comeau, QMJHL)
95) Noel Hoefenmayer (LHD, Ottawa, OHL)
112) Scott Walford (LHD, Victoria, WHL)
188) Jordan Kawaguchi (C, Chilliwack, BCHL)
---
Vegas Golden Knights (7 = 2 C, 2 LHD, 1 G, 1 RW, 1 LW)
6) Gabe Vilardi (C, Windsor, OHL)
34) Mike DiPietro (G, Windsor, OHL)
65) Stelio Mattheos (RW, Brandon, WHL)
96) Jake Leschyshyn (C, Regina, WHL)
127) Ty Lewis (LW, Brandon, WHL)
158) Stephen Desrocher (LHD, Kingston, OHL)
189) Kristians Rubins (LHD, Medicine Hat, WHL)
---
Arizona Coyotes (7 = 2 RHD, 2 LHD, 1 LW, 1 RW, 1 G)
7) Timothy Liljegren (RHD, Rogle, Sweden)
23) Urho Vaakanainen (LHD, JYP, Finland)
35) Jason Robertson (LW, Kingston, OHL)
69) Linus Nyman (RW, Kingston, OHL)
78) Dmitri Samorukov (LHD, Guelph, OHL)
128) Brady Lyle (RHD, North Bay, OHL)
190) Jeremy Swayman (G, Sioux Falls, USHL)
---
Buffalo Sabres (8 = 4 LHD, 2 RW, 1 G, 1 LW)
8) Owen Tippett (RW, Mississauga, OHL)
37) Pierre-Olivier Joseph (LHD, Charlottetown, QMJHL)
54) David Farrance (LHD, U.S. U18, NTDP)
68) Max Gildon (LHD, U.S. U18, NTDP)
89) Cayden Primeau (G, Lincoln, USHL)
99) Mikey Anderson (LHD, Waterloo, USHL)
161) Marian Studenic (RW, Hamilton, OHL)
192) Shaw Boomhower (LW, Mississauga, OHL)
---
Detroit Red Wings (11 = 5 C, 3 RHD, 1 LHD, 1 LW, 1 G)
9) Martin Necas (C/RW, Kometa Brno, Czech Republic)
38) Shane Bowers (C, Waterloo, USHL)
71) Fabian Zetterlund (C/RW, Farjestad J20, Sweden)
79) Reilly Walsh (RHD, Chicago, USHL)
83) Mason Shaw (C, Medicine Hat, WHL)
88) Filip Westerlund (RHD, Frolunda, Sweden)
100) Sebastian Walfridsson (LHD, Modo, Sweden)
131) Zach Gallant (C, Peterborough, OHL)
162) Emil Westerlund (LW/RW, Linkoping J20, Sweden)
164) Dmitry Rodionychev (RHD, Nizhny Novgorod, Russia)
193) Jiri Patera (G, Budejovice, Czech Republic)
---
Florida Panthers (5 = 3 C, 1 RHD, 1 G)
10) Casey Mittelstadt (C, Green Bay, USHL)
40) Joni Ikonen (C, Frolunda J20, Finland)
66) Josh Brook (RHD, Moose Jaw, WHL)
133) Alex D'Orio (G, Saint John, QMJHL)
184) Pius Suter (C/LW, ZSC Lions, Switzerland)
---
Los Angeles Kings (8 = 3 LHD, 1 RW, 1 LW, 1 C, 1 RHD, 1 G)
11) Klim Kostin (RW, Dynamo Moscow, Russia)
41) Robin Salo (LHD, Vassan Sport, Finland)
72) Alexei Toropchenko (LW, HK MVD, Russia)
103) Jack Studnicka (C, Oshawa, OHL)
118) Mark Rubinchik (LHD, Saskatoon, WHL)
134) Jack Ahcan (LHD, St. Cloud State, NCAA)
138) Brennan Menell (RHD, Lethbridge, WHL)
165) Zach Sawchenko (G, Moose Jaw, WHL)
---
Carolina Hurricanes (9 = 4 C, 2 LW, 1 G, 1 LHD, 1 RW)
12) Kristian Vesalainen (LW, Frolunda J20, Finland)
42) Ukko-Pekka Luukkonen (G, HPK U20, Finland)
52) Jonah Gadjovich (LW, Owen Sound, OHL)
62) Aleksi Heponiemi (C/LW, Swift Current, WHL)
73) Markus Phillips (LHD, Owen Sound, OHL)
104) Sami Moilanen (RW, Seattle, WHL)
142) Greg Meireles (C, Kitchener, OHL)
166) Santeri Virtanen (C, TPS J20, Finland)
197) Otto Makinen (C, Sault Ste. Marie, OHL)
---
Winnipeg Jets (8 = 4 LHD, 2 C, 1 RHD, 1 LW)
13) Cody Glass (C, Portland, WHL)
43) Ian Mitchell (RHD, Spruce Grove, AJHL)
74) Morgan Geekie (C, Tri-City, WHL)
105) Skyler McKenzie (LW, Portland, WHL)
136) Jakub Galvas (LHD, HC Olomouc, Czech Extraliga)
167) Brendan De Jong (LHD, Portland, WHL)
198) Jonatan Apslund (LHD, Djurgardens J20, Sweden)
211) Brinson Pasichnuk (LHD, Arizona State, NCAA)
---
Tampa Bay Lightning (7 = 2 LW, 1 C, 1 G, 1 RHD, 1 LHD, 1 RW)
14) Nick Suzuki (C, Owen Sound, OHL)
45) Maxime Comtois (LW/C, Victoriaville, QMJHL)
48) Ostap Safin (LW, Sparta Prague, Czech Republic)
76) Maksim Zhukov (G, Green Bay, USHL)
169) Robbie Stucker (RHD, St. Thomas Academy, U.S. High School)
180) Alexis Binner (LHD, Green Bay, USHL)
196) Maxime Fortier (RW/C, Halifax, QMJHL)
---
New York Islanders (5 = 3 C, 1 RHD, 1 LHD)
15) Michael Rasmussen (C, Tri-City, WHL)
46) Scott Reedy (C/LW, U.S. U18, NTDP)
77) Jarret Tyszka (RHD, Seattle, WHL)
139) Jack Rathbone (LHD, Dexter, U.S. High School)
201) Matthew Wedman (C, Seattle, WHL)
---
Calgary Flames (5 = 2 RHD, 2 RW, 1 C)
16) Cal Foote (RHD, Kelowna, WHL)
109) Finn Evans (RW, St. Michael's, OJHL)
140) Matteo Gennaro (C/LW, Calgary, WHL)
171) Patrick Bajkov (RW, Everett, WHL)
202) Vladislav Yeryomenko (RHD, Calgary, WHL)
---
Toronto Maple Leafs (7 = 2 LW, 1 LHD, 1 RW, 1 RHD, 1 C, 1 G)
17) Nic Hague (LHD, Mississauga, OHL)
59) Alex Formenton (LW, London, OHL)
110) Lukas Elvenes (RW, Rogle, Sweden)
124) Dylan Coghlan (RHD, Tri-City, WHL)
141) Giorgio Estephan (C/RW, Lethbridge, WHL)
172) Joseph Raaymakers (G, Sault Ste. Marie, OHL)
203) Konstantin Dubin (LW, Stalnye Lisy, Russia)
---
Boston Bruins (6 = 2 C, 2 LHD, 1 LW, 1 RHD)
18) Eeli Tolvanen (LW, Sioux City, USHL)
53) Antoine Morand (C/LW, Acadie-Bathurst, QMJHL)
111) Ben Mirageas (LHD, Bloomington, USHL)
173) Thomas Gregoire (RHD, Sherbrooke, QMJHL)
195) Nick Campoli (C, North York, OJHL)
204) Matt Kierstad (LHD, Chicago, USHL)
---
San Jose Sharks (8 = 2 G, 2 RW, 1 C, 1 LW, 1 LHD, 1 RHD)
19) Ryan Poehling (C, St. Cloud State, NCAA)
81) Ian Scott (G, Prince Albert, WHL)
143) Stephen Dhillon (G, Niagara, OHL)
159) Daniil Skorikov (RW, Ufa, Russia)
174) Ryan Peckford (LW, Victoria, WHL)
205) Jake Christiansen (LHD, Everett, WHL)
212) Dakota Krebs (RHD, Tri-City, WHL)
214) Artur Tyanulin (RW, Ottawa, OHL)
---
St. Louis Blues (7 = 3 RW, 2 LHD, 1 C, 1 RHD)
20) Juuso Valimaki (LHD, Tri-City, WHL)
27) Jaret Anderson-Dolan (C/LW, Spokane, WHL)
51) Grant Mismash (RW, U.S. U18, NTDP)
113) Clayton Phillips (LHD, Fargo, USHL)
130) Kyle Olson (RW, Tri-City, WHL)
175) Daniel Bukac (RHD, Brandon, WHL)
206) Kyle Maksimovich (RW, Erie, OHL)
---
New York Rangers (5 = 2 C, 1 LHD, 1 LW, 1 G)
21) Josh Norris (C, U.S. U18, NTDP)
102) Tyler Inamoto (LHD, U.S. U18, NTDP)
145) Alexander Volkov (LW, SKA St. Petersburg, Russia)
157) Kirill Ustimenko (G, MHK Dynamo St. Petersburg, Russia)
207) Colt Conrad (C, Western Michigan, NCAA)
---
Edmonton Oilers (8 = 3 C, 3 RW, 1 G, 1 LW)
22) Kailer Yamamoto (RW, Spokane, WHL)
82) Kirill Slepets (RW/LW, Loko Yaroslavl, Russia)
84) Sasha Chmelevski (C, Ottawa, OHL)
115) Dylan Ferguson (G, Kamloops, WHL)
126) Nate Schnarr (C, Guelph, OHL)
146) Zach Solow (C/RW, Dubuque, USHL)
177) Brendan Semchuk (RW, Vancouver, WHL)
208) Parker Foo (LW, Brooks, AJHL)
---
Columbus Blue Jackets (6 = 2 LHD, 2 RHD, 1 C, 1 LW)
24) Lias Andersson (C/LW, HV71, Sweden)
86) Joel Teasdale (LW, Blainville-Boisbriand, QMJHL)
117) Antoine Crete-Belzile (LHD, Blainville-Boisbriand, QMJHL)
148) Adam Thilander (RHD, North Bay, OHL)
179) Kasper Kotkansalo (LHD, Sioux Falls, USHL)
210) Otto Latvala (RHD, HPK J20, Finland)
---
Montreal Canadiens (5 = 3 C, 1 RHD, 1 LHD)
25) Morgan Frost (C, Sault Ste. Marie, OHL)
56) Alexei Lipanov (C, MVD Balashikha, Russia)
58) Luke Martin (RHD, Michigan, NCAA)
87) Nate Knoepke (LHD, U.S. U18, NTDP)
149) Alexandre Texier (C, Grenoble, France)
---
Chicago Blackhawks (10 = 6 RW, 1 RHD, 1 C, 1 LW, 1 G)
26) Henri Jokiharju (RHD, Portland, WHL)
57) Ivan Lodnia (RW, Erie, OHL)
90) Kirill Maksimov (RW, Niagara, OHL)
119) Ivan Kosorenkov (RW, Victoriaville, QMJHL)
135) Alexander Polunin (RW, Lokomotiv, Russia)
144) Igor Shvyryov (C, Stalnye Lisi, Russia)
150) Linus Weissbach (LW, Tri-City, USHL)
170) Tomas Vomacka (G, Corpus Christi, NAHL)
181) Nikita Korostelev (RW/LW, Peterborough, OHL)
215) Austin Pratt (RW, Red Deer, WHL)
---
Ottawa Senators (4 = 3 C, 1 LHD)
28) Erik Brannstrom (LHD, HV71, Sweden)
47) Filip Chytil (C, ZPS Zlin, Czech Republic)
121) Kevin Hancock (C, Owen Sound, OHL)
183) Bryce Misley (C, Oakville, OJHL)
---
Nashville Predators (6 = 1 RW, 1 RHD, 1 LW, 1 C, 1 LHD, 1 G)
30) Kole Lind (RW, Kelowna, WHL)
61) Cale Fleury (RHD, Kootenay, WHL)
92) Tim Soderlund (LW/C, Skelleftea, Sweden)
154) Kalle Miketinac (C, Frolunda HC J20, Sweden)
176) Griffin Mendel (LHD, Penticton, BCHL)
216) Veini Vehvilainen (G, JYP, Finland)
---
Pittsburgh Penguins (6 = 2 LW, 2 C, 1 RHD, 1 RW)
31) Connor Timmins (RHD, Sault Ste. Marie, OHL)
93) Pavel Koltygin (LW, Drummondville, QMJHL)
152) Pavel Shen (C, Khanty-Mansiysk, Russia)
155) Denis Smirnov (LW, Penn State, NCAA)
186) Carson Meyer (RW, Miami University, NCAA)
217) Skyler Brind'Amour (C, Selects Academy, U.S. High School)
---
Anaheim Ducks (5 = 1 G, 1 RW, 1 RHD, 1 C, 1 LHD)
50) Keith Petruzzelli (G, Muskegon, USHL)
60) Nick Henry (RW, Regina, WHL)
91) Cameron Crotty (RHD, Brockville, CJHL)
122) Rickard Hugg (C, Leksand J20, Sweden)
153) Jonathan Smart (LHD, Regina, WHL)
---
Minnesota Wild (6 = 3 LHD, 1 RW, 1 G, 1 C)
85) Dylan Samberg (LHD, Hermantown, U.S. High School)
97) Mario Ferraro (LHD, Des Moines, USHL)
116) Michael Pastujov (RW, U.S. U18, NTDP)
147) Olle Eriksson Ek (G, Farjestad J20, Sweden)
178) Nikita Anokhovsky (C, Loko Yaroslavl, Russia)
209) Jesse Bjugstad (LHD, Stillwater, U.S. High School)
---
Washington Capitals (4 = 1 LW, 1 LHD, 1 G, 1 D)
120) Yaroslav Alexeyev (LW, Sherbrooke, QMJHL)
151) Tobias Geisser (LHD, EV Zug, Switzerland)
182) Vladislav Sukhachyov (G, Chelmet Chelyabinsk, Russia)
213) Pavel Yelshansky (D, Dynamo St. Petersburg, Russia)