Oilers Scratch Puljujarvi vs. Hurricanes
The Edmonton Oilers will scratch rookie forward Jesse Puljujarvi for Tuesday's game against the Carolina Hurricanes, according to a report by TSN 1260's Jason Gregor.
The Oilers tweeted the projected line combinations for the game and Puljujarvi was not included.
Projected #Oilers fwd lines: Lucic-McDavid-Eberle, Pouliot-RNH-Kassian, Maroon-Draisaitl-Slepyshev, Pitlick-Letestu-Lander. #CARvsEDM

— Edmonton Oilers (@EdmontonOilers) October 18, 2016
Puljujarvi, 18, was the fourth overall pick at the 2016 NHL Entry Draft and scored his first NHL goal against the Calgary Flames in his first game, but has gone scoreless in the past two contests.
The Oilers are looking to rebound from a 6-2 loss to the Buffalo Sabres on Sunday. After that game, head coach Todd McLellan gave a harsh critique of the team's performance and the team opted to forego a day off on Monday to hold a practice. The move was highly publicized but reportedly something the team voted to do on its own.
While some have been concerned about the potential Collective Bargaining Agreement (CBA) issues posed by the day off that was scrapped, the team reportedly decided to take a day off in lieu of a practice day scheduled in the future. Some have critcized the decision while others view it as a healthy step in the right direction for a franchise looking to turn the corner.
Cam Talbot will get the call between the pipes for the Oilers for the fourth consecutive game to start 2016-17. Talbot is 2-1 with a 4.62 goals against average and a .869 save percentage after Sunday's game against the Sabres.
"He's very strong mentally & can carry that load." Coach McLellan on @ctalbot33 balancing performance with twins on the way tomorrow

— Edmonton Oilers (@EdmontonOilers) October 18, 2016
Blues' Schwartz is Close to Return
Jaden Schwartz is close to returning to the St. Louis Blues, according to head coach Ken Hitchcock on Tuesday. Schwartz will be evaluated at practice on Wednesday and could be available as early as Thursday when the Blues play the Edmonton Oilers.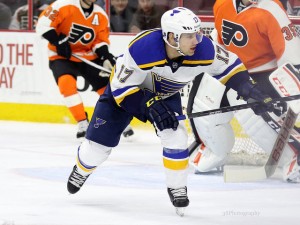 Schwartz was originally expected to miss at least four weeks after suffering an elbow injury during a practice at training camp on Sept. 29.
The Blues have rattled off three straight wins to start the season despite the absence of Schwartz and after losing forwards David Backes, Troy Brouwer and Steve Ott this offseason. Vladimir Tarasenko leads the Blues with three goals and Paul Stastny has paced the team with six points to start 2016-17. The Blues have scored 11 goals in the three contests.
Even with the Blues' success early on, Schwartz will be a welcomed addition to the roster. He registered 22 points in 33 regular season games last season despite missing 49 games with a fractured left ankle.
Schwartz, 24, signed a five-year, $26.75 million contract extension as a restricted free agent on July 1 to stay with the Blues.
Coyotes' Strome and Senators' Chabot to Make NHL Debuts
The Arizona Coyotes' Dylan Strome and the Ottawa Senators' Thomas Chabot will each get their first taste of NHL action when they make their debuts in a game between the teams on Tuesday.
Strome, 19, made the Coyotes' roster out of training camp but has been a healthy scratch to start the season. He spent 2015-16 with the Erie Otters where he skated in 56 games and tallied 37 goals and 74 assists. He has been patiently awaiting his NHL debut as the team's other rookies have gotten their opportunities first. Christian Dvorak will be scratched for tonight's game.
"I've been waiting for this for a while now and I'm excited," Strome said during a video interview released by the Coyotes on Tuesday. "I'm just going to play my game and try to stay in the lineup."
Dylan Strome (@stromer19) will make his @NHL debut tonight. pic.twitter.com/Ez2FEPp4IN

— Arizona Coyotes (@ArizonaCoyotes) October 18, 2016
The Senators will be dressing defenseman Thomas Chabot after he was a healthy scratch to start 2016-17. Chabot, 19, was drafted by the Senators 18th overall in the 2015 NHL Entry Draft and will be in the lineup as the Senators roll with seven defensemen. Head coach Guy Boucher spoke about Chabot's NHL debut on Tuesday:
Head Coach Guy Boucher talks about #Sens prospect Thomas Chabot making his NHL debut and about facing a young Arizona Coyotes team tonight. pic.twitter.com/U3XVYPUBu3

— Ottawa Senators (@Senators) October 18, 2016
Canucks' Miller Out, UBC Goaltender to Back Up Markstrom
The Vancouver Canucks will be without goaltender Ryan Miller for Tuesday's game against the St. Louis Blues on Tuesday. The Canucks will start Jacob Markstrom and he will be backed up by University of British Columbia goaltender Matt Hewitt.
Miller is reportedly not playing due to stiffness and it is not known how long he will be missing from action for the Canucks. Miller has seen action in one game this season while Markstrom has posted a 1-1 record with a 3.00 goals against average and .864 save percentage.
Hewitt is a 5'11, 165-pound netminder from New Wistminster, BC, and has posted a 6-10 record at the school, according to the UBC Thunderbirds' team website.
BREAKING | @UBC Thunderbirds goalie Matt Hewitt will be dressing for the @Canucks tonight as back up goalie. #GoBirdsGo #WeAreAllCanucks pic.twitter.com/cfEfR2g3vz

— UBC Thunderbirds (@ubctbirds) October 18, 2016
Odds and Ends
— Phil Kessel showed his humorous side in a two-minute video clip posted by the Pittsburgh Penguins on Tuesday.
Truth: Kessel loves country music
Truth: Kessel's dog is named Stella
Lie: Kessel is a wonderful singer
In the Room: https://t.co/xjYVhSUUiP pic.twitter.com/vVxyLiBFe1

— Pittsburgh Penguins (@penguins) October 18, 2016
— The Dallas Stars will be without forward Juri Hudler for Tuesday's game against the Nahville Predators, the team announced. Hudler is currently battling an illness and reportedly did not travel with the team to Nashville.
— The Nashville Predators Foundation presented a check for more than $400,000 to the Monroe Carell Jr. Children's Hospital at Vanderbilt on Monday, according to the team. The Predators organization, including goaltender Pekka Rinne and former defenseman Shea Weber, have been actively involved with programs at the hospital for years.
It's always one of the best days of the season. Right, @PredsFoundation? https://t.co/0ByHlPQ79O

— Nashville Predators (@PredsNHL) October 18, 2016