Like it or not, the NHL All-Star break could not have come at a worse time for the Edmonton Oilers. In the midst of playing some good hockey and having almost every bounce go their way for the better part of three weeks, Todd McLellan's crew has come down to earth since returning to action. Three games, three losses and a grand total of three goals scored have sections of Oilers nation starting to feel uneasy.
Isn't it funny how perception can change over the span of four days? After sweeping back-to-back games against the Anaheim Ducks and San Jose Sharks and pulling into a tie for top spot in the Pacific Division prior to the league's mid-season hiatus, certain portions of this fan base were beside themselves with optimism. Fast forward to the present day and things no longer appear quite as rosy. But should that be the case?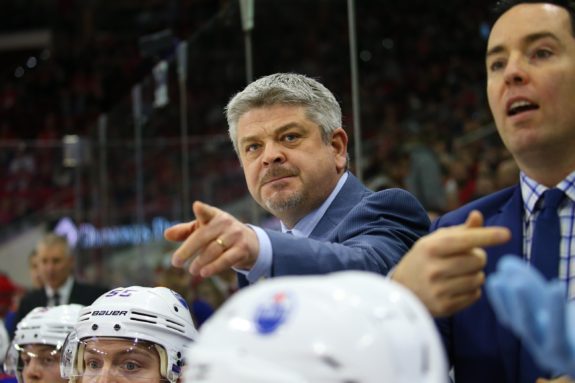 Oilers Were Overdue for Cold Spell
After posting a 7-0-1 stretch leading into the All-Star break and having taken at least a point from 22 of 27 games in December and January, the Oilers were more than overdue to hit a bit of a rough patch. In fact, when you consider 17 of those 27 contests were decided by one goal and another five by a two-goal margin, we start to realize Edmonton has been playing with house money for a while now. Some timely goal scoring, newfound confidence and a red-hot netminder can go a long way in today's NHL.
https://twitter.com/Sun_Tychkowski/status/827715291928858624
In no way is that to suggest the Oilers do not deserve to be where they are in the standings, as nothing could be further from the truth. However, a regression to the mean was bound to occur, and occur it has: a thorough 5-2 spanking at the hands of the sizzling Minnesota Wild, followed by a 2-0 blanking from the Nashville Predators and then Friday's hard-luck 2-1 loss to the Carolina Hurricanes. Not exactly knocking it out of the park, now are they?
With three consecutive losses, Edmonton fell from first in the Pacific to third but still maintains a comfortable six-point bulge over the Los Angeles Kings. With that being the case, should the masses have any reason to be concerned? In my mind, the answer to that question is a resounding no. It may be hard for some to believe, and rightfully so, but this group is not the same one that has failed to qualify for postseason play since taking a run at the Stanley Cup in 2006.
Is the lack of consistent scoring depth up front a concern? Sure, but it has been all season and as long as their top players continue to produce (AKA Leon Draisaitl and Connor McDavid), the Oilers will continue to get their points. As unbalanced as the scoring may seem, Edmonton sits just outside the top 10with a goals-per game average of 2.81. Not too shabby, and the same goes for the opposite end of the rink.
Playoffs Are There for the Taking
Through 54 games, this roster has managed to put together the eighth-best goals-against average in the league at 2.54, and outside of the odd night like the one they experienced against the Wild, this bunch has consistently kept pucks out of their net. This makes the current rut the Oilers find themselves in to be nothing more than a tough stretch. Believe it or not, the dreaded tailspin isn't around the corner.
Oilers last 3 GP before All-Star Break: 15 goals and 3 wins.
Oilers 3 GP since break, 3 goals and 0 wins.
#97 was going, no secondary punch

— Bob Stauffer (@Bob_Stauffer) February 4, 2017
Now does that mean this team should be considered the front-runners to finish atop the Pacific Division? Of course not, as the Ducks and Sharks have the pedigree and should be the favourites. However, every team is going to lose games from here on out and Edmonton is no different. Could they still miss the playoffs? Anything is possible but all signs are pointing to that not being the case.
In other words, worrying about whether or not the Edmonton Oilers make the post-season is not only silly but a complete overreaction. With 28 games left in their season and being comfortably positioned in a playoff spot in the Western Conference, now is not the time to press the panic button on this team. Remember, these guys weren't supposed to be here yet, which is something which tends to be overlooked far too often.