Heading into the All-Star break, the Edmonton Oilers were one of the hottest teams in the league. They sat tied with the San Jose Sharks for first in the Pacific Division and looked like sure-fire playoff contenders. Make no mistake, they aren't suddenly a bad team, but their three-game slide coming out of the break is indicative of some guys simply not pulling their weight.
McDavid and Talbot Leading the Way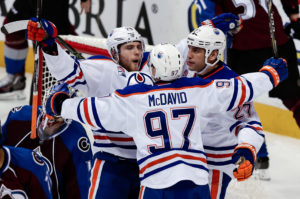 Connor McDavid still leads the league in scoring despite having a couple of games where he didn't register a point. The captain is going to get his looks, and he's going to put up numbers. But he can't do it alone. With a few big-money players struggling in terms of production, McDavid keeps rolling, and makes the players around him better. He's in the conversation for the Hart Trophy, but you could argue that he hasn't been the team's most important player.
The Oilers have had the benefit of some exceptional goaltending this season. Cam Talbot, who plays the lion's share of the games, has been exactly what they need. Although their defence has improved, the Oilers need strong goaltending to win games. They aren't the 1990s New Jersey Devils by any means, and at this point, they don't have to be. But with the constant revolving door of injuries on the blue line, the team needs certain guys to step it up and help Talbot out.
Kris Russell
Probably the most polarizing Oiler at the moment, Kris Russell has some great nights and some not-so-great nights. But the Oilers knew what they were getting when they signed him, which is why it was only a one-year deal. He's likely somewhat of a bridge as guys like Darnell Nurse, Matt Benning, and Brandon Davidson continue to develop.
At the moment though, Russell will have to find some consistency. He is a great shot blocker and moves the puck well, but he often has trouble connecting on passes and gets beat by faster players. Russell is probably a bottom-pairing defenceman at best, but he comes with a lot of experience.
What do Oilers fans really want from Russell? It's hard to say because there sure is a lot of arguing over him. The problem is that he doesn't produce much offence, so when he has a bad game defensively, it really shows. But Russell is who he is. And there are other players on this team who deserve much more heat than he does.
If I'm Todd McLellan, Eberle's a healthy scratch on Sunday in Montreal. If that doesn't wake him up, Chiarelli better be working the phones.

— Ryan Robinson (@BlogManRy) February 4, 2017
Jordan Eberle
Dumping on Eberle seems easy, but frankly, it's hard to find the positives sometimes. His overall game has slightly improved, but he gets paid $6 million a season to score goals. He doesn't have to face the opposition's top players and he gets power play time, yet he only has 11 goals in 54 games.
Eberle started to heat up before the break, but he's been held pointless in five straight games. He's not the only problem, though. Ryan Nugent-Hopkins (who also makes $6 million a season) has 11 goals on the year as well. He's been put in more of a defensive role this season, but the Oilers need some contributions from their highest-paid players.
It has now been 25 games since Milan Lucic last scored an even-strength goal.
He has three assists at evens over that span.

— Jonathan Willis (@JonathanWillis) February 3, 2017
Milan Lucic
Lucic, another six-million dollar man, wasn't necessarily brought in for his offence, but he's struggled to find consistency and looks slow on a lot of nights. He's brought a physical presence that the team sorely needed, but his 11 goals may be seen as a disappointment in some people's eyes. He was expected to be McDavid's running mate but it hasn't worked out that way.
Lucic could still reach 20 goals, which is what the Oilers likely hoped for, but on many nights he's been a non-factor. He's struggled to produce at even-strength. Again, Lucic isn't going to be the focal point for offence, but he has to provide some secondary scoring, and the Oilers can't afford him to be a passenger.
The Oilers Need Leadership?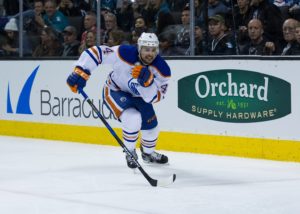 McDavid is proving to be a good leader and a good captain. NHL experience, however, is something he simply doesn't have, which is why guys like Lucic and Russell are on the team. But this video from TSN suggests the Oilers are lacking in that department. Does that mean Peter Chiarelli will consider bringing in some leadership at the trade deadline? It seems as though everyone is expected to step it up, regardless of experience.
The lackluster effort of the team wasn't lost on head coach Todd McLellan, who had some choice words for his guys following their loss to Nashville:
We missed some guys that we have to count on. It's playoff time and you're going to step up or you're going to fall off. We don't want to see guys disappearing, we want to see guys step up and giving more. Some have never experienced it; they are now and they've got to elevate their games. [Cult of Hockey]
It's not all bad in Edmonton, though. Leon Draisaitl has been outstanding this season. Adam Larsson has been a stabilizing force on the blueline. Andrej Sekera has brought a lot to the table. The Oilers have been good despite some guys playing below their potential. Imagine if everyone starts clicking and playing the way they're expected to. The Oilers could be a force to be reckoned with.