These are interesting times for the Edmonton Oilers. In a year which absolutely no one picked them to be anything more than a potential playoff team in the Western Conference, this group continues to turn heads.
With a 28-15-8 record, Todd McLellan's crew is not only pushing for a post-season berth but are in a three-team fight for top spot in the Pacific Division. After sweeping a twin bill from the Anaheim Ducks and San Jose Sharks over the past couple of nights, this group heads into the NHL All-Star break with 64 points….exactly six points fewer than they earned over an 82-game schedule in 2015-16.
That's now 64 points. Now a 103 point season at this current pace. 18th multi-point game for McDavid. So many fun numbers for the Oilers.

— Terry Jones (@byterryjones) January 27, 2017
It is rather hard to fathom and yet there they are. Edmonton is tied for first place in the division with the Sharks and just one point back of the Chicago Blackhawks for second spot in the conference.
Has it been pretty every night? Hardly, but having the league's leading scorer and a goaltender who has done an outstanding job of giving his team a shot at winning games on a nightly basis has turned the Oilers into a completely different animal. The days of finding ways to lose games appear to be a thing of the past and it is a refreshing change of pace.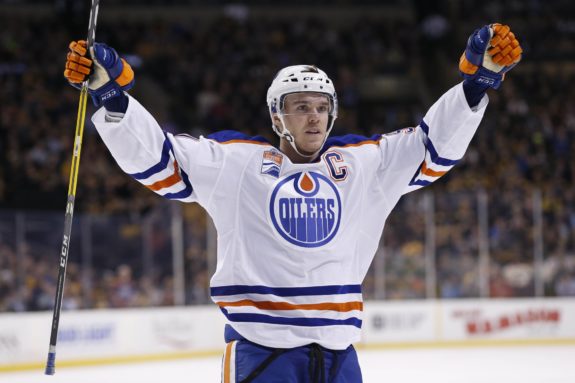 Oilers Finding Ways to Win
Connor McDavid and Leon Draisaitl have been fantastic in carrying this group up front, combining for 105 points in 51 games and driving the offence both at even strength and on the man advantage. Patrick Maroon has fit in beautifully with Edmonton's new dynamic duo, in helping form one of the league's best first lines. And yet, we have repeatedly seen what has taken place over the last two nights against the Ducks and Sharks. Key contributions from the likes of Drake Caggiula, Zach Kassian and Anton Slepshev allowed this team to take all four points from games they would have been lucky to even grab one from in previous seasons.
CAGGIULA!!!! 3-1 Oilers. *throws pants at TV* -bm #oilers pic.twitter.com/fTkWg8ldcj

— Oilersnation.com (@OilersNation) January 27, 2017
Outside of their top line and the surprising contribution from Mark Letestu, production has been sporadic at best from the rest of the forward ranks but almost all of them have scored in crucial spots to help this team earn points. And therein lies the difference of years gone by. The combination of some timely finishing from lines two through four and actual production from the blue line has changed things dramatically with the Orange and Blue.
Andrej Sekera is on pace for the second 40-point season of his career and has combined with Oscar Klefbom to score 15 of the Oilers 24 goals from the backend.  To put that into perspective, that is how many times Edmonton's defence managed to find the back of the opposition's net in both 2014-15 and 2015-16. Yes, the offence has been inconsistent at times but there 152 goals are second best in the west, trailing in the Minnesota Wild's 160 in 48 games. Impressive isn't it.
Defence, Defence, Defence
Same holds true in their end of the rink. As of this moment, they are tied with the Blackhawks for sixth in the conference with 132 goals against. Considering this is a team who traditionally finished at or near the bottom of the league in this metric for the better part of the past decade, the improvement is undeniable.
Not surprisingly, Sekera has been marvelous throughout but what it is a bit of a shocker is how good the rest have been on the whole. You will never hear me say the Oilers got the best of the Taylor Hall for Adam Larsson deal because that is a trade you lose every single time it is made.
Chiarelli plugged the major holes on the Oilers defence with Larsson, Russell and Benning.

Is there a GM of the Year award?

— David Staples (@dstaples) January 27, 2017
However, adding the former New Jersey Devils rearguard along with Kris Russell and having a healthy Klefbom at their disposal has changed this defence dramatically. Funny what can happen when you insert three bonafide NHL defencemen to a team's backend.  And that doesn't even take into account the pleasant surprise which is Matt Benning or Darnell Nurse, who was showing signs of improved play before being forced out of the lineup with an ankle injury in early December. As a group, it feels as though this D-core is light years away from where it was and the team's results are proving that to be true.
Talbot stellar again: Oilers 14-1-4 when he stops 30+ shots.
McDavid (3-6-9) and Draisaitl (3-5-8) both on 6-game point streaks

— Bob Stauffer (@Bob_Stauffer) January 27, 2017
Though in the end, it has been the guy between the pipes that has played the biggest part in the turnaround. Cam Talbot was among the best goaltenders in the league over the last four months of the season in 2015-16 but his slow start and a poorly constructed roster made that performance a moot point.
No question the end of last season was encouraging to see, but the Oilers had been done in by poor goaltending early in seasons on countless occasions and it was a trend which had to end. To his credit, the 29-year old has held up his end of the bargain this time around.
Talbot for Oilers MVP?
Talbot currently leads the league in appearances, minutes played, saves and shots faced. Among starters who have carried anywhere near his workload, he sits fourth with a stellar .922 SV% and solid 2.33 GAA. From a statistical standpoint, he has been on par with Montreal Canadiens star netminder Carey Price and done so with a far heavier workload. There are those who would suggest the Oilers are playing the fan favourite far too often and is in need of a rest. However, his recent performance would suggest anything but.
Thirty-two more saves for #Oilers goalie Cam Talbot, who is now third in wins in #NHL.

— Marty Klinkenberg (@globemartyk) January 27, 2017
After backstopping his team to the aforementioned back-to-back victories over the Ducks and Sharks, Talbot heads into the All-Star break with a 6-0-1 mark in last seven starts with a .950 SV% and 1.38 GAA. Those are not the numbers of a guy who appears to be wearing down. If anything, he appears to be getting better and growing in confidence with every start. The same could be said about this team as a whole and it's easy to see why.
In summation, the worm has turned.

Enjoy the break.

— Jack Michaels (@EdmontonJack) January 27, 2017
With a 9-3-1 record in January and going 11-4-3 against Pacific Division foes to this point in the season, the Edmonton Oilers have given themselves a glorious opportunity at competing for a division crown. It won't be easy and no matter how it plays out, this club has taken a huge step forward in its overall growth. Again, no one saw this coming but here they are and Oilers nation can hardly contain itself.