With the NHL Trade Deadline just over a month away and set for February 28th, many teams have been looking around and examining the trade market in order to try and get a feel for which teams are going to be buyers, and which will be sellers by 3pm that day. One team who should lean towards buying are the Nashville Predators, and for good reason as the team has picked up their play recently with the season drawing to a close.
Dominance of Late
The second half of the season has started out well for the Predators despite a rocky start to kick off the 2016-17 campaign. The team is 6-3-1 in their last 10 games and they've seen players step up to help make those wins happen.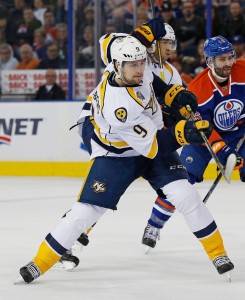 The resurgence of Filip Forsberg has unquestionably been the biggest story for the Preds' recent pick-up. The 22-year-old sniper once again had a slow start to the season, an unfortunate trend that he hasn't quite been able to shake in his first few seasons since joining the NHL. After posting just 11 goals through the Preds' first 41 games during the 2015-16 season, Forsberg posted just 11 goals to kick off 2016-17. This didn't help the Preds who aren't particularly recognized for their goal scoring, and Forsberg's lack of goals helped lead the team to a less-than-stellar 18-16-7 record through their first 41 games. However, with Forsberg scoring five goals and six points in his last six games, the Preds were able to go 5-1-0 in that span and now own a record of 23-17-7.
The Predators now sit third in the Central division standings, three points up on the St.Louis Blues with 56 points and currently holding the first Wild Card spot in the Western Conference. It's still a long way to the top if the Preds hope to dominate the Central, especially with the Minnesota Wild and Chicago Blackhawks owning the mountain top right now with 69 and 65 points respectively. However, if the team can continue to rally behind each other and stick to the game they've been playing these past few weeks they should have no issue making it into the playoffs and serving as legitimate contenders this postseason, giving them all the more reason to be buyers at the deadline.
Aging Rinne
Predators' goaltender Pekka Rinne has been experiencing a one-on, one-off season trend the last couple of years, a consistency issue that has followed the native of Finland since the 2011-12 season. It seems as if for every strong season Rinne has, a sub-par season is set to follow, only to be reversed by another strong season the following year. Thanks to HockeyDB, you can see what I mean reflected in Rinne's stats below.
With Rinne recently turning 34 in November, and the way he's been playing lights out this season, it may be time to capitalize on Rinne's situation and try to make a run for the Stanley Cup now. Backup Juuse Saros may be the Preds' goalie of the future, but Rinne has been their man for years and it could be time to reward him.
In his last six starts, Rinne is 5-1-0 with a goals-against average (GAA) of just 1.79 and a remarkable .937 save percentage. Even more impressive than the numbers themselves is the fact that three of those four wins came on the road, and the only loss came as a result of a 1-0 loss to the Vancouver Canucks in a game where Rinne received no offensive support. It looks like the veteran goaltender is back on his game and the timing couldn't be better as the Preds make a last-half season push to make the playoffs.
Who to Target
This is when things get really interesting. With the Preds fighting hard as of late and racking up points, who should they target via trade in order to give them that extra needed piece or two to carry them deep into playoff contention? With a number of names being tossed around as trade bait, and history showing that Predators' General Manager David Poile isn't afraid to make a splash into the trade pond, there's a good chance that we see at least one new Predator inserted into the lineup after the trade deadline concludes.
Forwards
With such a talented young roster already in place, it may benefit the Preds to target a veteran forward with playoff experience to help carry the offensive load and act as a mentor to the younger players. Names like Jarome Iginla and Shane Doan have apparently been thrown into trade talks and either one of these players would be a great fit inside the Preds' locker room as well as the lineup, securing some forward depth and adding some scoring punch to a team that isn't exactly recognized for their goal-scoring abilities. If they aren't able to land either veteran, finding a rental forward with some scoring touch wouldn't be a bad Plan B either if they can get a deal done at a decent price. The acquisition of Cody McLeod this past month ensured some forward depth, but the team would certainly benefit from a little touch-up upfront.
Defense
We've already seen how much the Predators rely on P.K. Subban and Roman Josi to hold down the fort on defense and just how much the team struggles when either player is missing from the lineup. Looking at this, it may be a good idea to shore up some defensive depth as well come the trade deadline. With Matt Irwin, Anthony Bitetto, and Yannick Weber all currently holding a roster spot, the Preds should use one of these pieces as trade bait in a package deal to land an established top-five or top-six defender at the right price. Defensemen have become somewhat a luxury in today's NHL however, so Poile will have to keep his eyes and ears open to find the right guy to step in and help the team both now and in the near future.
We've seen Poile work his magic via trade before, this February should be no different. Who do you think the Predators should target if they decide to be buyers at the trade deadline? Comment below and let us here at The Hockey Writers know what you think.