When discussions surrounding who are the top goaltenders in the game today start, the name of Cam Talbot is understandably never part of the equation. After all, the 28-year old is on the cusp of completing his first full season as a No. 1 goalie in the NHL with the Edmonton Oilers. It may have taken the Caledonia native some time to earn a regular starting gig at this level but he has certainly made the most of his opportunity in 2015-16 and turned more than few heads in doing so.
Did You Know? #Oilers Cam Talbot has the NHL's best Save % since December 18th at .930

— Sportsnet Stats (@SNstats) March 7, 2016
While opinions may vary on who slots where on the list of the best netminders in the league, the trio of Henrik Lundqvist, Carey Price, and Jonathan Quick are the names most seem to believe are the best of the best at their position. If we go on that assumption and throw Corey Crawford, Braden Holtby, and Cory Schneider into the mix, you arguably have six of the top ten goalies in the NHL. However, from that point on, things get a little crowded. And don't look now but the Oilers newest guardian is pushing to be included on said list.
[Related Article: Is Cam Talbot the Right Goalie for the Edmonton Oilers?]
Talbot Is Quickly Moving Into Uncharted Territory
With the likes of Pekka Rinne and Tuukka Rask have taken a step back in performance over the past year, Anaheim Ducks youngster John Gibson showing he is indeed the real deal and the threesome of Ben Bishop, Marc-Andre Fleury and Roberto Luongo continuing to do what they usually do, competition is tight. With that said, the argument could be made the best goalie in the league since mid-December has been Talbot and he has done it playing behind what is likely the worst backend in all of hockey.
Talbot has allowed 11 goals in his last eight starts, and three came against San Jose. He's in the zone. #Oilers

— Jason Gregor (@JasonGregor) March 11, 2016
After getting off to fairly decent start to begin his Oilers career, the former New York Ranger hit a bit of a rough patch and it essentially led him to become Anders Nilsson caddy for roughly seven weeks. To his credit, he used that time to find his game and Talbot hasn't looked back since. While many have focused on his most recent stretch of play, as his selection as the league's First Star during the first week of March might suggest, this has been going on for roughly three months. Just have a look at the numbers…as they speak for themselves.
[Related Article: Will Jason Demers Injury Adjust Oilers Approach?]
Since returning to the crease against the Boston Bruins on December 14th with a 47-save performance in which he single-handedly carried Edmonton to a 3-2 victory, Talbot has made 34 appearances and posted some jaw-dropping totals. Over his last 1,942 minutes of action, the Oilers No. 33 has managed to stop 958 of the 1030 shots he has faced and if you take a moment to do the math, you will find that works out to a ridiculous .930 sv% and a rather tidy 2.23 GAA. Just think about those numbers for a minute and let them sink in.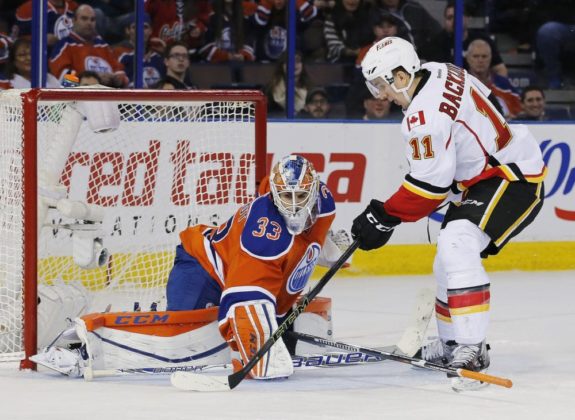 The Numbers are There for All to See
As of this morning, St. Louis Blues netminder Brian Elliot and New York Islanders backup Thomas Greiss are currently tied for the league lead with a .929 SV% and both have played fewer minutes on the season than Talbot has over the last three months. Granted, we are still talking about a small sample size but when you take into consideration that Talbot has done this while playing for the Oilers, the feat looks even more remarkable. Add to that a fairly respectable 14-15-3 record since reclaiming the starter's role and the positives continue to pile up.
Here's an excellent 3 part series on Cam Talbot from @Woodguy55#Flameshttp://t.co/ys4cNglyYThttp://t.co/9LfoMqMOumhttp://t.co/mlx26pHCYu

— Tye Kalyn (@akaRCN) June 18, 2015
If this is close to the level of goaltending this organization can expect from their new No. 1 over next handful of seasons, imagine how many games this team might win if  general manager Peter Chiarelli is actually able to address the rest of the holes on his current roster? Again, the sample size isn't huge but when you combine Talbot's 2015-16 numbers with those he posted during his two seasons as Lundqvist's backup in New York, you have a netminder with a .926 SV%, 2.21 GAA in just under 6,000 minutes on ice.
[Related Article: Did Darnell Nurse Step Over the Line?]
That sure sounds like a Top Ten goalie to me and if things happen to break the right way, who knows, perhaps he pushes to be included among that upper echelon of starters in the game. Outside of Cam Talbot himself and @Woodguy55 pretty sure no one else saw this one coming and certainly not this quickly. Now it will be up to the undrafted 2010 CHA Tournament MVP to prove this season was no fluke and history would suggest he likely won't have much of an issue in accomplishing exactly that.