No matter how you slice it, last night was a tough one for the Edmonton Oilers. As if being shutout by a score of 3-0 by James Reimer and the visiting San Jose Sharks wasn't already bad enough, rookie Darnell Nurse made things a little more uncomfortable with an ill-advised decision late in the third period. After watching Matt Hendricks crash into the end boards on what some thought to be a dirty play from Sharks blueliner Roman Polak, the tough as nails defenceman chose to take matters into his own hands. Problem being, the situation did not warrant such a response.
https://twitter.com/bookofloob/status/707422375415943168
Unfortunately, the entire sequence played out in such a manner that left the 21-year old in a bit of an awkward spot. As one of  the few players on this roster who has displayed a willingness to stand up for his teammates, it is difficult to jump on a kid for doing what he "thought" was the right thing to do. After watching Polak be assessed a two-minute minor for interference on the aforementioned sequence with Hendricks, even though the Oilers forward blew a tire before slamming into the boards, Nurse wasted little time in jumping the veteran rearguard upon his departure from the penalty box.
This Was No Fight, It Was A Beat Down
Again, on the surface, it made perfect sense. Anyone who watches Edmonton play knows full well that Hendricks is the one guy in this lineup who has never shied away from doing the so-called "right thing" since arriving in a trade for Devan Dubnyk midway through the 2013-14 campaign. When you see one of your "heart-and-soul" guys go down in the manner which the 34-year old did, one can fully understand why the players on the Oilers bench were not happy. With that said, the response was somewhat predictable as was the fact it came from No. 25…even though he is just starting to get his fight at the NHL level.
[Related Article: Are the Edmonton Oilers Cursed?]
Logan Couture talks about Darnell Nurse jumping Roman Polak late in the third #SJSharks #Oilers pic.twitter.com/hzCJ1q3qwf

— Kevin Kurz (@KKurzNHL) March 9, 2016
As we can see from the post-game comments made by San Jose forward Logan Couture, the Sharks were not impressed by the whole ordeal and it is tough to blame. While there were more than a few frustrated Oilers fans who were completely fine with how things played out, something tells me if the shoe were on the other foot they would be screaming bloody murder. After years of watching their top players be used as target practice, many felt such a response was long overdue. Again, understandable but that doesn't change the reality of the situation and it didn't exactly put the former seventh overall pick in a favourable light.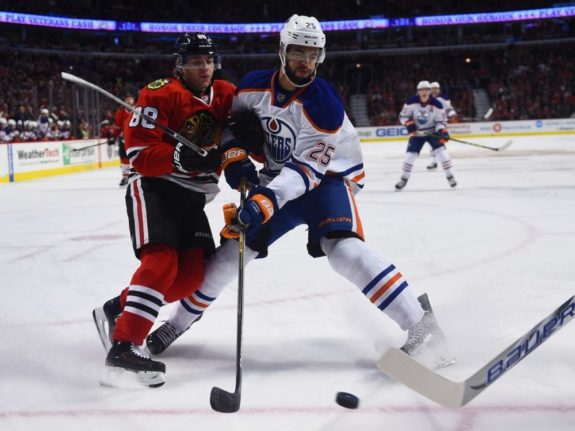 This Entire Situation Was Easily Avoidable
The last thing in the world this organization needs is for opposing teams to start taking shots at Nurse. While he may come across as this no-nonsense sort of guy and one that players across the league appear to have a mutual respect for, a good example being his tilt and post-fight exchange with Milan Lucic from earlier this season, that can change rather quickly. In fact, had Nurse allowed Polak the opportunity to drop the gloves and fight or simply stopped punching him in the face when he clearly wanted no part of it…this whole thing would have been a non-issue.
Matt Hendricks has stepped up a lot for his Oilers teammates. Darnell Nurse went "No Country, For Old Men" on Roman Polak. Ok in my books!

— Bob Stauffer (@Bob_Stauffer) March 9, 2016
[Related Article: Oilers Are Bigger But Not Necessarily Better]
At the end of the day, it comes down to what you are comfortable with while watching the game of hockey. Make no mistake, I have never hidden my displeasure with the Edmonton Oilers lack of response to watching their players be repeatedly run at for the better part of the past decade. It has bothered me from the moment it started to happen and still does not sit well with me today. However, all I ask is that if we are going to see guys on the roster step out on a limb and try to send a message to the rest of the league, perhaps doing it when it is actually called for would be a far wiser course of action to take.
**UPDATE**
The following speaks for itself.
Edmonton's Darnell Nurse will have a hearing tomorrow under Rule 46.2 (Aggressor) for an altercation with San Jose's Roman Polak.

— NHL Player Safety (@NHLPlayerSafety) March 9, 2016
Rule 46.2 states:
"The aggressor in an altercation shall be the player who continues to throw punches in an attempt to inflict punishment on his opponent who is in a defenseless position or who is an unwilling combatant."