While yesterday's NHL Trade Deadline failed to deliver the punch hockey fans across North America were hoping for, it was still a very interesting day in the world of the Edmonton Oilers. After moving his only two real trading chips in Teddy Purcell and Justin Schultz over the weekend, chances were pretty good that Peter Chiarelli would do nothing more than a bit of tweaking to his roster prior to the 1 p.m. local cutoff.
To complete that Edm-Ana deal: Patrick Maroon to the Oilers for prospect Martin Gernat and a fourth-round pick in 2016

— Pierre LeBrun (@PierreVLeBrun) February 29, 2016
To his credit, the former Boston Bruins GM did exactly that, adding a trio of bigger bodies in forwards Adam Cracknell and Patrick Maroon, along with defenceman Adam Pardy. While the duo of Cracknell and Pardy were obtained on the waiver wire, courtesy of the Vancouver Canucks and Winnipeg Jets, their inclusion on the Oilers roster for the remainder of the season says a ton about what the current general manager thinks of his roster.
Size, Size, and More Size
While anyone who has watched this team play over the last number of years will tell you Edmonton has too many guys who play similar styles, adding size for the sake of doing so is not what this team needs. Make no mistake, the Oilers continue to be among the easiest teams in the league to play against and that simply has to change. Todd McLellan has repeatedly questioned this group's willingness to "compete" and it is hard to blame him.
[Related Article: Sami Vatanen, Jordan Eberle and the Edmonton Oilers]
With that said, bringing in a bunch of spare parts who are flawed players isn't going to accomplish much of anything. Contrary to popular belief, the Oilers do not need to add another Matt Hendricks or Eric Gryba to this lineup and that is essentially what they have done in grabbing Cracknell  and Pardy. Unfortunately, this falls right in-line with the sort of player Chiarelli likes to employ but does not address the glaring need for such players in more pivotal roles on the roster.
Coach McLellan says Cracknell & Pardy are likely to meet the #Oilers in Buffalo. "We think both of them can come in & contribute."

— Edmonton Oilers (@EdmontonOilers) February 29, 2016
Sorry but at this stage of the game, Edmonton has to find a way to secure bodies who can deliver those results playing alongside their skilled young core. As of this moment, Chiarelli has found one guy who falls into that category and his name is Zack Kassian. In a perfect world, the Oilers are hoping Maroon can be another and the 27-year old has shown glimpses of doing just that during his time on the Anaheim Ducks top line with Ryan Getzlaf and Corey Perry.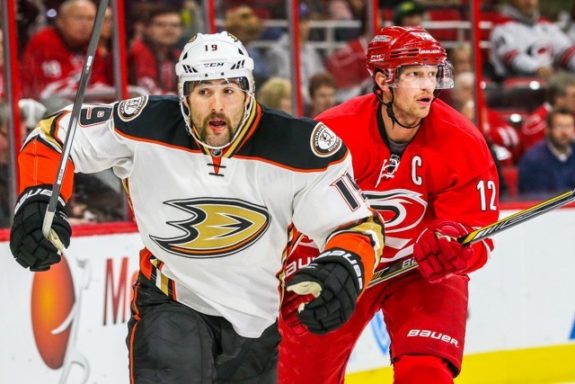 Oilers Hoping Maroon Can Rediscover Scoring Touch
By no means is that to suggest he will automatically do the same thing as a member of the Oilers but history would suggest there is, at least, a possibility of that occurring. Is giving up a fourth-round pick worth the risk? Sure it is but the notion that Edmonton got him on the cheap is not quite accurate. Maroon has played a good portion of 2015-16 on the fourth line in Anaheim after falling out of favour with Bruce Boudreau due to his lack consistency and tendency to disappear on far too many nights. Sound familiar?
[Related Article: Steven Stamkos, Connor McDavid and the Edmonton Oilers]
With two year's remaining on his current deal that will see him earn $2 million per, 25% of which the Ducks retained in the deal, one would think giving up a mid-round pick in such a scenario would seem like fair value. Not surprisingly, the Oilers jumped at the opportunity and it will be up to Maroon to deliver on that promise. His lack of foot speed and play in the defensive zone could prove to be problematic but on the flipside of the equation, his willingness to play a "heavy" game and potentially contribute on the power play are definite pluses.
Patrick Maroon to the Oilers…big big man.

— Dustin Nielson (@nielsonTSN1260) February 29, 2016
Obviously, the additions of Adam Cracknell and Adam Pardy fall into the category of "test-driving" players that Peter Chiarelli hinted at over the weekend and in all likelihood, neither one will be with the team come next October. So for the next month and a half, the Edmonton Oilers will probably be a "tougher" team to play against but my guess is they won't be any better for it. Hopefully, their general manager takes notice and decides to go down a different path when it comes time to seriously look at improving this roster for the 2016-17 campaign.
Rob Soria is the Author of Connor McDavid: Hockey's Next Great One. He has chronicled the Orange and Blue since creating his Oil Drop blog in 2011 and has also had his writings featured over at HometownHockey.ca and Vavel USA, where he has covered the NHL, MLB and ATP Tour. Rob was born, raised and still resides in Edmonton, Alberta and can be reached via twitter @Oil_Drop.