I'm not from Edmonton. I've never lived there. I don't know what it's like. Though I'd imagine those who write articles taking pot shots at the city and the Oilers have no idea what it's like either. All they have is public perception, narratives, hearsay, and a lot of assumptions. Frankly, the Oilers are an easy target.
They are a franchise with probably one of the most storied histories outside of the Montreal Canadiens, and yet they have transformed into an organisation ripe with dysfunction. They managed to trade away two first overall picks in a matter of months, picks that never translated into on-ice results. But I caution all those on their high-horse. It hurts to fall off.
Related – Yakupov and Russell Deals Show Changed Focus
Nail Yakupov Wasn't Happy in Edmonton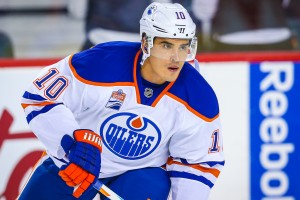 Things started off well enough for Yakupov in Edmonton. He had a successful rookie season, scoring a career-high 17 goals, including the most memorable one of his NHL tenure, a huge game-tying marker against the Los Angeles Kings. He seemed happy, that is until everyone and their dog ripped him for the over-exuberant celebration. Something changed in Nail Yakupov after that. The confidence and the excitement for the game seemed to leave him. Did anyone in the organisation try to help him after that? We don't know.
What we do know is that Yakupov's development was mismanaged from the beginning. He was rushed into the NHL too young (though that had a lot to do with his own assertion that he wouldn't go back to Junior Hockey, so it was the NHL or Russia). The weight of expectation upon him was unrealistic (though he himself believed he was far and away the most deserving first overall pick). He was forced to adapt to a constantly changing head coach and system and had trouble finding a fit (that one wasn't his fault).
Hockey pundits in Edmonton will cite Yakupov's problems to being half on the team, and half on the player. He was reluctant to change his game and develop as a 200-foot player. He stubbornly believed that if he just kept doing the right things, he would find success. Goal scoring in the NHL is a heck of a lot harder in the NHL than in Junior, and Yakupov found that out the hard way. And when he wasn't scoring goals, he wasn't doing much else.
All of these issues prompted Yakupov to ask for a trade, a request that was recently granted. Following his first game with his new team (in which he scored a goal), he had this to say:
"I tried. Honestly, it was really tough this week because it's not that easy. Doesn't matter what team you're on. I know Blues are a really good team, really good guys that are really friendly. It's a really good family here. When you've been away for a long time, live in different country, different city and different friends, you pretty much have nothing outside. It's really good here, but as soon as you go outside after practice, you're just alone. You're lonely and those kind of things get into your brain and in your mind and you have to fight that. I'm fighting, and now it's going to be much easier. I'm happy to get two points tonight and it's going to be much easier for me to sleep tonight." [Wingin it it Motown]
Life in the NHL Isn't Easy
I'm not a psychiatrist. I'd venture to guess most bloggers on the internet aren't either. Is it possible Yakupov was depressed? Of course, it's possible. Are mental health issues handled well in the NHL? Things are slightly better now, but they're far from perfect. There is still that "suck it up, be a man" mentality that runs rampant, and I wouldn't want to admit any sort of troubles in some of those dressing rooms. Should teams be more active in terms of support for players who are having a tough time? Definitely. Are we certain Yakupov came forward or displayed outward signs that something was wrong? No, because we weren't there.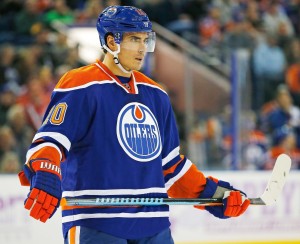 What some have suggested is that the Oilers failed in taking care of Yakupov. Judging by what we've seen in the past few years, it's no secret things haven't been peachy in that organisation. Did they do enough to support Yakupov? Whether he was a first overall pick or an undrafted free agent, all players deserve support. It's not easy to be thrust into the spotlight, making more money than you know what to do with, being away from your family and around people you may not get along with.
Yakupov wasn't fresh out of Russia when he came to the Oilers. He spent two years with the Sarnia Sting in the OHL. Maybe the Oilers brass felt confident he was already acclimated to North American life. Maybe they did try to surround him as best they could, or maybe his personality didn't lend itself to it. There is a lot we don't know. Much of this is speculation, and mind you it's speculation based on a narrative that people are trying to perpetuate, that Edmonton is somehow a terrible place. It's easy to find facts to prove your point if you look hard enough.
"Given all the dysfunction that has seeped out of that front office over the years nothing should surprise us at this point. Yakupov may not have lived up to expectations in Edmonton, but it also appears that the Oilers didn't even make an effort to meet him halfway and help him feel more comfortable in their wintery wasteland". [Fear the Fin]
Yes, it's all winter's fault. Edmonton is cold. We get it. I'm not saying the Oilers handled things right. In fact, I've said for a long time that they have made multiple mistakes when it comes to their player development. (I'm not an Oilers fan, so I have zero bias either way). But what is troubling are the assumptions.
Maybe Yakupov will feel more comfortable in St. Louis, and I really hope he does. He needed a change of scenery and he got it. Lou Korac, who translated Yakupov's quotes, said that his words "got him thinking." So, not that Yakupov actually came out and said Edmonton was horrible.
Other THW Commentary – Oilers' Yakupov Failure a Two-Way Street
Whose Fault Is It Anyway?
Does this mean the Oilers aren't to blame? No. Does it mean they are completely responsible? No. Trading Taylor Hall doesn't somehow prove anything because he loved Edmonton and didn't want to leave. The moves and decisions made only prove that the Oilers have to undo a lot of mistakes and try and rebuild its culture. Nail Yakupov was caught in the midst of the worst parts and wasn't able to find his way out. The solution isn't to defend the Oilers, nor vilify them.
Thank you to the Edmonton Oilers for bringing me into the NHL and the great fans of EDM You always made me feel welcome in your great city

— Nail Yakupov (@Nail10_1993) October 8, 2016

One would hope that the Oilers are back on the right track, especially now with new management, and they won't let any player fall by the wayside. The fans and media expected a lot out of Yakupov, and he didn't deliver. The onus is as much on the player as it is on the team. Anyone with sense will be cheering for him to succeed with the Blues and in his NHL career. I'm cheering for him as a person because feeling lonely and out of place is a terrible thing. But the solution isn't to throw an entire city under the bus. Hockey culture has some growing to do, and that's true of all teams.