If you're a glass-half-full kind of person, Montreal Canadiens forward Andrew Shaw still has yet to be suspended for any amount of regular-season action.
Glass-half-empty, on the other hand? He's been suspended twice during the playoffs, when your actions matter most, not to mention twice in his last few games played. That includes the one-game ban he got last postseason for a homophobic remark and the three games he missed this preseason for an ill-advised boarding infraction.
Do as I Say, Not as I Do
Shaw almost broke his streak of suspensionless regular-season play and made it three over his last few games in one fell swoop, when he slewfooted Buffalo Sabres forward Johan Larsson at the very end of Montreal's season-opening 4-1 win on Thursday. The league has since decided not to punish him further, relative to the match penalty he received.
The Shaw slewfoot at the end of the game: pic.twitter.com/7ZutCs4xZb

— Marc Dumont (@MarcPDumont) October 14, 2016
There are two main takeaways here:
The score, meaning Shaw had absolutely no reason to take any kind of penalty at that point in the game
The fact that it was a slewfoot (although not necessarily by the strictest definition of the term)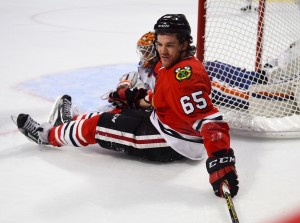 It was a similar move by Washington Capitals forward Jay Beagle that immediately preceded Shaw's boarding penalty against Connor Hobbs. So, this is clearly a case of mistaken identity. Someone must have locked him up in a closet somewhere, stolen his uniform, convinced everyone on the team that he was in fact Shaw and then framed the gritty forward for what can only be described as a hypocritical, cheap and dangerous trip.
That's the only logical explanation. Because Shaw? He would never do anything of the sort. We know this, not because of his previous suspensions (those are in the past), not to mention the times he didn't receive supplementary discipline for allegedly biting one player (emphasis on "allegedly") or head-butting another (make up your mind; do you want him to start using his head or not?).
No, we know this because he has character and supposedly doesn't like to lose… as if general manager Marc Bergevin has ever conducted a single job interview, asked the candidate if they like to lose and gotten back an affirmative response.
Just how would that hypothetical exchange go down exactly?
Bergevin: Well, Player X, the Canadiens are very interested in drafting you. You've put up incredible numbers throughout your career, including last season when you won your league's scoring title and last playoffs when your team captured the Memorial Cup. It's… almost like you hate to lose…
(fake laughs, then leans in super-close looking for a tell)
Player X (confused): I… guess. I mean, is that a question or… are you asking me if I hate to lose? There was no inflection in your voice or anything. Isn't that like a given anyway?
Bergevin (fake laughs again, then stops abruptly and over-inflects to compensate): Well, do you?
(leans in even closer)
Player X: No… wait, I mean… wait, what was the question?
Bergevin (scribbles a big 'X' on the paper in his clipboard): Oh, I'm sorry. It looks like the time on our interview has run out. We were looking for just the opposite, with bonus points awarded to responses devoid of any personality, flamboyance or flair. Man, you've got to watch out for that flair.
A Bad Winner
Needless to say, to paraphrase Carolina Panthers quarterback Cam Newton's famous quote after he lost the Super Bowl, show me someone who likes to lose and I'll show you a loser.
Everyone hates to lose. It's more about how you accept defeat, and there are no hard, fast rules there as long as you're able to learn from your mistakes and get ready for the next game in time. Shaw just hasn't proven able to.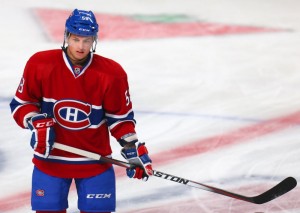 And the thinking is the Canadiens dodged a bullet, not just because they get to keep their third line intact, but because they also opted for whatever reason to send Sven Andrighetto down and expose him to waivers before the decision came through. Andrighetto would have theoretically been a worthwhile possession-driving replacement on that third line.
Maybe the Habs knew something everyone else didn't, but they didn't so much dodge a bullet as have their resident time-bomb stop ticking temporarily.
Let's be clear: Shaw is a good player and critical to this team's success moving forward. Maybe not as much as Lars Eller would have been, based on his defensive acumen, but what's done is done. And Shaw is far from a lemon. But misplays like these nevertheless leave a sour taste in one's mouth.
The onus is on Shaw to get his head right, and maybe the "educational" meeting he has scheduled with Stephane Quintal will do him some good.
No suspension for Andrew Shaw but Senior VP of Player Safety Stephane Quintal wants to meet with him. An 'educational' meeting, says Shaw.

— Dan Robertson (@DanRTSN) October 14, 2016
Until then, he's bad for the team. And it's a shame because the 60 minutes that preceded his tripping penalty against Buffalo showed he can be a very effective player. He scored a goal. He even took a punch from Marcus Foligno and skated away, drawing a roughing penalty in the process.
So, maybe it isn't a distaste for losing that Bergevin should look for in his players. That's almost inherent in every athlete. It's consistency that's key.
Just something for him and Shaw to think about. If they can ever (both) get their heads right.