With the NHL season off to a roaring start, Anaheim Ducks fans can rejoice. Why? Because Rickard Rakell has been signed to a ridiculously team-friendly deal that should immediately become one of the best bargain contracts in the league. Bob McKenzie tweeted it here:
Rickard Rakell agrees to terms with ANA on a six-year deal with an AAV of $3.8M.

— Bob McKenzie (@TSNBobMcKenzie) October 14, 2016
Six years at $3.8 million is more than Ducks fans could have hoped for. Now, with the re-addition of Emerson Etem, the Ducks roster finally seems to be materializing.  Yet, one more question needs to be answered: Who will be traded to clear room to re-sign Hampus Lindholm? However, that is a question for another day.
Related – Rakell Re-Signs, Kane Out, Keon Top Leaf & More News
With an expected opening night loss out of the way, the rest of the 81 games left in the schedule should bring plenty of joy, tears, and the scratching of heads.  In case you missed it, Felix Sicard gave an excellent preview of the Ducks prior to opening night. While not trying to repeat too much of what was already said, here's a bit of a different preview.
Shoot the Puck
How many times have you ever shouted that at Ryan Getzlaf? The quite talented, yet frustrating captain is trying to erase his horrendous offensive season from a year ago. Getzlaf already looks like a man ready to start out this season with a bang in Dallas. After registering ten shots on goal in the opener, Ducks fans can finally hope the man with arguably the best shot on the team will finally be willing to shoot the puck more often. However, with more shots on goal, one also hopes those frightful drop passes to nowhere become extinct:
It's Gibby Time
The 23-year-old Pittsburgh, Pennsylvania native is officially the number one goaltender for the Ducks. After battling the last couple seasons with Freddie Andersen, Gibson now has the chance to grab the reins and show the league what he's got. Unfortunately, the opener in Dallas did not leave a good taste in anyone's mouth. Yes, defensive zone coverages broke down, but giving up four goals on 20 shots is not the way to show Bob Murray he made the right decision. However, it is only one game and I believe Gibson will settle into his role quite nicely.
After posting 21 wins in 40 games last season, Gibson no longer has Andersen staring over his shoulder. Yes, Johnathan Bernier had a tremendous preseason, but make no mistake, it's Gibby's time in Anaheim. Fans are hoping more saves like these keep on coming:
Three-Headed Monster
Being a center in the NHL is no easy task. Expected to be the most defensively responsible player while leading your own line, it is paramount your team has quality centers every night. Luckily for the Ducks, they have three high-quality centers in Getzlaf, Ryan Kesler, and Rakell.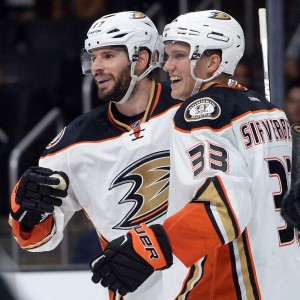 Say what you will about the Kesler contract, but if he can help deliver a Stanley Cup while shutting down the likes of Anze Kopitar, Jonathan Toews, and Joe Thornton, it will make the late years of the contract a bit easier to swallow. One attribute Kesler is admired for is his persistence. Walking the fine line between too far and just enough, Kesler knows his role and performs it brilliantly more nights than not. One can never question his hustle and work ethic.
Oh, how Swede it is. With Rakell under contract for at least six more years, the Ducks' second line center role is in gifted hands. Although he had to pull out of the World Cup of Hockey early due to injury concerns, having Rakell back in the lineup nightly will be a tremendous shot in the arm to the Ducks offense. Nevertheless, his much-anticipated return to the lineup will have to wait a few more weeks, as Eric Stephens of the Orange County Register tweeted out:
Rakell's agent said he'll be on ice today in Sweden and is getting stronger. Needs to step up practice level but possibly ready in 2 weeks.

— Eric Stephens (@icemancometh) October 14, 2016
Logjam on the Blue Line
As exciting as the Rakell deal is to dissect, tough decisions still await Murray. Yes, they have a ridiculous amount of defensive depth. But the question remains: Who is going to go out the door? It is one thing to have an abundance of talented blueliners, but we cannot forget that only six can suit up every night.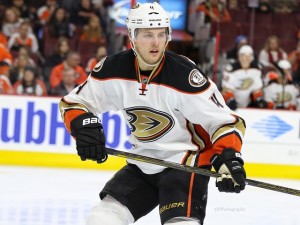 The most likely trade candidate is, of course, Cam Fowler. Rumors continue to float around as Fowler is the most logical choice to trade away due to his contract and the amount of money needed to make Lindholm fit in. However, the logjam will continue into the future. With Jacob Larsson making the team out of camp and Brandon Montour waiting in the wings, what does that say about Shea Theodore being sent down? If the Ducks truly believe Larsson and Montour are ready and better than Theodore, why not trade away Theodore now for valuable assets?
Call me crazy, but the thought is intriguing. They still will have Lindholm (hopefully), Vatanen, Manson, and Despres as mainstays for the future. However, Despres' injuries keep piling up, which is a bit of a concern. Either way, Murray needs to look not only for the immediate relief in signing Lindholm, but also to try and solve future problems as well.
The Crystal Ball
So, what does the future hold for the Ducks? Honestly, this is a team that is hard to predict. The defensive talent cannot be overstated, but with a new number one goaltender and limited offensive options on paper, multiple items have to be checked off for the Ducks to compete for a Stanley Cup.
Will they make the playoffs? Most likely, although with Randy Carlyle at the helm, we all know it will not be a coast to the finish line. However, all anyone cares about is what happens in the playoffs. If Gibson establishes his crease and some of the young pups step up in the forward ranks, this team could once again challenge for Lord Stanley at season's end.