There is lots to talk about if you're an Edmonton Oilers fan. With the need for a strong start to the 2016-17 season critically important, Edmonton is making the most of it with two wins in back-to-back games against the Calgary Flames. It's one thing to win twice in the Battle of Alberta, but it's another thing for Edmonton to score 12 goals in two games. Led by Connor McDavid — who has six points in two games and leads the NHL in points — Edmonton is looking good.
Big Win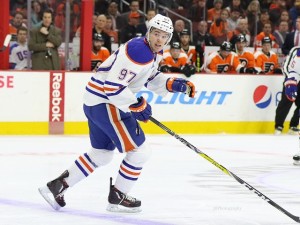 One of the highlights has been the Oilers' ability to show growth in two games. I harped on Edmonton a bit in their 7-4 season-opening victory over the Flames, thanks mostly to their being out-shot 48-21 and some horrendous special teams play. In that game, Edmonton went one-for-six on the man-advantage.
In Friday's contest, Edmonton still got out-shot, but they killed off five consecutive Flames' power plays — one of which Edmonton's Mark Letestu scored a short-handed goal on —, went two-for-four on the power play and Cam Talbot had a much better performance.
McDavid still led the way, but this was a better, more well-rounded performance by the group as a whole. The reality is, whether they are ugly wins or pretty wins, Edmonton simply needs to win. A 2-0 start against the Flames is big, no matter how you slice it.
Related: Oilers Will Take Ugly Wins Too
Big Names Contributing
Leon Draisaitl was the recipient of some excellent passing and he ended up having a big night with two goals and an assist. He's on the verge of being a "big name player" the Oilers need to make sure contributes night in and night out. It's the McDavid's, Milan Lucic's and Jordan Eberle's that have to be Edmonton's top offensive producers. So far they are delivering.
With a seven-point performance on Friday between McDavid, Lucic and Eberle, capped off by six points in two games for McDavid, the Oilers can't ask for more than their getting from their top line. They are delivering 5-on-5 five and have started to deliver on the power play.
I guess we can say that #oilers special teams had a wwwwaaaayyyy better night tonight! Oh by the way.. @cmcdavid97 on pace for 246 pts ?\m/

— I'veGotRocknRoll (@realoilfan) October 15, 2016
If Edmonton hopes to be successful, they'll need to bury chances on the man-advantage when given the opportunity. More often than not, McDavid, Lucic and Eberle will be on the ice, so capitalizing when it counts the most matters a great deal. Edmonton will get another chance to keep the momentum going on Sunday against the Sabres.
In that game, the Oilers can only hope that players like Ryan Nugent-Hopkins and Benoit Pouliot start to add more offense. Both are important pieces to the roster and so far, Nugent-Hopkins hasn't played that high-level of play he showed at the World Cup of Hockey and Benoit Pouliot has taken at least four terrible penalties in two games. 
Tyler Benson
If you don't know Tyler Benson, you should try to remember his name. Benson was taken No. 32 overall in last year's NHL entry draft by the Oilers and he's on fire in the WHL with the Vancouver Giants. In Friday's contest, he scored a hat-trick including an overtime winner.
It was a HAT TRICK night for Giants & captain @TylerBenson_17 in Lethbridge as the Giants won 3 in a row & Benny scored 3 goals! #BeAGiant pic.twitter.com/sRfYiaOiam

— #BeAGiant (@WHLGiants) October 15, 2016
Oilers pick Tyler Benson snipes hat-trick including OT Winner in 4-3 win Lethbridge. 5-3-8 last 3 GP

— Bob Stauffer (@Bob_Stauffer) October 15, 2016
There was some concern over Benson's health in his draft year and that's why he slid to the second round and became available to the Oilers.  Edmonton took a chance on him and it looks, so far, like it's paying off in a big way.
Related: Oilers Rookie Camp Should Excite Fans
Benson won't see any time with the Oilers this season, but he's a prospect worth watching. He was highly touted all the way up to his most recent season when injuries struck. Benson could be the steal of the 2016 NHL draft and the Oilers may have another dynamic winger in their system.