It is not often that we get a chance to see two teams go head-to-head in a so-called response game this early in an NHL season. In most cases, that kind of scenario has traditionally revolved around sending a message to the opponent at the other end of the rink. However, in this case, that applies to neither the Edmonton Oilers nor Winnipeg Jets. This is strictly about ensuring the rest of the league takes notice and hopefully in a good way.
"We were fortunate to get ours out of the way. We know they'll come out hard." @Klefbom93 on facing a Jets squad looking for first victory pic.twitter.com/NmvpjtmyGM

— Edmonton Oilers (@EdmontonOilers) October 9, 2017
With Paul Maurice's club coming off a pair of dreadful showings against the Toronto Maple Leafs and Calgary Flames to open their season, you can bet the Jets will be itching to the right the ship. Whereas the Oilers will be looking for a bounce-back performance after being both outplayed and outworked by a Vancouver Canucks side many picked to finish at or near the bottom of the Western Conference standings.
Jets Are Desperate Group
As per usual, much of Winnipeg's early struggles can be attributed to the play of their starting goaltender, as Steve Mason has wasted little time in having Jets fans worst fears come to fruition. With that said, blaming 13 goals against in two games solely on a team's netminder would seem to be a tad disingenuous. It has been a complete "team effort" and one that will surely have the group in a foul mode heading into this evening's tilt over at Rogers Place.
Chances are the Jets will be in "we need a complete 60-minute effort" territory, which is something we rarely see from teams less than a week into a new season. Oddly enough, a desperate opponent is probably the exact type of opponent head coach Todd McLellan wanted his players to face after their showing in Vancouver. Let's not forget, while the start of their year has been ugly, Winnipeg is by no means an easy out and loaded with talent.
"Our starts have been good but it's fallen apart as the game transpired." Wheeler, Scheifele & other Jets speak ahead of tonight's game. pic.twitter.com/iLEzx5oOTP

— Edmonton Oilers (@EdmontonOilers) October 9, 2017
Edmonton will undoubtedly be looking to send a message to the rest of the Conference that the aforementioned lacklustre showing against the Canucks was nothing more than a blip on the radar screen. An off night if you will and one that could easily be dismissed with a dominating performance against both a quality and hungry opponent. In other words, the stage is set and it's now up to the players to go out and deliver.
Oilers Looking for Instant Bounce Back
Be it a "put the team on my back" performance from Connor McDavid or a solid showing from the goaltender out, the need for a response is an absolute necessity for the Oilers. Like it or not, this team's entire offence is going to run through No. 97 and that is not exactly an uncommon theme when the discussion turns to generational talents. They are few and far between and because they can do things others can't, the rules for those teams are a little different.
Carrying a team for long stretches is part of the equation for players of McDavid's ilk, what will be interesting to see is where the rest fall into place. In a perfect world, Edmonton gets a balanced effort from the collective group but expecting a balanced "offensive attack" on a nightly basis just isn't realistic. Simply put, at the moment, that is not who or what this roster is and for the time being, that is perfectly fine. Again, it's part of the deal.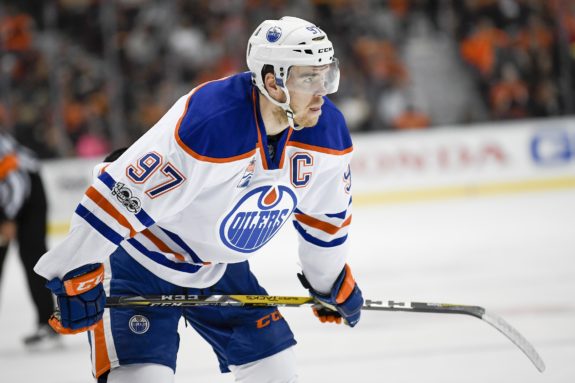 Where the Oilers will run into trouble is when they put forth the kind of performance they did in Vancouver. Yes, Cam Talbot had an off night but Laurent Brossoit did a fantastic job in relief and gave his mates a shot at earning two points. Unfortunately, too many of McLellan's men were satisfied with going through the motions and that's a non-starter, especially on a night McDavid was held off the scoresheet. Chipping in every now and again is a necessity.
If the Edmonton Oilers found it tough to deal with the determination and drive of the Vancouver Canucks, they had better be prepared to kick it up two or three notches against a wounded Winnipeg Jets side or they might not like the result they get. No matter how it plays out, it should be interesting to watch unfold and it will be a nice change of pace from your typical early October NHL game.
Also available from Rob Soria: 
Connor McDavid: Hockey's Next Great One
Rob Soria is the Author of Connor McDavid: Hockey's Next Great One. He has chronicled the Orange and Blue since creating his Oil Drop blog in 2011 and has also had his writings featured over at HometownHockey.ca and Vavel USA, where he has covered the NHL, MLB and ATP Tour. Rob was born, raised and still resides in Edmonton, Alberta and can be reached via twitter @Oil_Drop.