Seven days to go. One week before the NHL's trade deadline locks teams into their rosters, preventing movement and setting up the race to the 2013 Stanley Cup Playoffs. Seven days for the Boston Bruins to make a splash and land players who will help them on their quest for a second championship in three seasons.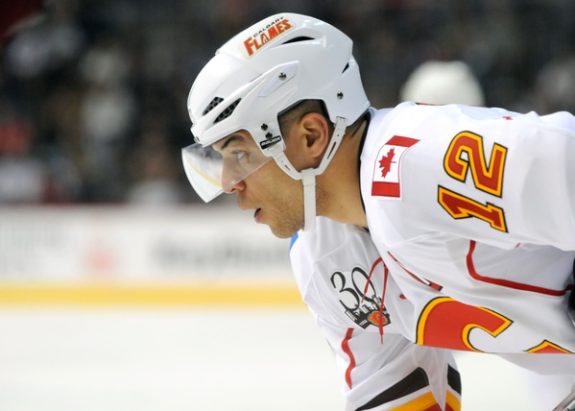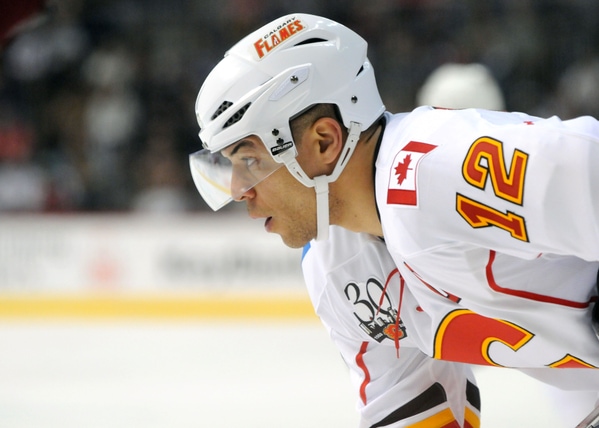 The following list consists of eight big-ticket players in no particular order who could be targeted by the Boston Bruins in the week leading up to the trade deadline. Included is some healthy educated speculation on the player's probability of moving, other potential interested parties and the price tags associated with those players in demand.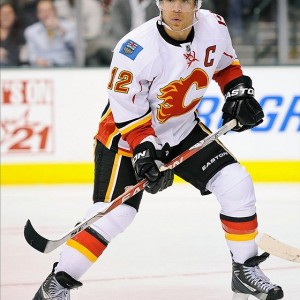 Jarome Iginla, RW, Calgary Flames – A guy who every Bruin fan has coveted for years, Iginla is finally on the market. At 35 years old, his production's waned somewhat but he's turned in a remarkable stretch of at least 30 goals and 65 points in eleven straight seasons (which will end thanks to the lockout – but perhaps not by a prorated standard).
Boston's clearly high on Iginla, as Darren Dredger of TSN reports: The Boston Bruins "… have been in constant communication with the Flames and a variety of assets have been considered…"After the Penguins added Brenden Morrow and Douglas Murray earlier in the week, the pressure is on Boston to respond.
He's the ideal fit for the B's given his physical game and scoring abilities. With the Flames sitting well outside the playoffs, Jay Feaster seems finally willing to start the franchise's long-needed rebuild and Boston is an optimal destination for the winger. Reportedly, Boston is one of four finalists for the veteran power forward, joining the Pens, Hawks and Kings on Iginla's list of chosen destinations.
However, Boston may not have the stomach for the ransom it will take to pry Iggy out of Alberta. As a pure rental player, the thought of sending one of the Bruins' top prospects, a first rounder in a deep draft and another young player for less than 20 regular-season games of a debatably 'over-the-hill' forward is enough to make the heartiest fan queasy.
Movement (to any club) Likelihood: 90%
Fits Boston's Need For: Top-Six Scoring, Leadership
Other Potential Suitors: Chicago, Pittsburgh and Los Angeles
Compensation: One of Boston's top-three prospects, a mid-level prospect and a first-round pick.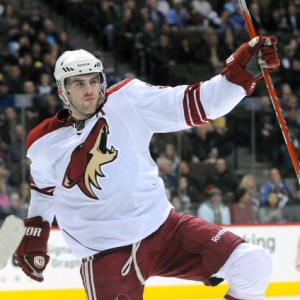 Keith Yandle, D, Phoenix Coyotes – Another longtime member of the wish-they-were B's club, Yandle is one of the game's best offensive defensemen. Whether he's truly 'available' is up for debate but the suitors would be lining-up around the block should that come to pass. Just three NHL defensemen have more points in the last three seasons combined: Erik Karlsson, Dustin Byfuglien and Kris Letang.
Dougie Hamilton's early emergence helped to smother a long stretch of Boston Bruins' fan pining for the 'Yotes' blueliner, but with injuries to the B's blueline and a still-suffering powerplay, Boston may well try to pry him out of Arizona before the deadline.
Movement Likelihood: 20%
Fits Boston's Need For: Mobility & Offense on the Blueline
Other Potential Suitors: Detroit, New Jersey, NY Rangers
Compensation: A roster defenseman, one of Boston's top forward prospects, a mid-level prospect and a first-round pick.
Mark Streit, D, New York Islanders – One of the game's great veteran puck-movers, Streit has an elite offensive game (both as a distributor and triggerman) and frequently undervalued defensive chops. He'd help Boston generate more opportunities from the point and help offset the pressure on the Bruins' bottom pair.
While Streit remains a popular target, the question of his availability is certainly in doubt thanks to rumblings that the Isles are currently attempting to sign their captain to an extension.
Movement Likelihood: 10%
Fits Boston's Need For: Mobility & Offense on the Blueline
Other Potential Suitors: Montreal, New Jersey, Detroit
Compensation: A first-round pick and a NHL-ready prospect.
Martin St. Louis, RW, Tampa Bay Lightning – A new name in the rumor mill, St. Louis is one of the best scoring forwards in the NHL, let alone the marketplace. If he were available, the Bruins would be serious contenders for his services given their needs and his track record. Since 2002, only Joe Thornton has more points and only Jumbo Joe, Sidney Crosby, Evgeni Malkin and Alex Ovechkin have scored more per game.
But, while rumor mongers debate his status, one can't help but doubt Tampa's willingness to deal their all-time point leader, a top-five scorer in the NHL and the distributor responsible for feeding Steven Stamkos. Though the Bolts' 2013-14 cap situation isn't ideal, this is a point-per-game forward on a very affordable contract for the next two seasons. He owns a No-Movement Clause which only complicates the situation further, and even if he is available, the price is going to be extremely high.
Movement Likelihood: 5%
Fits Boston's Need For: Elite Scoring
Other Potential Suitors: Montreal, Pittsburgh, Chicago, Los Angeles … everyone… just 'everyone'.
Compensation: A roster forward, a first round pick, a conditional pick, a top prospect and a mid-level prospect.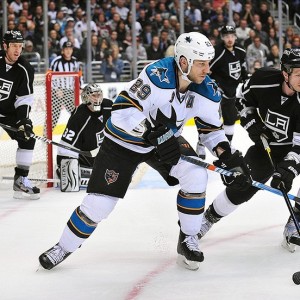 Ryane Clowe, LW, San Jose Sharks – The subject of significant discussion as the deadline grows closer and closer, the power-forward Clowe seems bound to find himself in a different sweater come the April 4. As a promising start to the shortened season fell apart quickly in San Jose, Clowe's pending unrestricted free agency and absent production have the Sharks shopping the gritty winger.
However, while Boston has interest in the Newfoundlander, San Jose's reported asking price has put off many prospective buyers (including the Bruins). No one wants to over-extend themselves for a guy without a goal to his name in '13.
Movement Likelihood: 50%
Fits Boston's Need For: Depth Forward
Other Potential Suitors: Toronto, Montreal, Pittsburgh, Minnesota
Compensation: A mid-level prospect and a mid-round pick.
Stephane Robidas, D, Dallas Stars – Dallas' top defenseman (by ice time), Robidas is an undersized blueliner with two-way skills, solid mobility and a heavy shot. Despite his size he's willing to throw his weight around with great frequency, yet remains a competent puck-mover. His availability is debatable but several outlets have suggested Dallas might be open to moving him.
Like several of the denizens of this list, Robidas owns a full no-movement clause on a palatable $3.3 million average annual value contract. There's minimal impetus for Dallas to move him unless they want to go into full-on 'tank mode' or if they plan on bringing one of their talented AHL blueliners (Jamie Oleksiak?) up in '13-'14.
Movement Likelihood: 15%
Fits Boston's Need For: Mid-Pairing Defense, Depth
Other Potential Suitors: Pittsburgh, Detroit, Montreal
Compensation: A first-round pick and a mid-level prospect.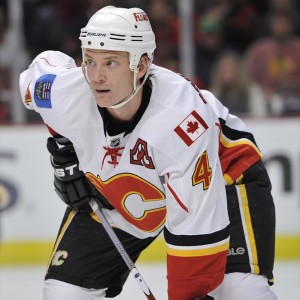 Jay Bouwmeester, D, Calgary Flames ­– The Flames' big, toolsy top defender owns the NHL's sixth-highest blueline cap-hit but rumblings of teams inquiring on his availability continue to pop up in the rumor-sphere. Boston would undoubtedly be interested in adding him to a defensive corps that contains Chara and Seidenberg, arguably raising the Boston Bruins' blue-line to juggernaut status.
While he's failed to live up to his massive contract, Bouwmeester remains a top-pairing two-way defenseman who eats minutes like Dustin Penner eats pancakes. He still has significant value and is arguably the best defender on the market. However, his full no-trade clause (and Boston's cap concerns) will impede any movement unless the Flames are willing to eat some of his deal.
Movement Likelihood: 25%
Fits Boston's Need For: Another Top-Pairing Defenseman
Other Potential Suitors: Philadelphia, Detroit, New Jersey
Compensation: A NHL defenseman, a first-round pick, a top prospect and a mid-level prospect.
Jaromir Jagr, RW, Dallas Stars – One of the game's greatest scoring forwards, Jaromir Jagr made the puzzling choice to sign with Dallas in the offseason and as an unrestricted free agent, is one of the most coveted rentals on the market. Jagr's best days are behind him but he could join fellow Czech, David Krejci on the Bruins to up Boston's modest offensive totals.
Like many UFA's on this list, contract negotiations with his current club are ongoing and Dallas' GM, Joe Nieuwendyk has denied any organizational decision to go into full seller mode.
Movement Likelihood: 50%
Fits Boston's Need For: Top-Six Scoring Help
Other Potential Suitors: Pittsburgh, Philadelphia, Montreal, Chicago, Anaheim
Compensation: A second-round pick and a B-level prospect.
Other Options
Mike Cammalleri – Top-six scoring? Heck yes. But his $6 million cap hit in 2013-14 puts the kibosh on deals to Boston, particularly if the B's want to retain guys like Rask, Horton and Ference beyond the offseason.
Benoit Pouliot – A potential cheap option to fill-in on that ever-questionable 3LW position for Boston. He knows the system and has looked solid in an expanded role in TB – but a shoulder injury might raise too many concerns.
Mike Ribeiro – With apologies to Martin St. Louis and his uncertain availability status, Ribeiro may be the best offensive talent on the block. While contract talks with the Caps might take him out of the marketplace, it's his history with Boston and his infamous writhing flop that could be the greatest hurdle to any deal.
Derek Roy – He might be the most 'available' member of the Stars discussed herein, and he's got 20 points in 27 games thus far (though only 4 goals) but I can't say he seems like a great fit stylistically. Then again, the B's need more scoring, period.
Paul Statsny – He may be available, but like Cammalleri, his oppressive cap value diminishes Boston's opportunity to go after the playmaking pivot.
Brad Boyes – The Islanders want to re-sign the resurgent ex-Bruin, which should be enough to drive the price above acceptable levels.
Ales Hemsky – Still has another season at $5 million AAV and hasn't returned to his previous, point-per-game form. In the last 100 games he's played, he's only registered 18 goals and 54 points – a rate too low to warrant his likely hefty price tag.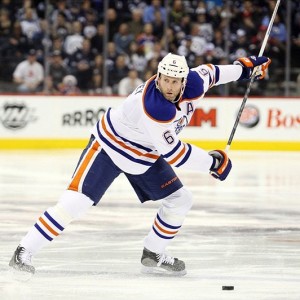 Ryan Whitney – Reportedly wants to re-sign in Edmonton and injuries have taken a toll on his mobility. Still, he's a Massachusetts native who could be a solid bottom-pairing PMD if healthy.
Daniel Alfredsson – After Ottawa's calamitous run of injuries early in the season, many speculated that the Sens should ship Alfredsson out for a final shot at a Cup. Unfortunately for the Bruins (who many considered prime contenders for his services), the Sens have miraculously remained well-within the playoff picture and shouldn't be dealing their longtime captain before the deadline.
Tomas Fleischmann – Another guy who's just too pricey down the road.
Ray Whitney – A player who's been on Boston's radar forever is too expensive in 2013-14 for a 40-something and owns a no-movement clause.
Lubomir Visnovsky – One of the decade's best offensive-defensemen but reports of talks with the Isles for an extension will derail inquests into his availability.
Robyn Regehr – A big, rugged stay-at-home defenseman, Regehr would be a nice fit on the Bruins third pairing and help Boston handle some of the dynamic offensive opposition it's likely to face in the postseason. Unfortunately, he plays for Buffalo – one of the B's biggest rivals – a team unlikely to do Boston any favors.
Steve Sullivan – Undersized playmaker who may be available if Phoenix continues to fall from playoff position.
Jason Chimera – A big depth forward to fill Boston's revolving-door third-line LW position, but with the Caps on the verge of contention, his availability is suspect.
Ruslan Fedotenko – A solid, clutch forward with a likely modest price tag, Fedotenko could be a fit on the B's in a depth role.
Follow Bob Mand on Twitter at @HockeyMand
Bob is a Boston Bruins Correspondent for The Hockey Writers. He lives in the Boston Metro Area with his wife, Amanda and their five-year-old son, Cormac.