Ryane Clowe won't be playing again in the NHL. His decision to retire shortly before his 33rd birthday is medically driven. The choice was made for him. In a word: concussions.
Concussions are an issue that the league takes seriously, but not seriously enough. There will be plenty more written in the days, months and years to come on concussions; Ryane Clowe's story will no doubt be a part of it. It is the elephant in the room. One can not write an article on the end of Clowe's career without acknowledging it. But that will not be the sole emphasis in this article.
Ryane Clowe spent most of is career, and by far the most consequential parts of it, as a San Jose Shark, much of it is captured in this piece by Andrew Bensch. Clowe was a fan favorite for a variety of reasons. I'll start with one of the least obvious.
A Crush on Clowe
About a decade ago, we found ourselves sitting next to another couple at the Shark Tank, became good friends and have sat with them every season since. When the couple got married several years back, we put up a 'just married' sign behind them. I went and found the cameraman who could put them on the kiss cam and the cameraman obliged. While this woman loves her husband, she had a major crush on Ryane Clowe. Even as she was committed to her husband, apparently no other woman was good enough for Clowe. Alas, I can't repeat the comments she made when the report came out that Clowe was engaged to someone else. When a mutual friend posted her picture on Facebook standing with Clowe, she responded, and I quote "NOOOOOOOOOOOOOOOOOOOOOOO!!!!!"
At one point, she and her husband even made it to Newfoundland and Clowe's hometown of Fermeuse. When I mentioned to Clowe that a friend of ours had visited Fermeuse, he shook his head with a bit of disbelief and said 'that is a very long way to go'. In a variety of ways, Ryane Clowe captured the hearts of Sharks fans.
Ryane Clowe – The Player
Clowe's NHL career began as a sixth round draft pick in 2001 by the Sharks. Players picked late in the draft often play with a chip on their shoulder. Clowe played with a bigger chip on his shoulder than most. It would take 4 years for Clowe to make his NHL debut, at age 23, in October, 2005. His first NHL goal came a year later in October, 2006. In January of 2007, Clowe served notice to the rest of league that he was a force to be reckoned with, recording five multi-point games and his first career hat trick during a nine game stretch. In the 58 games he played that season, Clowe scored 16 goals and was garnering significant power play time. He had arrived.
Clowe was a wonderful blend of power and skill. He literally had it all, except perhaps for speed. He could overpower players, yet had the skill to move the puck efficiently. He had a good scoring touch around the net. He also served as an on-ice deterrent for players trying to cheap shot younger, less experienced linemates, most notably Logan Couture in his early seasons. There was nothing subtle about Ryane Clowe. Listed at 6'2" and 225lbs, people knew when he was around. He was powerful, intense and outspoken. He wore his emotions were on his sleeve. Sometimes those emotions got the better of him. He spoke his mind and was not afraid to criticize his teammates if he felt they were not giving it their all.
On the ice, Clowe was constantly battling. It was tough to get the puck away from him and equally tough to move him. He was strong in the cycle game, a staple of the Sharks style during Clowe's time in San Jose. Clowe was a force and his teammates were the beneficiary of his hard-nosed style.
One game that highlighted Clowe at his best was the great comeback the Sharks made in 2011 against the Kings in Game 3 of their playoff series. Down 4-0 early in the second period, Clowe's aggressive play led the Sharks out of that deficit and ultimately to an overtime win. His first goal made it 4-2, giving the Sharks a glimmer of hope. His second goal of the comeback came after the Kings had seemingly stopped the bleeding. Clowe's score brought the Sharks to within a goal at 5-4; the Sharks would win in overtime, 6-5. In that game as in many others, Clowe was not the star of the game. But he was essential to the victory.
The heart of Clowe's career were his four seasons from 2008-12 where he averaged 20 goals and 54 points per year, mostly on the Sharks second line. During those years, I'd guess that pretty much every NHL player would have liked to have Clowe as a linemate. But it is also important to note Clowe had trouble staying on the ice. His physical style made him susceptible to injury and only once did he play all 82 games. Clowe was also a frequent visitor to the penalty box. In his final season in San Jose, Clowe managed just 28 games, but 79 earned penalty minutes.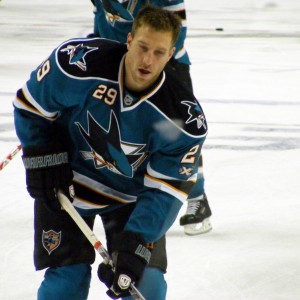 Clowe's passion for fighting went from a useful deterrent to a drain on the team. Last season, the Sharks' John Scott got into several fights. When Scott fought an opponent, two players would leave the ice, each getting '5 for fighting'. Losing John Scott for five minutes was not a major loss of talent. Losing Ryane Clowe for five minutes, though, was a different story. When Clowe fought, he took one of Sharks most talented players off the ice — it was almost always the other team that benefited. In his last five seasons with the Sharks, Clowe averaged a bit under 70 games per season and a bit over 90 penalty minutes per season. Clowe's issues with self-control steadily became more problematic. Fighting to get a team going is about as old as hockey itself. But when a top skill player takes himself out of the action, it hurts more than it helps. Increasingly, Clowe's decisions on fighting and penalties became a detriment.
In the 2009-10 season, Clowe would play all 82 games for the only time in his career. He got fighting majors in 11 games. In five other games, Clowe had two minor penalties. All told 131 penalty minutes. Clowe spent nearly one minute in the box for every ten minutes of ice time. Which is far too much time in the box for a player of Ryane Clowe's talent.
Clowe was never going to do too little, if he was going to make a mistake, it would be trying to do too much. Among Clowe's issues was his tendency to take excessively long shifts. Doing too much might be a euphemistic description for one of Clowe's more notable moments. It came in 2011 during the regular season finale against the LA Kings with playoff seeding on the line for both teams. Clowe, while on the bench, put his stick over the boards and onto the ice. He tipped the puck and prevented an odd man rush in the late stages of a tie game. He infuriated the Kings players and fans, while Shark fans delighted in seeing the Kings frustration. In the post-game press conference, Darryl Sutter managed the perfect comment, saying the refs simply missed the call and what could you do at that point, you can't 'text them'.
Clowe's final season in San Jose was an awkward one. During the lockout-shortened season, Clowe was unable to score a single goal in 28 games. Some thought he was just unlucky, others thought his skills had declined. The open question was whether Clowe had become an old hockey player at a young age. There were elements of truth in each of these thoughts. Clowe had put on a lot of miles at a young age with his physical play. Sometimes a single hit can change a career. This hit by the Red Wings' Niklas Kronwall on Clowe may have aided in Clowe's premature decline.
The Sharks, in an effort to get faster and younger, traded Clowe to the New York Rangers in April, 2013 for a haul of draft picks. Clowe's first game in New York was terrific. He scoring a pair of goals and added an assist on his way to being named the game's first star. It would also be the last time Clowe would score multiple goals in a game. Clowe finished out the lockout shortened season in New York, then signed with New Jersey. Clowe battled injuries and concussions over his final seasons with the Devils, his announcement to retire surprised no one.
The Complicated Legacy
The only thing clear about the near term future for Ryane Clowe is that he won't be playing on NHL ice. Given the increased understanding of the consequences of concussions in both the NHL and NFL, one has to look at Clowe's post-playing days future with some anxiety. To what extent were concussions brought on by Clowe's own decisions to fight? To what extent were they brought on by hits like the one delivered by Kronwall? Clowe's personality and physicality were appreciated by teammates and fans alike. He was a very good player, and a leader who managed to entertain as he competed. The things that endeared him to fans and teammates may well have been the same things that compromised his career. Fights and hits are part of the game, but a player retiring at age 32 over risks related to brain trauma isn't something the NHL can look away from.
Hopefully Clowe has exited the game in time to live a full and enjoyable life. The one thing that can be said with certainty, he poured his heart into the game and gave it everything he had. One hopes it wasn't too much.
ZEKE is a native of the DC area where he witnessed the birth of the Capitals franchise. After graduating from Cornell University, which had seen hockey glory before he arrived, he moved west to San Jose. There he witnessed the birth of the Sharks franchise. His wait to witness a Championship from any of these teams finally ended in 2018.