(Author's note: Milt Schmidt, now 97 years old, is the oldest living NHL player.  He is truly a treasure, and is one of the most beloved Bruins of all time.)
Today is the first in our series on the six coaches who will pilot the NHL teams in the 1965-66 season. First up is Milt Schmidt, the mentor of the Boston Bruins.
Forty-seven-year-old Milt Schmidt is one of the Bruins' all-time great players. He's already a member of the Hockey Hall of Fame, having been named to that elite group in 1961 for a playing career that lasted from the 1936 until 1954. He played for no NHL team other than Boston.
Schmidt was born in Kitchener, Ontario on March 5, 1918. He played all of his minor hockey in Kitchener before graduating to the junior A ranks with his home town Kitchener Greenshirts at age 14.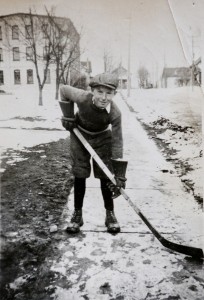 During his time with the Greenshirts, Milt was invited to the Bruins' training camp. He described the experience thusly:
"I was invited to the Boston Bruins training camp in Saint John, New Brunswick through Bobby Bauer. He told Mr. (Art) Ross about me. I was only 17 years of age and was on the same ice surface as Dit Clapper, Eddie Shore and Tiny Thompson. My goodness gracious, they were great heroes of mine. Mr. Ross said, 'Milt, I think you have a future as far as hockey goes. I'd like to sign you.' I said, 'I can't compete with these fellas!' He said, 'You won't. You'll be going down to the minors for a year or two.'" Ross offered Milt $2,000 to join the Bruins' organization. "Two thousand! I decided that I wasn't going to turn pro," admits Schmidt. "I went back home and they had a job for me and I ended up making more than $2,000 in a year's time."
Interestingly, Schmidt could have been a Toronto Maple Leaf. Frank Selke, who was with Toronto at the time, suggested to Conn Smythe that Toronto sign Bauer and two young team-mates, Schmidt and Woody Dumart. Smythe wasn't all that impressed with the pair and never made an offer.
Schmidt turned pro with the Providence Reds of the International-American Hockey league as an 18-year-old in 1936 after being signed by the Bruins.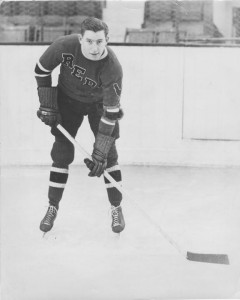 After half a season with Providence, Milt was called up to the parent Bruins, never to see minor league hockey again. In his rookie NHL season, he played 26 games, scoring two goals and adding 10 assists.
During the next five seasons, Schmidt developed into one of the top centres in the NHL, eventually leading the league in scoring in the 1939-40 season with 52 points (including a league-leading 30 assists) in 48 games. He was the centre on one of the NHL's most famous threesomes, the legendary "Kraut Line" – made up of Schmidt, Bobby Bauer and Woody Dumart, three players of German descent and all from Kitchener. In that 39-40 season, they finished one-two-three in league scoring.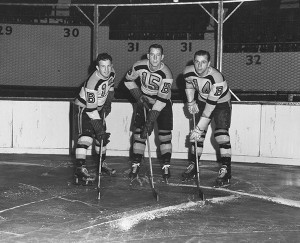 Former Toronto Maple Leaf captain Teeder Kennedy says that Schmidt was the most difficult NHL centre to play against. They went head-to-head and had many spirited battles over the years.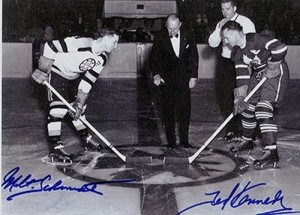 After his fifth full season, Schmidt's career, like so many other star players of that era, was interrupted by World War Two.
All three Kraut Line members enlisted in the Royal Canadian Air Force in February of 1942. In their last game before leaving on February 11, 1942 the line accounted for 11 points as Boston bombed Montreal 8-1. The Kraut line maintained their NHL success, playing for the Ottawa RCAF team, winning the Allan Cup in 1942. Schmidt had six goals and 16 assists in only 13 games as the RCAF won the Canadian senior hockey championship.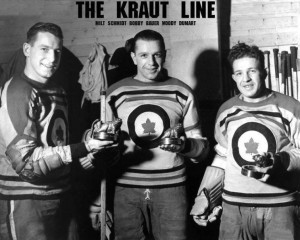 Milt returned to the NHL for the 1945-46 season and picked up where he had left off three years before. He was named captain of the Bruins in 1951 and held the position until his retirement due to an injury in the 1954-55 season. Upon his retirement, Milt was named coach of the Bruins.
"I had two bad knees at that time and I had to be taped up every day or I couldn't play. When I fell, I had a tough time getting up. I was 36 years of age. We were up in Chicago, and stayed over that night. The next morning, I walked to the train station with Lynn Patrick who was coaching at that particular time. I said, 'Lynn, I don't know how much longer I can last with these knees. As a matter of fact, what would your thoughts be about me retiring?' He said, 'Milt, I know what you've been going through. You make up your own mind about retiring. I wouldn't blame you one bit if you did.' He said he'd talk with Walter Brown, who was the Bruins' president, and said, 'You'll probably be the next coach.' I had no previous experience at all, but that's how I became the coach."
It was at first an interim tag, but in December of 1954, he was named as the bench boss on a permanent basis. In his first season as coach, Schmidt guided the Bruins to a fourth-place finish, losing to the vaunted Canadiens in the Stanley Cup semi-final series.
Schmidt's best season as coach of the Bruins was in 1958-59. Boston finished in second place that year, with a 32-29-9 record. However, the team's success was short-lived, as they were upset by a young Toronto team in the semi-finals.
At the end of the 1960-61 season, Schmidt was dismissed as coach, replaced by the fiery Phil Watson. The Watson experiment was a disaster, and Milt found himself once again behind the bench in November of 1963, and he's been there ever since. He has compiled a lifetime record of 224 wins, 541 losses and 115 ties.
Other than the incomparable Eddie Shore, no man more identifies with the Boston Bruins than Milt Schmidt. He is a link to the early halcyon days of the Boston franchise and, with new general manager Hap Emms, has been entrusted to lead a rebuilding team back to glory. It's going to be a long road, but no one is betting against "Uncle Milty" being able to make it happen.