The Washington Capitals (15-17-1) currently find themselves in a bind as the April 3rd trade deadline quickly approaches. The Alex Ovechkin led Capitals trail the eighth seed New York Rangers (16-13-3) by four points and are seven points behind the Southeast Division leading Winnipeg Jets (18-14-2) for the third seed in the Eastern Conference playoffs.
While many have said the Capitals are returning to their old self, that isn't exactly the case. As the new realignment is set to take place next season, Washington joins a division filled with top competitors including the New York Rangers, New Jersey Devils, Carolina Hurricanes and Philadelphia Flyers. Against the Southeast Division, perhaps the worst division in the NHL, the Capitals hold a 9-3 record, but are 6-14-1 against all other teams in their conference.
As the trade deadline approaches, Washington doesn't have many valuable pieces to offer. They could likely receive mid round draft picks in exchange for defensemen Tom Poti and Jeff Schultz, along with forwards Matt Hendricks and Wojtek Wolski. But the Capitals biggest potential trade chip is their leading scorer Mike Ribeiro, who has gotten accustomed to life as a Washington Capital just fine.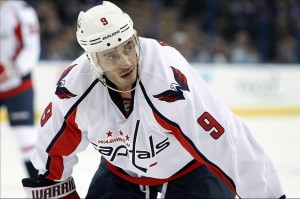 The former Dallas Stars forward leads the team with 35 points, is tied for the team lead with 24 assists and has 17 power play points. He's set to become an unrestricted free agent and at 33 years old, could be in his line for his last big contract as an NHL player. With Ryan Getzlaf and Corey Perry off the market, along with Calgary Flames forward Jarome Iginla likely headed to the Boston Bruins or L.A. Kings, Ribeiro is the next best option for many teams looking to contend for the Stanley Cup.
As much as Ribeiro helps the Capitals out on the power play, he is not worth a six million dollar contract to just feed pucks to Ovechkin and Brouwer. He holds a -6.7 Corsi Relative rating, only better than forwards Aaron Volpatti, Marcus Johansson and Joey Crabb. He only draws .3 penalty minutes over sixty minutes of play, far below Captain Alex Ovechkin (2.1) and hardworking forward Eric Fehr (1.3).
He told the Washington Times he's looking for a five year deal which would keep him in Washington till age 38, which is a key reason in the Capitals' decision to resign or not resign Ribeiro.
"Obviously family comes first. If I could get a five-year [deal], then I'm 38 and then I don't want to move, then I'll stay here," Ribeiro told the Washington Times. "I want to stay in a city for at least the next 10 years until they're done with high school and then go to college. So if I could get a five-year and then stay in the same city the next five, seven years with the kids and I don't want to move them too much throughout school. Especially teenage ages, I guess it's hard for kids to move around. For me it's to be stable somewhere, and if we can do that here, I think I would be more than happy."
Ribeiro likely lands Washington at least a first round pick and a long term prospect with some potential or a second round pick and an NHL ready prospect. But if you let him go, what are the alternatives? The Hockey Writers gives Capitals' fans a few answers for Mike Ribeiro's potential departure.
Tyler Bozak
The 27 year old Toronto Maple Leafs forward is set to become an unrestricted free agent, and would come cheaper than Ribeiro. He is a better long term option down the road, and potentially makes forward Brooks Laich a trade option in exchange for and NHL ready defenseman on the backend or more wing depth with center Evegeny Kuznetsov likely coming to Washington after the 2014 Olympics in Sochi. You can view THW's profile of Bozak here.
Bozak has 20 points through 34 games, with three power play goals and one shorthanded goal to go with his 60th ranked shooting percentage (17%). He'll likely command four-five million dollars in free agency and could get a four or five year deal, a cheaper fill-in for Riberio until Washington's young offensive weapons can develop into a top six role. When Kuznetsov joins the Capitals and if he plays center, Bozak could then slide down to the third line, along with playing a key role on Washington's power play and penalty kill.
Derek Roy
The former Dallas Stars forward is also set to become an unrestricted free agent, and is only two years older than Bozak at 29. Like Bozak, Roy has 20 points on the season, but shoots much less. He only has 61 shots on goal this season with four going in, giving him a 6.6% shooting percentage through 27 games, ranked 397th league wide. He's slightly undersized at 5'9" and 184 pounds, but is skilled enough to play a second line role at the center position.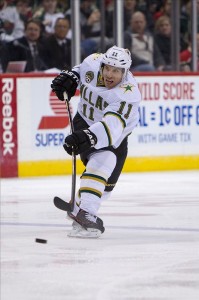 But, even if you question his goal scoring ability, Roy, like Riberio, is more of a passer. However, better things happen when he's on the ice compared to Ribeiro. Roy is ranked fifth on the Stars with a 5.6 Corsi Relative rating and when on the ice, Dallas has a .939 save percentage. The Dallas Stars forward also has a plus six rating, good for 83rd in the league.
Roy will likely earn a deal like Bozak, meaning he is a better option long term as the Capitals build toward their future which includes forwards Filip Forsberg, Evgeny Kuznetsov and Stanislav Gailev.
Trade Options
While the two centers listed above that are set to become unrestricted free agents this summer would be great additions, Washington would have to contend with other teams for their services. So if Washington decides to trade Riberio, what could they get for him? There are multiple teams that could land the Capitals leading scorer, including the Chicago Blackhawks, Vancouver Canucks and L.A. Kings.
Chicago has a few attractive pieces including center prospect Brandon Pirri. The 21 year old center has 53 points in 64 games for the Rockford IceHogs in the AHL this season, and played in five games for the Blackhawks last season, totaling two assists. A potential trade could include Pirri and a second or third round pick in exchange for Riberio, as the Blackhawks look to bring another Stanley Cup back to the city of Chicago.
Both the Vancouver Canucks and L.A. Kings would likely sacrifice a first round pick apiece or a prospect and picks, with Washington likely interested in Linden Vey or Jordan Nolan from the Kings.
With the trade deadline just a week away, this week could shape Washington's roster for next season in a big way.
 You can follow Matthew on twitter @m_speck and email him at mspeck21@yahoo.com with any questions or comments
Matthew Speck covers the Washington Capitals organization for The Hockey Writers. He provides coverage of both Washington at the NHL level and prospect related content. Matthew also covers local sports for the Lebanon Daily News in Central Pennsylvania. You can email him at mspeck21@yahoo.com with any questions or comments.