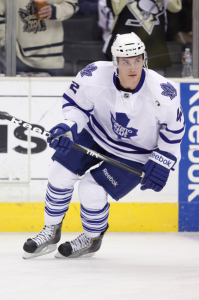 Name: Tyler Bozak
Position: Centre
DOB: March 19, 1986
Birthplace: Regina, Saskatchewan, Canada
Drafted: N/A
Height: 6'1″
Weight: 195
Tyler Bozak hasn't always been the two-way forward that some consider him to now be with the Toronto Maple Leafs. In fact, for much of his young career, Bozak was rather offensive minded.
Bozak began playing Junior A hockey with the Victoria Salsa─now the Victoria Grizzlies─of the British Columbia Hockey League. He had an impressive rookie season with Victoria in what would become a successful Junior A career.
In his first season with the Salsa, Bozak notched 15 goals and assisted on another 16 for a total of 31 points in 55 games. His second time around, Bozak scored at a pace above the point-per-game level with 69 points in 56 games. But without a doubt, it was his third season with Victoria that put his name on the radar.
Following the team's name change to the Grizzlies, Bozak exploded for 128 points (45 goals, 83 assists) in 59 games, good for an average of 2.17 points per game. From there, it was off to university for Bozak.
At age 21, Bozak signed a letter of intent to play for the University of Denver. In his first season with the Pioneers, Bozak led the team in points with 34 through all 41 games. Bozak was rewarded for his strong campaign all throughout the season by being named WCHA Rookie of the Week on four separate occasions.
All of that was surely good enough to gain him big responsibilities with the team, and the positive results showed. In his sophomore season with the Pioneers, Bozak posted 23 points in an abbreviated season of just 19 games due to a torn meniscus. The injury didn't stop NHL teams from calling him, though.
After conversations with multiple NHL teams, Bozak officially decided on the Maple Leafs on April 3, 2009 when he signed a two-year, entry-level contract. Bozak exploded in his first year in the NHL with 27 points in 37 games after registering 20 points in 32 games with the AHL's Toronto Marlies.
Things didn't go so well in Bozak's sophomore NHL season, though. He played in all 82 games, but only managed five points more than he did in his rookie season. This led many to wonder if he would even return with the Maple Leafs for the following next season, as there was no doubt that he would demand more than $1 million per season despite poor production. The Leafs decided to re-sign Bozak, eventually agreeing to a two-year, $3 million deal.
Bozak has lived up to his new contract and then some. During the 2011-2012 season, Bozak has not only improved his defensive play, but he has also shown that he can be a solid top-six forward. Playing between Phil Kessel and Joffrey Lupul, it's no wonder why Bozak has emerged as one of the Leafs' top forwards this season.