I know this article is about John-Michael Liles, and we'll get there, but first, a history lesson.
People love to talk about the Phil Kessel trade. Who won, who lost, who got the best player, and who will be the best player are common arguments between the two passionate fan bases. While the initial trade is generally viewed as being tilted in favour of the Boston Bruins, Toronto Maple Leaf fans often try to soften the blow by combining that deal with another famous trade made between the two organizations, shaking it out like this.
Boston acquires:
Tyler Seguin
Dougie Hamilton
Jared Knight
Tomas Kaberle
Toronto Acquires
Phil Kessel
Joe Colborne
Tyler Biggs
John-Michael Liles
Now some of these pieces have moved on, but the optics remain the same. Leaf fans could sleep at night knowing that universe righted itself when they were able to turn Tomas Kaberle, a rapidly declining offensive defenseman, into a top prospect in Joe Colborne, Tyler Biggs, and John-Michael Liles. Liles at the time was viewed as a more than capable and steady offensive defenseman that could handle a near similar workload to the departed Kaberle. That was then.
This is now.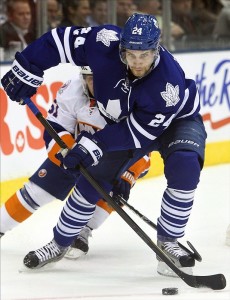 John-Michael Liles: A Victim Of His Own Success
Today we enter the dying days of training camp. Morgan Rielly is flying. Jake Gardiner is blossoming. Cody Franson is just plain back after a long contract dispute. Not even counting captain Dion Phaneuf, the Leafs will have no issues moving the puck from the backend. With all that said, John-Michael Liles is on the outside looking in. Liles, who is still just 32-years old, is salary cap anchor. He is the Leafs second highest paid defenseman with a cap hit of $3.875M but it is widely expected that over the course of the weekend he will be waived, traded, and flat out banished from Leaf land. But why is this happening to a wily veteran with a sterling record for being a strong and charitable member of the Toronto sports community?
Before we broach on personnel and health issues, it is important to note that the Leafs are playing it fast and loose with the league mandated salary cap. They are incredibly tight for cash and Liles's contract doesn't come anywhere near his output. That reason alone would convince some teams to consider shedding a player. But, what has truly been the downfall of John-Michael Liles has been a combination of ill health and a less than favourable coaching change. At the start of the 2011-2012 season Liles was enjoying another typical Liles season. He was on pace to get his usual 40ish points and was rewarded with a four-year contract extension from then Leafs General Manager Brian Burke at a reasonable (for the time) cap hit of $3.875M. A concussion derailed Liles that season, forcing him to miss a handful of games and effecting his game psychologically.

New Coach, New Problems
On March 2nd, 2012 Head Coach Ron Wilson was fired and replaced by Randy Carlyle. Run and gun was over in Toronto. From there on in Liles never found his footing with the new Leafs coach. He played sparingly, often as an injury replacement, and spent a lot of time watching from the press box or the short-end of the bench. This Summer brought a mix of opportunity and challenges for Liles. On one hand, Cody Franson commenced a lengthy contract standoff with the Leafs, leaving a hole in the Leafs blueline ready to be filled by an offensively-minded defenseman. What worked against Liles was the strong depth of cheap prospect defenseman ready to step in and fill that role as well. It could have been Morgan Rielly, Stuart Percy, or Andrew MacWilliam. The deck was stacked against Liles from the beginning. And then Franson resigned.
What Comes Next
It seems inevitable that Liles will either find himself traded in a cap dump deal, perhaps with the Leafs handling a chunk of his paycheque, or placed on waivers to be picked up for free by a fledgling team trying to find a veteran presence to mentor their young defenseman. Either way, it seems that it's the end of the road for John-Michael Liles. A cap casualty, overcome by the Leafs strong, young, and cheap defensive depth.