2013-14 American Hockey League Season Previews
TEXAS STARS
Coaching Staff: Willie Desjardins, head coach; Doug Lidster, asst coach
Affiliates: Dallas Stars (NHL), Idaho Steelheads (ECHL)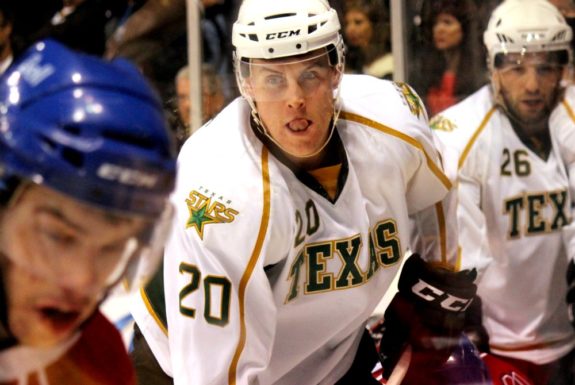 Brett Ritchie plays bigger than 6′ 4″ (Ross Bonander / THW)
2012-2013 RECAP
Record: 43-22-5-6 (97 points)
Conference finish: 1st overall
Calder Cup Playoffs: Lost in Semifinals 4-1 to Oklahoma City Barons
"Here we go again" was the mentality about a week into November of 2012 among the Texas Stars, who finished the 2011-2012 season dead last in the west and 29th overall, and who were 3-6 on the new season with three consecutive losses.
Then, they hosted the Lake Erie Monsters. It wasn't Jack Campbell's finest game, but watch for his salute to Marty Turco at around 2:42 and a spectacular glove save at around 3:00:
Despite losing the game in the shootout, the astonishing goals from Spongebob Squarepants (Cody Eakin actually, but you might not know it from the clip) and Matt Fraser gave this team life. They won 12 of their next 17 games, and earned standings points in 15 led chiefly by Reilly Smith, who found his scoring touch after struggling early on.
When the NHL labor dispute was settled in early January, some teams were hit harder than others. Texas lost Eakin, Antoine Roussel and Brenden Dillon permanently; others, like Reilly Smith, Alex Chiasson, Jordie Benn, Christopher Nilstorp, Jamie Oleksiak, went back and forth.
Yet, as dawn broke on 2013, Texas came out flying, winning 10 of 12 in January, but as winter turned to spring the team began to falter, winning  7 of 11 in February, 6 of 12 in March and 4 of 9 in April. The strong winter allowed them to finish 1st overall in the West, but just 8 points separated Texas from 8th seed Milwaukee.
In the Calder Cup playoffs, Texas beat Milwaukee in the quarterfinals before getting abused in the semifinals by, who else, Oklahoma City.
Goaltending

In net, Swedish veteran Christopher Nilstorp and American rookie Jack Campbell largely split the season, finishing with statistically near-identical records in Win-Loss (Nils 19-13, Campbell 19-13), save percentage (Nils .907, Campbell .905), and shootout numbers (Nils 33/44 .750%, 3-3, Campbell 34/45 .756%, 3-3). Nilstorp had the advantage in GAA (2.65 vs. 2.38).  
THE OFF-SEASON
Roster Departures
Mathieu Tousignant (C) Matt Fraser (F) Tomas Vincour (F) Jace Coyle (D) Tyler Beskorowany (G)
Roster Additions/Contract Re-Ups
NHL contracts: Chris Mueller (C) Travis Morin (C) Colton Sceviour (F) Luke Gazdic (F) Christopher Nilstorp (G)
AHL contracts: Justin Dowling (F) Mike Hedden (F) Brendan Ranford (F) Etienne Boutet (D) Pat Nagle (G) Taylor Peters (C)
Draft prospects: Brett Ritchie (F) Curtis McKenzie (F) Matej Stransky (F)
2013-2014 SEASON PREVIEW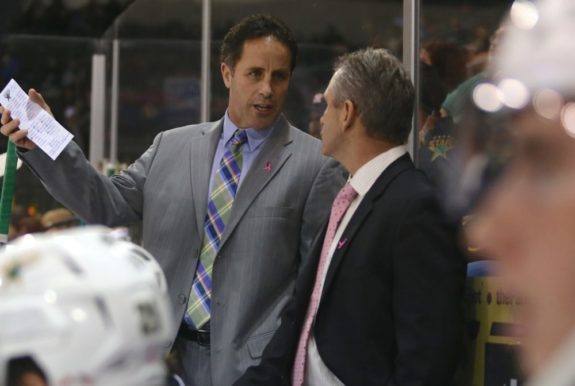 The first good news on the season is that reigning Louis A.R. Pieri Memorial Award winner Willie Desjardins is back behind the Texas bench for another season with assistant coach Doug Lidster.
Provided they remain in Cedar Park, it's safe to say what to expect from now-four year Texas veterans Colton Sceviour, Travis Morin and Francis Wathier: Sceviour will likely be among the point leaders and continue to be a solid two-way player, Morin will pile up the assists provided he's got the third incarnation of the Power Play one-timer on the wing (Greg Rallo-Matt Fraser- ?) and Wathier will do the dirty work and manage to work in anywhere between 30-40 points along the way. That said, Sceviour has been producing in the pre-season and has certainly earned a good look from Dallas brass. For his sake I hope he's in Dallas on opening night.
Other points:
Alex Chiasson's days in Cedar Park are done. He leaves behind linemates Justin Dowling and Mike Hedden to find another center to play between them (Chiasson, a natural winger, centered Dowling and Hedden beginning in January and it became arguably the most successful line combination in the team's short history).
Expectations are high for big Brett Ritchie, Dallas' 2011 second round pick who made his AHL debut at the tail end of last season. The big forward scored 3-1-4 in five regular season games and a pair of goals in the playoffs (including an OT winner).
Dallas' top pick in the 2012 draft, Czech forward Radek Faksa, had a good camp in Dallas but he will return to the Kitchener Rangers of the OHL this season.
Dallas' top pick from 2009, forward Scott Glennie, is entering the final year of his entry-level contract. Glennie has not met expectations (drafted #8 overall after four explosive offensive years in the WHL) as a pro thus far, scoring a decent 12-25-37 in 70 games his rookie season, then 5-9-14 in just 37 games last season. As a rookie, Glennie's game improved dramatically when moved from center to wing on a line with veterans Francis Wathier and Colton Sceviour. But like in years past, injuries hound him: In Juniors it was the elbow, then the groin, last season it was the hand. Now, it appears to be the knee:
Scott Glennie expected to miss 4-6 weeks with a knee injury.

— Mark Stepneski (@StarsInsideEdge) September 20, 2013
The blue line looks good. And big. Although led by captain Max Fortunus (5'11" 200 lbs), it's all uphill from there

Jamie Oleksiak (Ross Bonander / THW)

including the 'big rig' Jamie Oleksiak (6'7″ 254 lb), Patrik Nemeth (6'4″ 212 lb), Troy Vance (6'6″, 200 lbs) and Jyrki Jokipakka (6'3″ 191 lbs). In Dallas, the top 6 D are pretty well-established, although some early injuries to Trevor Daley and Aaron Rome could alter the landscape, at least in the early going, giving players like Oleksiak, Jordie Benn and Kevin Connauton a real shot.

In net, the only real change is the addition of former Dallas Star Dan Ellis to serve as Kari Lehtonen's back-up (with Richard Bachman signing in Oklahoma City). Campbell and Nilstorp will likely battle all season for the starting spot and possible call-up. In that case, Idaho's Josh Robinson is waiting in the wings.
Training camp for Texas began on 24 September, the roster for which you can see here. It features a few names of interest, including William Wrenn, former Texas speedster Taylor Vause, as well as former Miami Red Hawk and Lake Erie Monster Justin Mercier, Colorado College alum William Rapuzzi, former Peoria Riverman Anthony Nigro, and Minnesota State University Mankato grad Tyler Elbrecht, who at 6′ 4″ 220 lbs brings good size to the blue line (Mankato being Travis Morin's alma mater).
Potential Call-Up Impact
Enormous. Texas fans won't like it, but considering the talented prospect pool, they'll like it more than what could happen at the NHL trade deadline if Dallas is a buyer.
2013-2014 PREDICTION
Up in Dallas, new GM Jim Nill has flipped the Dallas Stars. Everything is new– including the beginnings. Despite numerous off-season acquisitions, from the standpoint of a player in Texas it should inspire optimism that call-ups will be frequent, giving guys incentive to play their best game. That, underwritten by the balance of veteran leadership and blue-chip prospect talent, should see the Stars make a deep run into the Calder Cup playoffs come June.
Breakout Prospect Prediction: Going out on a limb, I think Luke Gazdic will get his first NHL call-up this season. He'll see fourth line minutes but Dallas may like his aggressive forecheck. Plus, say what you want about fighting in the NHL but Dallas lacks a heavyweight, and although Oleksiak has been throwing fists since Traverse City, Luke better fits that bill.
Further Reading
Ross Bonander is a freelance health writer and book editor. He is the editor of 13 quotation collections– six of them hockey-related, including his most recent, Modern Hockey Quotations. His homepage is RossBonander.com.