"Of all the young hitters around today, he is the one who most reminds me of myself." – Ted Williams
Arguably baseball's greatest hitter was referring to the un-legendary Los Angles Dodgers first baseman Greg Brock, a player who never hit above .300 over his spotty ten year career. Baseball-reference.com puts Ted Williams at #2 all-time among batters. Brock is at #1518.
What made Ted Williams a good hitter did not by default make Ted Williams a good judge of other hitters.
Comparatively, Joe Nieuwyndyk seemed to see a lot of himself in highly-regarded Dallas Stars prospect Reilly Smith. Maybe it was the Canadian-born-lacrosse-loving-NCAA-hockey-playing connection. Whatever it was, Joe was so convinced of Smith's abilities and of the experience he'd gain by joining Dallas straight from the Miami RedHawks (as Joe had done from Cornell to Calgary), he burned up a year of his ELC last season.
Smith's three games up in Dallas were uneventful to say the least, as Josh Lile wrote about for Defending Big D last spring.
Through 11 games this season with the Texas Stars, Smith ranks 11th on the team in scoring, with no goals and three assists, despite routinely playing on the team's top line with leading scorers Cody Eakin and Tomas Vincour. Not to mention the time he's getting on the power play.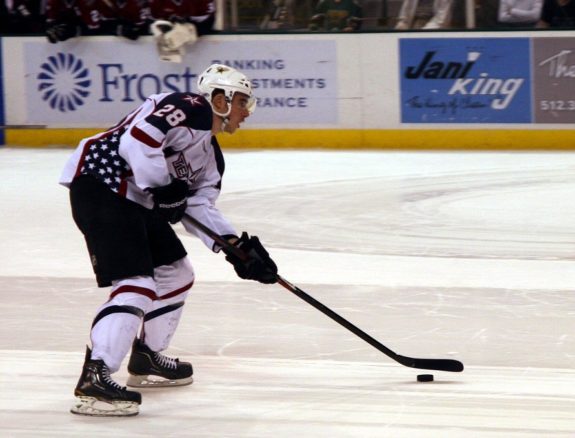 It is surprising to see that Reilly has just 24 shots on the season, because in every game it seems he gets chance upon chance upon chance–and he just can't bury them.
On the whole the Stars have been struggling to score. In their first nine games the Stars had managed just 16 goals. Going into last Saturday's game against the Lake Erie Monsters, Eakin led the team with 7 points, whereas the Monsters had more than half a dozen players with higher point totals.
In that Monsters game, and again the other night against Houston, Texas put up four goals in each game, earning three of a possible four points in the process, suggesting that maybe things are turning around. That they scored three power play goals in those two games—matching their season total—is reason enough to be semi-optimistic.
But good God when will Reilly Smith finally score?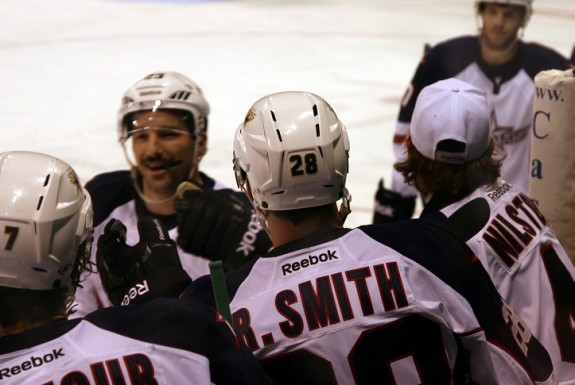 He has all the tools. He skates with the right players. It's only a matter of time before he's on the other side of that congratulation line, right?
COLLEGIATE LEGACY
The NCAA ranks goal scoring according to goals per game. In 2011 Smith was #5 in the nation, with 28 goals in 38 games. In 2012, with 30 in 39 games he was #2 to fellow Stars prospect Austin Smith, who ranked at number one with 36 goals in 39 games.
Over the past 17 years, 146 different players have appeared in the NCAA's top ten. The list includes some familiar NHL names, such as Martin St. Louis, Chris Drury (twice), Brian Gionta (four times), Jason Blake, Dany Heatley, Mike Cammalleri, Chris Kunitz (twice), Thomas Vanek (twice), and Zach Parise.
It also includes some familiar AHL names, including Eric Healey, Jason Krog, Darren Haydar, Lee Goren, Jeff Taffe, Ryan Putolny, Brett Sterling (three times), Jared Ross (twice), Ben Walter, and Kyle Wilson.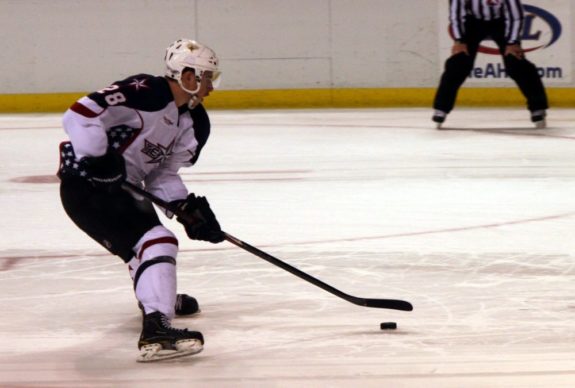 But leading the nation is hardly a promise of pro hockey success. Consider some of the names who have ranked in the #1 or #2 spot over the years: Pat Lyons, Rob Curtis, Ryan Carter, Rob Kellogg, Shawn Mansoff, Bruce Mulherin, Dave Borrelli, Ted Cook, Jacques Lamoure, and Broc Little—none of whom have ever played a single game in either the AHL or the NHL.
In fact, over 30 of the 146 players have never played in either league. But it doesn't matter whether you're going from Bantam to Juniors or Juniors to AHL or AHL to NHL, rarely do all the talents follow the player. Some are bound to be lost as others are gained.
PATIENCE
In April of 2010, Scott Weighart wrote about Reilly and his brother Brendan (today a top prospect for the Red Wings) for US College Hockey Online. Of Reilly he wrote:
"Admitting that he was initially shocked by the speed of the college game, Reilly has settled into more of a supporting role on one of the Miami forward lines. He has eight goals and 20 points in 43 games."
Supporting role nothing: The following year, Reilly had his 28 goal season.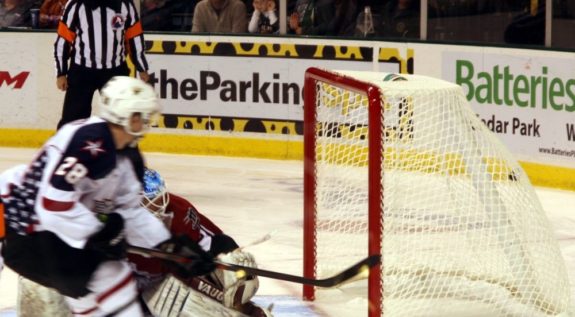 But this was all after the Dallas Stars had made Reilly the #69 overall pick in the 2009 entry draft. Dallas drafted Reilly on the strength of his second year in Junior A, when he played for the  St. Michael's Buzzers of the Ontario Junior Hockey League. In his draft-eligible year, Smith put up 27-48-75 points in 49 games and another 6-9-15 in six playoff games.
The Stars have shown an enormous amount of patience towards another pick from that year–Scott Glennie, who went #8 overall–so there's no reason to think they'll be anything less than patient toward Smith.
And considering his evident skill set, there's also little reason to doubt he has a great future ahead of him. He just needs to get that first pro goal out of the way.