It has not been an easy season for the fantasy hockey player or expert for that matter. There are several main goals for the Fantasy Hockey ONE but the mission is to make the sport easier to digest. This column may even make you a smarter hockey fan. Just because the NHL is locked out, it does mean that fantasy hockey goes on vacation. The options are still out there if one looks hard enough. Here is a list of fantasy options and though it is a short list, the success of these leagues has been refreshing.
Fantasy Memorial Cup
Fantasy WHL
Fantasy OHL
Fantasy QMJHL
Fantasy AHL 
Fantasy KHL
As always, here at The Hockey Writers, unique is definitely entrenched in our vocabulary. While this column won't be a daily feature right away, just give it time. Some have asked the simple question: Why bother?  There is a void and a desire for it to be filled. The goal is for us to be the buffer that helps you cope.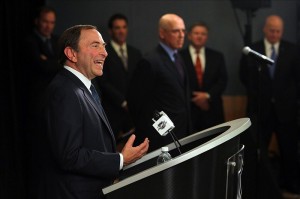 There will be tables, numbers (fun stats maybe some along the semi-advanced variety). Fantasy hockey should never ever take an abacus to be successful. It is great that sites have gone this route and the effort is appreciated. Reality dictates that information has to come now now now in order to prosper. Success is all about real time ladies and gentlemen. A Corsi Rating does not determine your fantasy fate, you do! If you are wondering what some of these advanced statistics are,  here is a look.
Some use it and most do not. Honestly, one of the reasons why we developed the Fantasy Hockey ONE was the fact that we do work closely with DobberHockey. The other reason is information is best served in smaller doses while large chunks of text with few breaks often gets lost in the shuffle.
Let's move onward. Also in the Fantasy Hockey ONE, there will be injury reports and projections of what may just happen that night. There is a lot of research done that takes considerable time and effort. Hopefully we are able to focus on a few of the main leagues (KHL and AHL) and then eventually branch into the junior fantasy leagues. It is an endeavor that will require help. There will be tables, quizzes, surveys, and even ratings in future editions of the column. For those wondering, the Fantasy Chutes And Ladders will still be around but will be published biweekly more than likely at this time.
As a personal aside, I wanted to thank everyone for their well wishes as far as Hurricane Sandy or Superstorm Sandy or whatever you want to call the storm. It was a storm to end all storms in this region and it is great to be able to talk hockey again after what felt like a very long 2+ week hiatus. The goal is to launch this column next week in an every other day edition. In time, it will become a daily experience. Thank you for understanding and in the comments section, I would like to ask what you would want to see in this column.
Simply a hockey writer who is a jack of all trades. No question is too big or too small and in fantasy hockey there is no such thing as a stupid question. Now a proud, accredited member of the FSWA. I am also a New Jersey Devils lead writer, prospects writer, humorist, and so much more. You can find me on Twitter at @ChrisWasselDFS