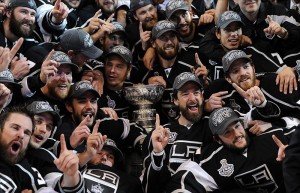 In some alternate universe, a hockey contributor is using this exact title to question why the Los Angeles Kings have gotten off to a slow start in defending their Stanley Cup title. Unfortunately, we do not live in that universe and thus have no NHL to discuss. So as we patiently await a resolution, or progress, or even a meeting in regards to the NHL's CBA fiasco, let's check in on where all of the Stanley Cup Champions are right now.
Hanging Around Los Angeles
Jeff Carter, Kyle Clifford, Davis Drewiske, Colin Fraser, Matt Greene, Trevor Lewis, Dustin Penner, Brad Richardson, Rob Scuderi, Jarret Stoll, Justin Williams
A solid group of 11 players have based their lockout tenure in Los Angeles while intermittently traveling back home and to other events. This group has been practicing together a few days a week since early October. They have also used their time charitably, helping out with local youth team practices and playing in charity events. As recently as this past weekend, most of these Kings joined Bobby Ryan, Ryan Miller, Matt Moulson, Ryan Getzlaf and a handful of other NHL players to raise money for the Twin Peaks Cancer Foundation.
But of course, it hasn't all been hard work during the lockout:
Another tough day. #lockoutproblems twitter.com/colinfraser/st…

— Colin Fraser (@colinfraser) November 5, 2012
Working Out Around North America
Drew Doughty, Simon Gagne, Willie Mitchell, Jonathan Quick, Mike Richards
While a core group stayed in the Los Angeles area, a few players have spent their time travelling around North America or working out in their hometowns. Drew Doughty has spent much of his time in London, Ontario, practicing with the London Knights of the OHL. Simon Gagne joined Max Talbot and Bruno Gervais in a Quebec caravan league that earned over $400,000 for various charities.
Defenseman Willie Mitchell has been working out in Vancouver, where he recently took the time to deliver 33 helmets to a youth team from his hometown in an effort to spread head-safety awareness. Mitchell suffered a career-threatening concussion in 2010 and has made an effort to promote the Messier Project in their work to reduce brain injuries. Meanwhile, Mike Richards has been working out in Winnipeg and recently joined Andrew Ladd in starting an impromptu ball hockey game for the public on top of a parking deck.
-10 here in winterpeg, suppose to be 24 in Cali today…. Interesting place to spend my time#lockoutproblems — Michael Richards (@MRichie_10) November 14, 2012
Finally, Jonathan Quick has been rehabbing his own injury after undergoing back surgery in August. He has spent time in Los Angeles and his hometown in Connecticut, but was recently sent down to the AHL on a conditioning assignment with the Manchester Monarchs. He is practicing with the team, but is not allowed to play in a game based on lockout rules.
Playing in the AHL
Dwight King, Andrei Loktionov, Jordan Nolan, Slava Voynov
These four players retained AHL eligibility when the NHL lockout began and have joined the Manchester Monarchs. Andrei Loktionov is off to a strong start this season with 4 goals and 5 assists in 10 games as the second leading scorer on the Monarchs. Voynov is the Monarchs' highest scoring defenseman with 3 goals and 4 assists in 11 games. Dwight King signed with the team late, but has 1 goal and 5 assists in 8 games. Finally, Jordan Nolan provided the first example of what NHL fans feared during the lockout – injuries. Nolan broke his finger in a fight during the first AHL game of the season.

Playing Overseas
Jonathan Bernier, Dustin Brown, Anze Kopitar, Alec Martinez
Four other Kings have found their way overseas to continue playing professional hockey. Jonathan Bernier signed with Heilbronner Falken in Germany in early October. According to his statistics page, he has a 5-4 record with a 2.30 GAA and .747 Save Percentage.
Anze Kopitar joined his brother Gasper with Mora Ishockeyklubb in Sweden. Kopitar is leading the team with 15 points in 13 games. Meanwhile, Dustin Brown just recently signed with the Zurich Lions in Switzerland and joined his former head coach Marc Crawford. He had a goal in his debut just a few days ago.
Finally, Alec Martinez joined TPS Turku in Finland's SM-liiga. Through his first 10 games, he had 1 goal and 1 assist. Joining the injured list though, Martinez recently took a slapshot to the face and will undergo surgery this week for the incident.

Big thanks to everyone for their concern. Surgery sometime this week & hope they can make this mug better looking while they're at it

— Alec Martinez (@amartinez_27) November 14, 2012
Trying To Fix The World
Kevin Westgarth
Last but not least, Kings' forward Kevin Westgarth has been a major part of the NHLPA's negotiations with the NHL. As we all know, the efforts have not been successful and have basically stalled at the current time.
Here's hoping that Westgarth turns out to be the most successful of the locked out Kings so you don't have to read another update on the team's whereabouts next month…