Eric Fehr returned to the Washington Capitals on January 13th, 2013. General Manager George McPhee had plucked the player he had traded during the 2011 offseason as the NHL lockout concluded and the games were set to begin once again. There weren't prodigious expectations for the former first round pick from Canada, who was played overseas following a three point season with the Winnipeg Jets. Fehr survived just 35 games during the 2011-12 campaign.
Times have changed, significantly. Eric Fehr is an important part of the 2014-15 Washington Capitals roster. He's a versatile forward who can play on any one of Washington's four lines. Fehr can kill penalties and take face-offs when his teammates struggle down the middle. He's able to dominate possession while adding leadership in the locker room. These types of bottom six forwards have extreme value. When teams find a player like this on a short term deal for under two million dollars annually, they can spend extra salary space on other players to fill out the roster. The result can be a Stanley Cup contender that plays in late May and blooms in June.
Fehr has played in 11 of the Capitals 14 games this season. There was a sense of disbelief when he was scratched three times in five games, a decision made by first-year head coach Barry Trotz, who demands consistency and embraces accountability in every single player on his roster. Fehr responded immediately. He potted a goal off a turnover in the offensive zone that gave Washington a 3-1 lead Saturday night against the Carolina Hurricanes at Verizon Center, a game the Capitals would eventually win with 14 seconds left in overtime on Nicklas Backstrom's fourth goal of the season.
"He doesn't have the puck enough. He's watching the game more than he needs to. He's got great puck skills, he's got good instincts. He's been moved up on the Backstrom and Ovi's lines a couple times, and really we haven't gotten anything out of him in terms of production, but at the same time using him in different role. I know he's a good player. I know he's got good instincts and I know he's going to produce. He's just off a little bit. Sometimes he needs a little nudge." –Barry Trotz, October 31st.
The third line of Fehr along with Joel Ward and Jason Chimera on his wings returned and continued their success as one of the best bottom six combinations in the National Hockey League. The trio dominates possession and can change the course of a team's season with their reliability. They can take on assignments against top players on the opposition; they did just that Saturday night in D.C.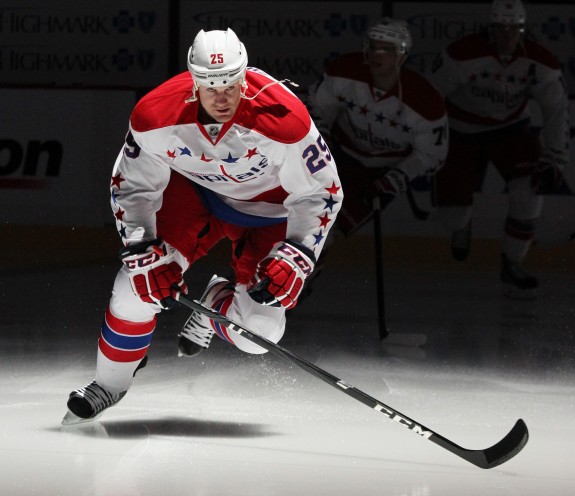 "He had a big assignment, him and Chimera and Ward were going to head-to-head against Staal and I thought they did a great job with them most of the night," Trotz said following a Metro Division victory.
Eight Washington Capitals forwards have played over 150 minutes of five-on-five this season. None have a better possession rating than Fehr (56.8 CF %), according to Hockey Analysis. The most amazing part of his game is that Fehr has started in the offensive zone 27.5% of the time, the least of the eight forwards in the criteria listed above.
Fehr ranks 22nd in the league in shots for percentage at 58% during five-on-five play for forwards with at least 150 minutes played, above the likes of impactful players Nicklas Backstrom, Sidney Crosby, Alexander Steen, Jaden Schwartz, Chris Kreider and Tyler Toffoli. When Fehr is on the ice, the puck is usually out of Washington's defensive zone. Only Jaromir Jagr and Travis Zajac have allowed fewer shots per sixty minutes than Fehr based on the criteria above, according to Hockey Analysis.
There has been an uptick in Fehr's performance since returning to Washington following a brief few months during the lockout overseas, where his future was undetermined following a potentially career changing season in Winnipeg.
First 265 games: .36 points per game
Since returning to Washington: .42 points per game
Capitals GM' Brian MacLellan will get to make his choice regarding Fehr and his future role with the Capitals. Fehr is one of the few Washington pending unrestricted free agents, but the Capitals have cap issues with their allotment of cash given to the blue line this summer. They are slightly overstocked at the right wing position and lack strength down the middle. Contenders thrive on players like Fehr, the question will eventually be, how much is he worth to the organization? The amount of trust held by the 29 year old forward could render more years in the nation's capital.