Is Eric Staal still viable? The former Carolina Hurricanes captain and recent New York Rangers center is at the end of his contract and is hoping to get a new deal somewhere. Ultimately I do think he will land on some team's ice. But, I believe that his performance this season in both Raleigh and New York may wind up hitting him with
a reality check when it comes to how much value teams assign to him.
Awful
One word describes Staal's performance this season, awful. With 10 goals and 23 assists as the 'Canes' captain, and three goals and three assists in 20 regular season games with the Rangers, Staal did nothing to increase his position as being worthy of viable consideration for a long-term contract worth multiple millions.
On April 26, Jonathan Willis of The Bleacher Report wrote of Staal's season,
"It is the kind of season that will give general managers who might have been interested in signing Staal second thoughts—the kind of season that might end up costing Staal dearly in terms of both dollars and years when he goes to negotiate a new deal in free agency."
Willis sums it up very directly, and it is difficult to disagree. For a player hoping to present himself as worthy of a big new contract, the season's results on the ice were awful.
Playoffs Forgettable for Staal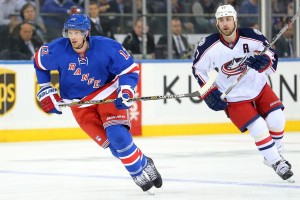 The Rangers brought Staal in with the thought that the big center would give them an added spark in the playoffs. They were sorely disappointed. Staal scored no goals and got no assists in five playoff games. He registered a -7 which Willis says in Staal's defense was not entirely his fault. The blame can be shouldered by his teammates, too. Their defensive shortcomings were glaring and led to an early exit for the Rangers.
"I've got nothing but positive things to say about this organization…I don't think they saw the best that I can be." – #NYR Eric Staal

— New York Rangers (@NYRangers) April 26, 2016
Willis again summed it up: "It would be wrong to describe Staal as a total defensive train wreck in the playoffs. It would, however, be accurate to describe him as a thoroughly mediocre puck-possession player and a non-entity offensively." Ouch. Sometimes being brutally honest hurts. But, in Staal's case, Willis goes on to say,
"There isn't a general manager in the league who will be able to enter July 1 convinced that Staal can help his team offensively."
Again, for a guy hoping for something good, he did nothing to assert himself as a viable target. Here is a sample of sentiment on social media:
Eric Staal is delusional if he honestly thinks he deserves a larger role after laying an egg in #RangersTown .

— Freedom NOW ! (@jneal_27) May 1, 2016
Gone to Carolina?
On April 26, Greg Wyshynski of Yahoo! Sports wrote an article reporting that Staal wants a larger role, and doesn't rule out a Carolina return. Wyshynski wrote,
"…perhaps most of all, he's looking for a chance to be a vital part of a team, rather than a third-liner with a pedigree."
Well, the fact is that he had a chance for years to be a vital part of the Hurricanes, and was for a while. But, over the past several seasons Staal has not lived up to his potential – or maybe he has. Perhaps what we've seen is all there is to see, with the better, high-scoring days long gone.
I personally don't think Hurricanes' GM Ron Francis will bring Staal back to Raleigh. Francis has a strong rebuilding program in place and I'd be surprised if he brought back a player he let go, especially at a big cost. Wyshynski wrote that Staal is, "…not closing the doors on anything." The door to Carolina may remain closed even if he hopes it will open.
any further mentions of eric staal returning to the canes need to be clarified as being his own pipe dream.

— kirill slepet's truther, (@CanesOmbudsman) April 27, 2016
Staal's persona has been that of an elite player for years. The question now is whether or not that persona will lead to a big new multi-year contract. Will a NHL general manager buy into the legend and give him the "larger role" that Staal wants? Probably. Will it be with the 'Canes or Rangers? I could be surprised, but I don't think so.
Mark lives in the Raleigh, NC area and covers the Carolina Hurricanes.