It seems these days that the Erie Otters make history with every passing game. That's because they have made history almost every game of late. When you have players like Dylan Strome, Alex DeBrincat and Taylor Raddysh on your top line, historic things tend to happen. Take Wednesday night's game against the London Knights.
Anytime the two best teams in the Western Conference get together, there are usually fireworks. Wednesday was no different. This time it was the Otters who enjoyed the night. They won the game 5-1. That put the Otters up four points in their division. But the night will long be remembered for the fifth goal.
It should have never happened. But because it did, it became historic.
History That Never Should Have Happened
The play started when London defenseman Brandon Crawley lost his stick after Strome hit him. Crawley then followed Strome and forcefully took Strome's stick from him. According to the rules, that is an instant penalty when a player plays with someone else's stick. There was no call.
Strome was upset. Why wouldn't he be? The Otters are in the offensive zone looking for more goals. Now he has to go to the bench to either get a new stick or have a replacement go on the ice. Strome decided to get creative and take matters into his own hands, albeit in an illegal fashion.
Strome saw Crawley's stick laying on the ice. He picked it up and rejoined the play. Next thing you knew, Strome, Raddysh and DeBrincat had an opportunity. Strome found himself open in the slot. His shot beat goaltender Tyler Johnson to make the score 5-1.
A review ensued on the play. They were looking at the play to see if it was a legal goal based on the situation with the sticks. Officials kept the call on the ice. Strome scored one of the strangest goals he'd ever been a part of.
"That was one of the weirdest plays ever", Strome said. "I was skating in front of the net and he (Crawley) had my stick so I was yelling at the ref. I just thought, "I should probably grab his stick." We're in the o-zone, I got pretty pissed off. We made a couple of plays and I got to the net and it worked out pretty well."
Not only did it work out well, it became historic. DeBrincat received credit for the second assist on the goal. That point gave DeBrincat 100 points on the season. He became just the eighth player in the OHL's modern era to score 100 points in three consecutive seasons. He enters Friday's action was 47-53-100 on the season, needing just three goals to secure his third-straight 50 goal season. That has been done once in the modern era. Dale McCourt accomplished the feat in the mid-1970's when the league was known as the OHA.
Reviewing 11 in a Row
The Otters have put up insane numbers during their winning streak. They have outscored opponents 69-25, which works out to about an average score of 6-2 every game. They have at least eight goals four times during the streak, including scoring nine times Feb. 11 vs. Saginaw. For the season, the Otters have outscored opponents 252-142. That's outscoring opponents by over two goals per game for the season.
Even more remarkable is backup goalie Joseph Murdaca, who has had to play during starter Troy Timpano's absence, has won his last nine starts. For the season, Murdaca is 10-1-1 with a 2.38 goals-against average and a .904 save percentage. He's been a huge part of the success of the Otters. He also should get a crack at his old team this weekend as the Otters play a home-and-home with the Mississauga Steelheads.
.@JoeMurdaca1 can help @ErieOtters win a franchise-record 12th straight win Friday vs. his old team, @OHLSteelheads #erie

— Erie Times-News | GoErie.com/Sports (@GoErieHockey) February 16, 2017
More on DeBrincat: Although he missed a game due to illness during the streak, his numbers are off the charts. He has 13 goals in the 10 games he's played while scoring a goal in eight straight games. He has 29 points in the 10 games. He trails only Sam Steel of the Regina Pats for the CHL scoring lead. Steel has 102 points as of this writing.
The Otters will go for wins 12 and 13 Friday and Saturday against the Steelheads. A win Friday will break the franchise record for most consecutive wins.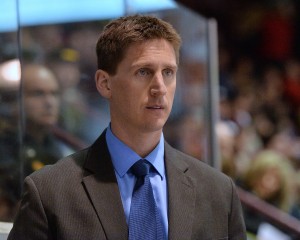 Quick Hits
1) How about the early returns on Owen Headrick since joining the Otters? He has two goals and two assists in his 11 games with the Otters. Wait a second, Mark. Did you say 11 games? Why yes I did. The Otters have not lost a game with Headrick in their lineup. He told me after Wednesday's game that he's feeling very comfortable in the lineup and has been able to make the necessary adjustments from the NCAA's to the CHL. He brings speed that is a clear upgrade for the team. Remember this signing later in the playoffs.
2) You know who deserves an entry-level contract after this season? Darren Raddysh. He has been nothing short of spectacular this season for the Otters. He already has career highs in goals, assists and points with 15-46-61 in 47 games, while playing just as well on the defensive end. He also mans the point on their top power-play unit. The Otters are not this good without him.
3) The Otters need 10 wins in their last 15 games for their fourth consecutive 50-win season. It was a first for Kris Knoblauch and the Otters when they did that three times. They're now knocking on four. Expect many teams to seek Knoblauch's services in the offseason.
4) Wanna hear about someone who's playing some great hockey that's not getting the credit it deserves? Although he's on the third line, Christian Girhiny is playing his best hockey of his Otters career. He's vastly improved on the defensive end playing with Kyle Pettit and Kyle Maksimovich of late. But where I've noticed him is in front of the opponent's net. He's one of the smallest players on the team at just 5-foot-10, but he is fearless. He's the small man's Dino Ciccarelli, scoring goals in the crease.
5) I was honored to contribute to Brock Otten's Midseason Media/Scouts Poll this time around. I was the only voter to put Ivan Lodnia third on the ballot. He isn't flashy, but he gets the job done. He is a threat to score every time he touches the puck. He's also seen noticeable improvement in knowing where to be before the next play develops. He's grown some and hasn't lost much in his skating. He scored two nice goals against Windsor that showed his hands. In terms of his skills, not many bring what he can bring. Many teams will pass him up early. That's a mistake.
We'll see you in March for our next Otters' check-up, where we'll get you ready for the OHL playoffs and beyond.