Can you believe that the Ontario Hockey League season is already over a third of the way done?
After the Erie Otters' most recent victory, a 5-2 win over Sudbury on Thanksgiving night, the Otters have played 24 of their 68 regular-season games. They now have a record of 17-5-2-0. Their 36 points ties for the OHL lead with rival London, although London has played one less game to this point.
We figured this was the perfect time to check in on the Otters. What's working so well for them? What other things are happening that are of interest? In taking a look at the current state of the Otters, three things stand out above all else.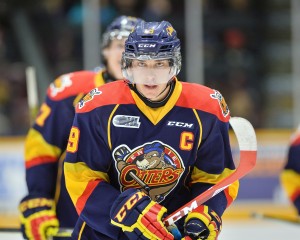 He's Back
After seven games and a slew of healthy scratches, the Arizona Coyotes decided to assign 2015 third-overall pick Dylan Strome back to Erie. This is the right move for Arizona.
In reviewing Dylan's game tape, you can see the upside he has from a skill perspective. However, you can also see the limitations in his game now. Two things need improvement for Strome to stay at the next level.
Strome still needs to improve from a physical standpoint. Coyotes coach Dave Tippett touched on this point. Although he is likely stronger now than when he was drafted, he doesn't look much bigger now.
Strome was easily pushed off pucks. He lost many battles, especially on the wall. Staying with the Coyotes a full season in this state was just not ideal.
Strome also needs to continue improving his skating. This was best illustrated by the end of the Vancouver Canucks game, when Ben Hutton drew a penalty shot by beating Strome down the ice.
The NHL is a speed game. Strome can now play in games, while continuing to improve on his skating. Will he ever become a blazing speedster? Likely not. But at least some improvement will do wonders for his game. The question is will his time in Erie get him what he needs?
That's the million dollar question. It also brings back the topic of AHL eligibility. Because Strome played in the CHL, he is ineligible for the AHL until age 20. The Coyotes either had to keep him or send him to Erie. The best-case scenario for Strome would have been time in the AHL with the Tucson Roadrunners. That way, he could play against bigger men and consistently get playing time.
There are exceptions to every rule. It's time that the leagues involved come up with a plan for players like Strome. He's too good for junior, but is not ready for the NHL. The AHL is perfect for him. But the rules say no. The game is changing and it's time that the rules change with the game. They should review all situations on a case-by-case basis. They grant exceptional status to 15-year-olds in the CHL. Why not to 19-year-olds for AHL consideration?
There's some talk that the leagues might come up with a plan. Let's hope that this is not just talk and we see an action plan soon. It will work to the benefit of everyone involved.
What a shock..@stromer19 is centering the #1 line with @Brinksy97 and @Raddy1998 tonight #erie @ErieOtters pic.twitter.com/AcvtGtLXIx

— Erie Times-News | GoErie.com/Sports (@GoErieHockey) November 24, 2016
The Good News For Erie
Now that Strome is in Erie, the Otters are among the favorites to win the OHL. The line of Strome, Alex DeBrincat and Taylor Raddysh are back together and ready to make a run at a championship. Without Strome, DeBrincat and Raddysh torched the league and are the current scoring leaders.
Raddysh enters Friday with 49 points in 22 games. DeBrincat has 43 points in 21 games. Now they get Strome as their center. What a line this is. But the rest of the lineup looks good too.
Defensive specialist Kyle Pettit centers the second line with Kyle Maksimovich, now 13th in league scoring, and 2017 draft eligible Ivan Lodnia, who had three points on Thanksgiving night. They should get plenty of opportunities as teams try to stop the big line.
Katchouk, Lodnia, Stefano are Thursday's #OHL 3 Stars of the Night.

PERFORMANCE RECAP: https://t.co/NMGtNoevlD pic.twitter.com/DDPH8y8U9m

— OntarioHockeyLeague (@OHLHockey) November 25, 2016
The bottom-six is led by rookie Allan McShane. After spending time on the top line centering DeBrincat and Raddysh, he provides a spark playing with Patrick Fellows and Brett Neumann. They can score the timely goal, especially given McShane's upside.
Strome is by far and away the best trade deadline deal in the league, and it didn't cost Erie anything to get him. The Otters will score many goals the rest of the season. Can they play enough defense to make it work?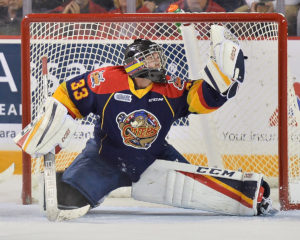 Troy The Backstop
Want an Otters MVP to this point? As well as the big guns are playing, my vote goes to Troy Timpano. The Otters acquired him before the season from the Sudbury Wolves. All he's done is go 15-2-0 with a 2.49 goals against average. The 15 wins are three more than anyone else coming into Friday. His 2.49 is third in the league.
The Otters knew they needed a goaltending upgrade after the departure of Devin Williams. Jake Lawr showed signs last season that he was ready for this season. That hasn't been the case to this point. Lawr has an .849 save percentage and 4.09 goals against along with a 2-3-1 record. Lawr was even healthy scratched for their third goalie Anand Oberoi at one point.
Erie plays a sound, defensive game. They do a great job limiting opposition shots. The shots that do get through, Timpano is there to save. The question coming to the season was defense and goaltending. Thus far, both deserve high marks. We'll see how they handle things when the schedule gets tougher.
Upcoming Moves?
Fans always want to know, will the Otters try to make a move or two at the upcoming trade deadline? This season, the deadline for overage players is Jan. 9, while the overall deadline is Jan. 12. I do expect the Otters to at least try to make a move or two. Don't expect a big name to come to Erie given Erie's lack of draft picks. But it's reasonable to think a depth move will happen.
The area I'm focused on is the bottom-six. A veteran presence down there would do the Otters wonders come playoff time. Keep in mind that Erie has an open overage spot. In case you don't know how that works, teams can play three age-20 players on their roster at one time. Pettit and Darren Raddysh are the only two overage Otters.
A player that comes to mind would be Chandler Yakimovich. Remember he was part of London's run just last season. He's in Sudbury now and would greatly benefit Erie. The price is reasonable as well. That's the kind of player Erie will most likely go after.
Random Trade Thought?
In terms of a bigger trade, an interesting situation is Leafs prospect Jeremy Bracco. He's killing it in Kitchener, but are the Rangers equipped to win a championship this season? If not, don't you have to consider getting something for Bracco now before you get nothing later? Keep your eye on this one. It could impact the OHL playoffs in a major way.
Jeremy Bracco taking in practice today with some #Leafs guys. Unsigned prospect has been lighting it up in the OHL.

— Kristen Shilton (@kristen_shilton) November 21, 2016
Honorable Mention
I can't write this without mentioning how great defenseman Darren Raddysh has been. He plays the role of shutdown defender, power play quarterback and offensive catalyst. He's taken his game to a new level this season.
He lets his play do the talking. One moment, he crushes an opponent to the ice. The next, he beats the opposition's goalie with a wicked shot. Raddysh has 5-19-24 in just 18 games. He's a threat at both ends of the ice and a major reason the Otters defense has answered the call early in the season.
For Erie, this season is championship or bust. We are likely seeing the last rides for Strome, DeBrincat, Raddysh and others. They've done everything but win the OHL. Is this finally the year for them? We'll all find out together.