It's hard to overstate the near-mythical, godlike way fans of the Tampa Bay Lightning view Phil Esposito. This is, of course, completely justified. To put it bluntly, the Lightning as a franchise would not exist without him. He convinced then-NHL President Gil Stein that Tampa was the ideal spot for an expansion franchise. He assembled the roster as the first GM in the team's history. He even came up with the team's "Lightning" identity. Above all of that, he sold the sport of hockey to an entire region that had next to no real exposure to the game. 
The massive stamp Esposito has etched on this team is indelible; the statue in front of Amalie Arena is proof of that. One thing that can be argued, however, is whether or not he was an effective GM with the Bolts. Some have said he did a good job getting the team on its feet, but aside from that, Espo's time as the team president and general manager was fairly nondescript. 
Creating a team from scratch obviously had its multitude of challenges; nobody is saying that it was easy. The Lightning at that time were under notorious fiscal restraint, so big free agent signings weren't in the cards. Even so, looking back at Phil's draft record reveals he wasn't the best talent evaluator. 
Early Round Draft Picks Produced Few Returns
Up until 1998, the Lightning draft picks were a who's who of also-rans and never-weres. Roman Hamrlik and Chris Gratton had decent NHL careers but never lived up to their high draft status; first overall in 1992 for Hamrlik and third overall in 1993 for Gratton. Jason Wiemer, picked eighth overall in 1994, was mostly a bottom-six center for most of his career. 
Only Daymond Langkow, who went fifth overall in 1995, might have come close to warranting being picked where he was. Langkow would go on to play 16 seasons in the NHL, scoring 20 or more goals in seven of them. Nonetheless, most of those good years came away from the Lightning. The Lightning traded away Langkow in December of 1998 due to a dispute over diminished playing time.
In June of that same year, Esposito selected the consensus No. 1 overall pick for that year, the great Vincent Lecavalier. Later on, in the same draft, Brad Richards was taken by Tampa in the third round, 64th overall to just a bit less fanfare. Someone reading this is probably asking how could drafting Brad Richards be Espo's best move when they include drafting Lecavalier. The answer is simple, no matter who was picking first that year, they were taking Vinny. Taking him first overall was considered a complete no-brainer at the time. He was so good coming out of the QMJHL that he was being referred to as the "Michael Jordan of hockey" by then-team owner Art Williams.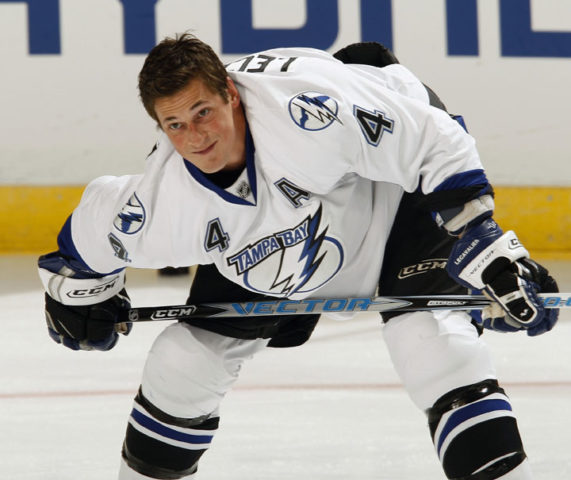 Doing something that everyone in the hockey world would've done is not a great move; it's the obvious move. Finding gems like Richards so late in the draft is how championship teams are built and sustained for a bit. Now, nobody is comparing Richards to Lecavalier in terms of what each player has meant to Tampa during their careers. Vinny was the face of the franchise for 14 seasons, led the team to its first-ever Stanley Cup, and has his number retired. Lecavalier's importance to the Lightning is undisputed. 
Richards, on the other hand, went on to play out his prime years with four other teams, even winning another Cup with the Chicago Blackhawks after Tampa traded him away in late February 2008. Nonetheless, anyone on those Lightning teams that played with Richards will tell you how important he was as a player and teammate. 
Richards Was Massively Important to Team Success
Vinny, Martin St. Louis, Nikolai Khabibulin, even the aging vet Dave Andreychuk all received plenty of attention after winning the 2004 Stanley Cup. With that said, Tampa simply would not have won its first championship without the huge contributions of Richards. During the 2003-04 playoffs, he put up 26 points on 12 goals and 14 assists, playing just under 24 minutes a game. Thankfully, he was rightfully recognized that season as the playoff MVP, winning the Conn Smythe Trophy. 
His solid play extended beyond just that playoff year. In six of his seven seasons with the Bolts, Richards scored 20 or more goals and was an all-situations type of player, logging minutes on both the penalty kill and power play. He was also a vocal leader on the team, something Lecavalier wasn't the best at, despite being the team captain. Richards was also the team's best playmaker, something they sorely missed after the team traded him to the Dallas Stars.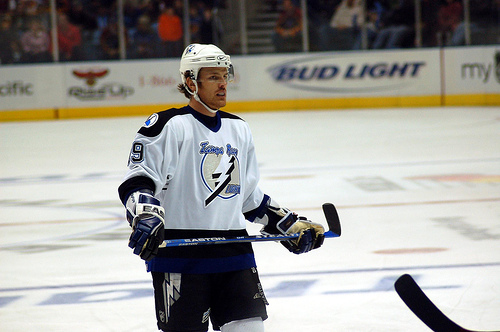 The Lightning GM at the time of the trade was Jay Feaster. He later became the GM of the Calgary Flames in December of 2010 and tried signing Richards to a nine-year, $65 million contract later that offseason, but he lost out to the New York Rangers. In doing that, it showed that Feaster knew the value of a player like Richards even though he had to trade him for salary cap reasons while with the Bolts. 
In 15 NHL seasons, Richards ended up with 1,126 games played, 298 goals and 634 assists for 932 points. St. Louis, in 16 years of NHL service, played in 1,134 games and scored 391 goals with 642 assists for 1033 points. Lecavalier, in his 17 NHL seasons, played in 1,212 games, scored 421 goals and chipped in 528 helpers for 949 points. Vinny and St. Louis both have their numbers hanging from the rafters at Amalie Arena. If Richards had spent his entire career, or at least most of it in Tampa, there's a good chance he'd have his number hanging up there right along with them. 
---
---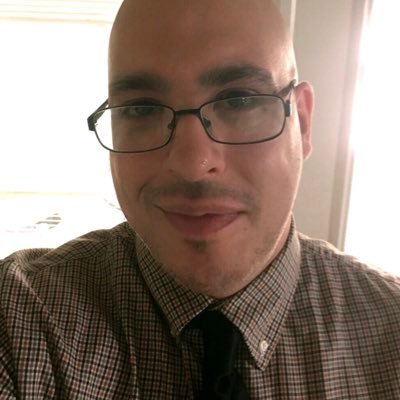 Frank is a former competitive hockey player at the D3 college level. He's what you'd call a hockey "lifer" having also worked as a hockey referee, time keeper and assistant youth coach, along with being a longtime member of USA Hockey. Frank comes to THW after contributing content on the Tampa Bay Lightning, Tampa Bay Buccaneers and Orlando Magic for BackSportsPage.com.