"The Captain," Jonathan Toews, is the most crucial pin that keeps the Chicago Blackhawks alive and well. Without him or Brent Seabrook, the team would struggle with a lot of consistency issues in all areas of the game.
When Toews is in the lineup you can call him Captain Consistency and it would make just as much sense. Not only is Toews a great goal scorer and leader who is a winner at every level and can play well in all situations, but I think we tend to forget he's only 24. In 361 games, Toews has racked up 144 goals and 180 assists for a total of 324 points and plus-87 rating.
Every year seems to have a similar outcome for Toews. As the season rolls, he rolls right along with it and gains steam as the season progresses. I wouldn't call him a slow starter either, just someone who has the ability to consistently elevate his game as the bar continuously sets itself higher throughout a season.
2011-12 MONTHLY PRODUCTION
October: 7 points, 11 games
November: 18 points, 14 games
December: 13 points, 13 games
January: 13 points, 12 games
February: 6 points, 9 games
Last year he put up three very good months in a row where he was at his peak just before suffering a concussion against the San Jose Sharks in early February. Five games later he was sidelined for the remainder of the season until the playoffs.
Toews' career has seen a similar trend in terms of point per game (PPG) production. In his rookie year, Toews produced at an average of 0.884 PPG, but throughout his career that number has steadily climbed each season at a consistent rate. That means last year was his best in terms of production with 0.966 PPG, and if the trend continues at a similar rate it's possible that he can produce at just over a point per game next season.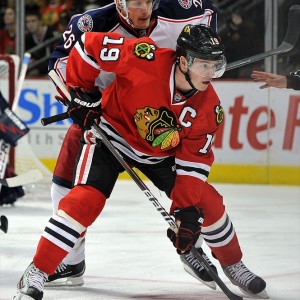 Now that you're head is filled with numbers, go ahead and take a breather. The main point is that Toews is a game changer that continues to progress and develop into an elite hockey player.
He's already captained the Blackhawks to a Stanley Cup with a Conn Smythe trophy to prove his worth, voted most valuable forward after winning the gold medal with Team Canada, and he is the youngest player to enter the Triple Gold Club among countless other achievements.
All these accomplishments and he's only 24 years old. Some players with incredible ability (Jeremy Roenick anyone?) can play an entire career without holding a candle to Jonathan and his achievements. He's a winner at every level, he's got the "it" factor.
This upcoming season should be no different. Along with his ability to dominate the game offensively, Johnny will provide great stability in the face-off circle, support in the defensive zone, and patience on the penalty kill.
Toews is consistent in every aspect of the game, but if there is one thing he needs to work on, it's health. I don't think anyone would call him injury prone, but in his short career he has averaged roughly 72 games per season and has usually missed a short string of games around the all-star break each year.
Even if he misses another 10 games or so this year, the Blackhawks' hope for a deep run remains on his health in the playoffs. Although he has never missed a playoff game in his entire NHL career, it would benefit him to roll his momentum into the playoffs without ruining his rhythm by missing time after the all-star break.
It's difficult to determine who Toews will play with, especially with the questions surrounding the second line center position, but last year he saw great chemistry with Viktor Stalberg. Also, if Patrick Kane doesn't play center he could see a lot of time with Johnny. Hossa and Sharp have both had great stints with Toews as well, which is no surprise. He just makes everyone around him better, but that's not to take any credit away from his core of linemates either.
PREDICTION: 76 GAMES | 36 GOALS | 42 ASSISTS | 78 POINTS | PLUS-20