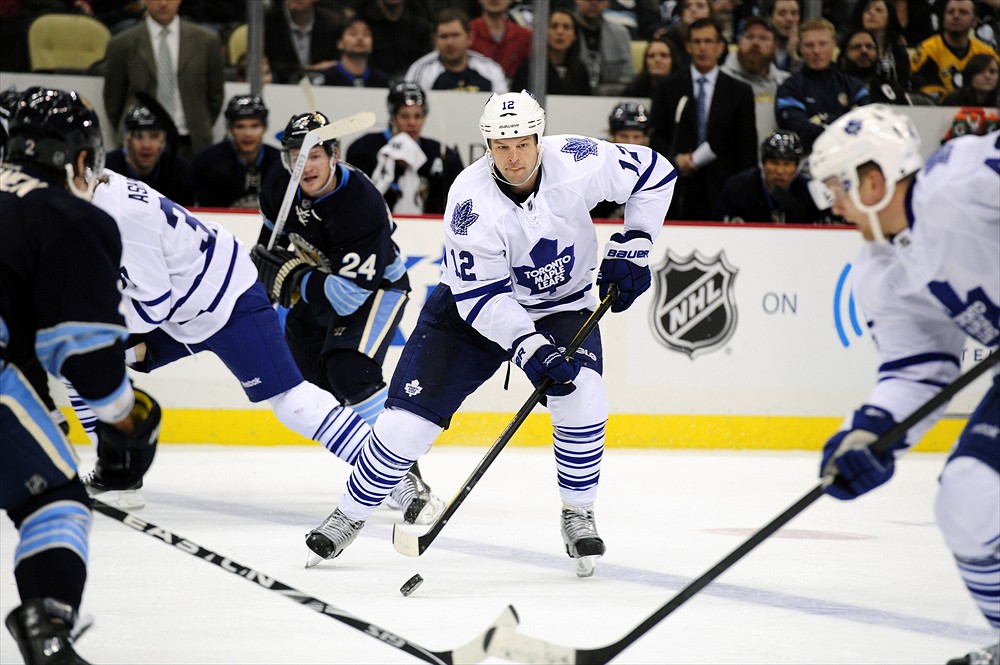 With constant meetings and negotiations involving the upcoming collective bargaining agreement between the NHL and its players, the 2012 off-season has been a tough one for hockey fans all around the globe. At first glance, the 2013 off-season seems as though it will be no different for fans of the Toronto Maple Leafs.
As of August 15, the Maple Leafs have just over $9 million in cap space to play with. With Cody Franson and Ben Scrivens still in need of new contracts, that number is expected to go down. While general manager Brian Burke and his staff will need to remain wary of just how much it dips regardless, a quick look at the Leafs' salary chart on CapGeek.com suggests that the team will need to save every penny they can if they want to retain each of the players on contracts set to expire next summer.
The Maple Leafs will have to deal with eight notable expiring contracts in the summer of 2013, and not contracts of AHL players or ones of those who play a minor role on the team. We're talking eight lucrative deals that, again, at first glance, could cost the team an NHL regular or two.
Among those who will need to be re-signed are Joffrey Lupul, Clarke MacArthur and Tyler Bozak. Each come with a cap hit of $4.25 million, $3.25 million and $1.5 million respectively, but there's no doubt that they will each be looking for a raise prior to the 2013-2014 season.
The team will also have to deal with Tim Connolly ($4.75 million), Matthew Lombardi ($3.5 million), David Steckel ($1.1 million), Carl Gunnarsson ($1.325 million) and Korbinian Holzer ($575,000), who, if expectations are met, will play a key role on the Leafs' back-end in 2012-2013, perhaps resulting in a new contract worth more than $1 million per season.
The names and salaries of those involved makes it sound like the 2013 off-season is guaranteed to be a rough one for the Maple Leafs, but that's not the case at all. Some quick calculations will show that the summer of 2013 might not be too bad after all.
The numbers below are rough estimates of the 2013-2014 cap hit for each player named above based off their performance from the 2011-2012 campaign.
[table id=69 /]
Barring bounce-back seasons from the likes of Connolly and Lombardi, it appears the Leafs should actually be able to save money when negotiating new contracts with these eight players. So much, in fact, that Burke and his staff could find themselves with more than $1.5 million extra to work with. That's not all.
We all know about the rough times Connolly and Lombardi went through during their first season with the Maple Leafs. Connolly added to his long list of injuries, while Lombardi's tough season combined with the league's fitness level has some wondering if he has anything left to give in the NHL. There's no guarantee a deal will be made, but these two factors alone have made both Connolly and Lombardi expendable.
(Note: Tim Connolly does have a modified no-trade clause in his contract according to Cap Geek.)
Based on their projected 2013-14 cap hits, trading both Connolly and Lombardi could relieve the Leafs of as much as $2.95 million, which is enough to make the needed improvement in goal (a veteran to help James Reimer along) or add depth to the blue line, where stability seems to be lacking.
Let's not forget that trading one or both of Connolly and Lombardi could also provide Toronto with a return good enough to temporarily fill a hole on the Leafs' roster, improving their playoff chances.
The players with contracts set to expire have made the task on hand for the Leafs during the 2013 off-season appear misleading, guiding people to believe that there is no way Burke will be able to shape a successful squad with what many expect to be limited cap space. Meanwhile, it should be obvious that the team is more likely to save money, and if they do somehow lose cap space, it will either be through adding to their roster or overpaying to keep a current Leaf around.
The latter seems unlikely at this point, making this a very positive situation for Brian Burke and the Toronto Maple Leafs.
Twitter: @LukasHardonk | Email: lukas.hardonk@gmail.com | Lukas' archive
For every Leafs article on THW, follow @THW_MapleLeafs on Twitter.
Check out Maple Leafs Central, a THW Network site.