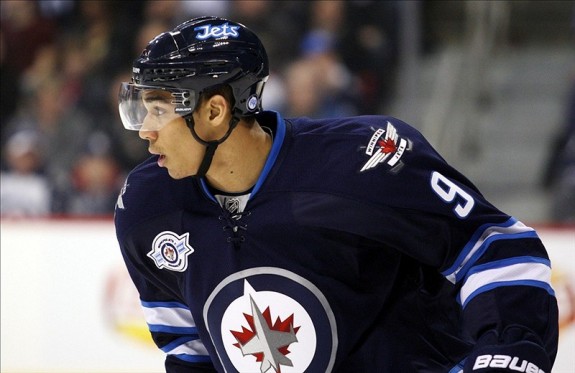 Evander Kane has not said he does not want to be a Winnipeg Jet, and he may never will, but it is hard to believe he would not want out of Manitoba's capital. The 22-year old has been bashed by the Winnipeg media since his arrival from Atlanta because of "immaturity" and "dramatics". If that was not enough, Kane has been up against accusations of dine-and-dashing, a bar fight induced concussion, and even assault. Not to mention, Kane's money-stack cell-phone picture that caused a stir, for some reason.
Hey @FloydMayweather pick up your phone cause I'm callin #imdifferent @jduppal pic.twitter.com/UZ3GYO4K

— Evander Kane (@EKane9JETS) December 19, 2012
Kane's hip-hog swagger, similar to the likes of NFL and NBA players, has a negative connotation in the NHL. Yahoo! Sports' Harrison Mooney wrote, "In hockey's somewhat less hip hop influenced circles, however, swagger is seen as a liability, immaturity, a shortfall of humility, a lack of team-playerness."
A fair comparison to Kane would be Cleveland Browns' quarterback Johnny Manziel. Both have reputations in their respective leagues, but have not done anything criminally wrong. Sure they party, but what's wrong with that?
The misfit between Kane and the media and culture of Winnipeg is uncanny. Kane's big-shot, cocky ego has made him the enemy of the Canadian media.
Jets' GM Kevin Cheveldayoff is not blind and sees this unfold, including his wavering comments to TSN about whether or not he'll be a Winnipeg Jet next season. The issue is not for Cheveldayoff is finding a trading partner to take the native of Vancouver, British Columbia. The issue, however, is getting a solid return. Kane's comments are not helping Cheveldayoff's cause.
Kane has 4 years remaining on a 6-year contract worth $5.25 million annually.
One team likely willing to give Kane another opportunity to re-do his image — because they have done so for Mike Ribeiro, why not Kane? — is the Nashville Predators.
Kane, a natural left-winger, would fit perfectly in Nashville's lineup to play alongside right-winger James Neal on the top line. Kane scored 41 points (19g, 22a) in 63 games last season. His $5.25 million cap hit would be easy to swallow for a Nashville club with near-$12 million of cap space.
The question now becomes what it would take for the Predators to acquire Kane.
The general consensus of what it would take for Nashville to acquire a top-6 forward the past few years has been Ryan Ellis, Colin Wilson and a draft pick. And even before Ryan Ellis it was Jonathon Blum.
That will not suffice the Jets.
Ellis, a qualified restricted free agent, is awaiting to be signed to a contract by the Predators, or receive an offer sheet from another NHL club. While the hesitation from Nashville GM David Poile to re-sign the 23-year old defenseman raises doubts of his return, it does not necessarily mean Nashville will deal him. The Predators are shallow at defense and Ellis is a promising piece in the organization. Trading him would be devastating to the defensive depth.
Colin Wilson, 24, has played 4 full seasons in the NHL and has yet to emerge as Nashville's top-scorer that they've asked him to be. Wilson's best season was in 2010-11 when he totaled 16 goals, 18 assists in 82 games. The skill is there, but maybe a new setting would be fitting for the underachiever.
With the overabundance of centers on the roster, Nashville has to correct it before training camp. Poile has stated Paul Gaustad has a spot on the roster for next season, leaving Matt Cullen to be the goat. Cullen, 37, was signed as a free agent last summer to a 2-year, $7 million contract. In 77 games, Cullen scored just 10 goals, unfulfilling what Poile hoped from the veteran.
To acquire Kane in my eyes, it would take take Wilson, Cullen and a draft pick.